Mike Patton, an American musician – is best known for being the lead vocalist for American rock band Faith No More, formed in 1979, and he's been involved in other side projects and collaborations. But what exactly is Mike's vocal range?
Mike possesses a vocal range of an impressive six octaves – that's one of the broadest vocal ranges recorded of any documented popular singer. That's rather impressive considering the average vocal range is just two octaves!
Read on to learn more about Mike and his band's most successful albums.
What's Vocal Range?
Put simply, the vocal range is the range of pitches that your voice can produce harmoniously without straining your voice.
You might be aware that you're born with vocal cords (and if you're not, you must've been living under a noise-canceling rock for your life), and your vocal range all depends on how long or short your vocal cords are. Longer vocal cords will produce lower-pitched sounds, while shorter vocal cords produce sounds of a higher pitch.
With singers, it's not so much about their vocal range, it's more so about how well they use what they've already got, though it's safe to say that many singers have gobsmackingly impressive vocal ranges which are bound to affect how their singing voices sound.
The average vocal range is two octaves, so anything that's above that is usually pretty impressive and probably has been achieved through some kind of voice training.
Faith No More's First Grammy Nomination
When Patton was just 20, Faith No More released their breakthrough album The Real Thing, consisting of 11 tracks, in 1989.
The album consists of hard rock, metal, and hip hop amongst other sound ranges and includes a pinch of dark humor in its tracks. All lyrics were written by Patton, except War Pigs which was written by Geezer Butler, and two others that had one other cowriter.
The album peaked at number 11 on Billboard in 1990 and received a Grammy nomination for the best metal performance. It's now considered to be one of the band's most successful albums and was met with much praise.
Faith No More's Best Selling Album
Faith No More's best selling album is Angel Dust, their fourth album which has sold 2.5 million copies worldwide. It's the follow-up album to The Real Thing and it's comprised of 14 tracks, with all but one track that was written or co-written by Mike.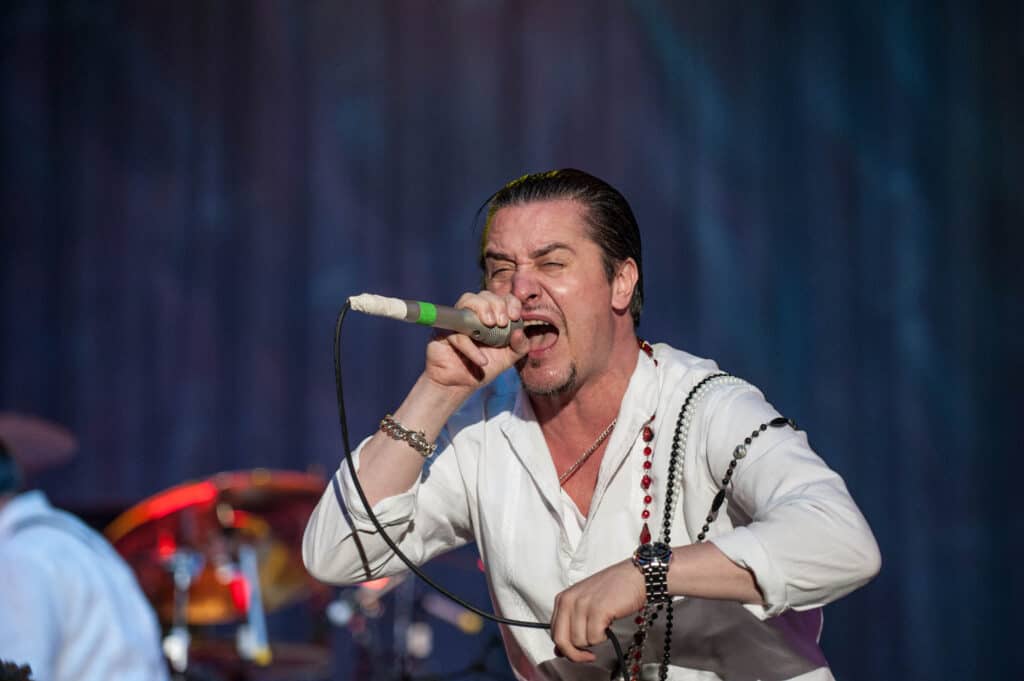 Angel Dust topped the charts at number 10 in the US, and again it was met with critical acclaim, then in 2017, it was named the 65th greatest metal album of all time by Rolling Stone.