James Corden is known for being one of the most popular entertainers in the world right now, appearing in many shows and skits, and even running his own late-night talk show where he interviews some of the most famous celebrities in the world. However, with his many skills, is one of them to play the piano?
James Corden can play the piano and actually does so very well. Having learned to play throughout his career, perhaps his most famous performance was when he jumped onto the stage to perform with Coldplay as they sang on his late-night show.
To find out more about James Corden, his show, what he's been up too and his many accomplishments along the way, keep on reading! Also, here's the clip of James performing with Coldplay!
The Short History of James Corden
Born on the 22nd August 1978 in Hillington, Greater London, James Corden has been a household favorite as a presenter and onscreen actor in both the UK and the US.
Corden first found himself in entertainment at the age of 18 when he first appeared in a 1996 musical titled Martin Guerre, in which he had one line. He also appeared in his first reporter role on TV on the popular BBC show Good Morning with Anne and Nick.
Over the years and as he improved as an actor and entertainer, he appeared in dozens of popular shows in many roles, including Hollyoaks, Little Britain, Boyz Unlimited, and even appeared in advertisements, like the 1998 Tango ad.
However, Corden really started to make a name for himself in the early 200s when he starred on the hit British TV show Fat Friends as lead character Jamie Rymer. He won a 2000 Royal Television Society Award for playing this role as the Best Network Newcomer On Screen.
Then, and probably what most people know Corden for, was his appearance in the lead roles of Gavin and Stacey. During his time during this insanely popular show, which ran from 2007 to 2010, Corden won awards like the Best Male Comedy Performer, and the show won several Best British Comedy Awards.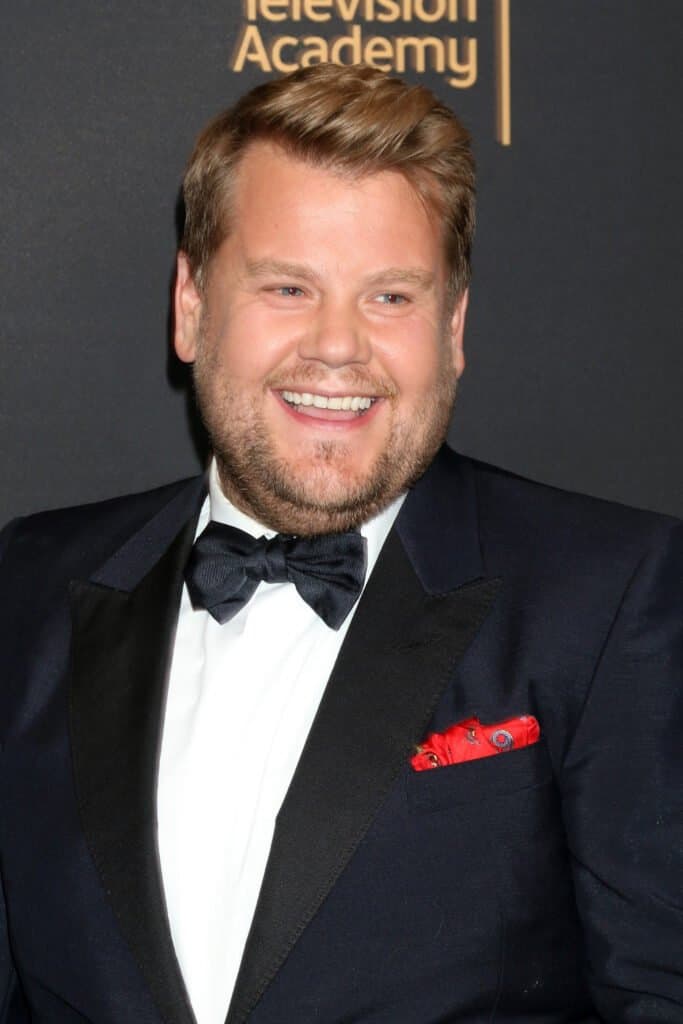 Fast forward to 2015, and Corden has dominated the airways with regular appearances on shows in both the US and the UK, has his own late-night talk show, aptly named The Late Night Show with James Corden is racking up millions of views on his YouTube and show clips.
One of the most popular skits among fans is his Carpool Karaoke, where he drives around with celebrities and sings with them. The skits are insane and have already featured artists including Paul McCartney, who sung Penny Lane, and actually stopped the car and signed a Penny Lane road sign, famous Korean pop group BTS, and Justin Bieber.
These skits uploads on YouTube rarely drop below the 8 million view mark. If you haven't seen any of these already, then they're definitely fun to watch, but get ready to fall down the rabbit hole because there are just so many!
James the Musical
James Corden is probably not the first person you would think of when it comes to musical talent, but he has left audiences standing with his performances. Of course, his Carpool Karaoke series is incredibly popular, but there's been a number of performances where Corden has really shown what he has to offer.
There's notably the video we linked above where Corden played piano for a short while on stage with Coldplay as they performed their hit single, "A Head Full of Dreams'.
In 2020, he performed a musical parody towards Donald Trump titled "Maybe I'm Amazed," which quickly went viral and spoke about how Donald Trump was poorly dealing with the COVID-19 pandemic, specifically when he took off his mask for a photo opportunity and was heard saying 'I don't understand, maybe I'm immune".
He also performed the grand piano at the end of his first episode of the Late Night Show, where audience members waved small flashlights in time to him, celebrating the first episode and with fingers crossed for many more to come.
Some of the lyrics of this funny number included;
"On the other side of midnight, in studio 56, when the Twitter-verse is silent, and your Facebook has no friends, when the only light the only night is the glow from your TV, come watch the Late Late Show with me."
With all this in mind, it's safe to say that Corden has wowed audiences for decades and indeed has many beautiful years of entertainment to come. Watch this space.