Basketball is among the most popular games in the United States, with the average professional player earning around $7 million. One of the most loved National Basketball Association (NBA) players today is Russell Westbrook, who currently plays for the Los Angeles Lakers. He is known for making brilliant baskets, but can he palm a ball?
Palming a basketball is not easy, but Russell Westbrook does it effortlessly.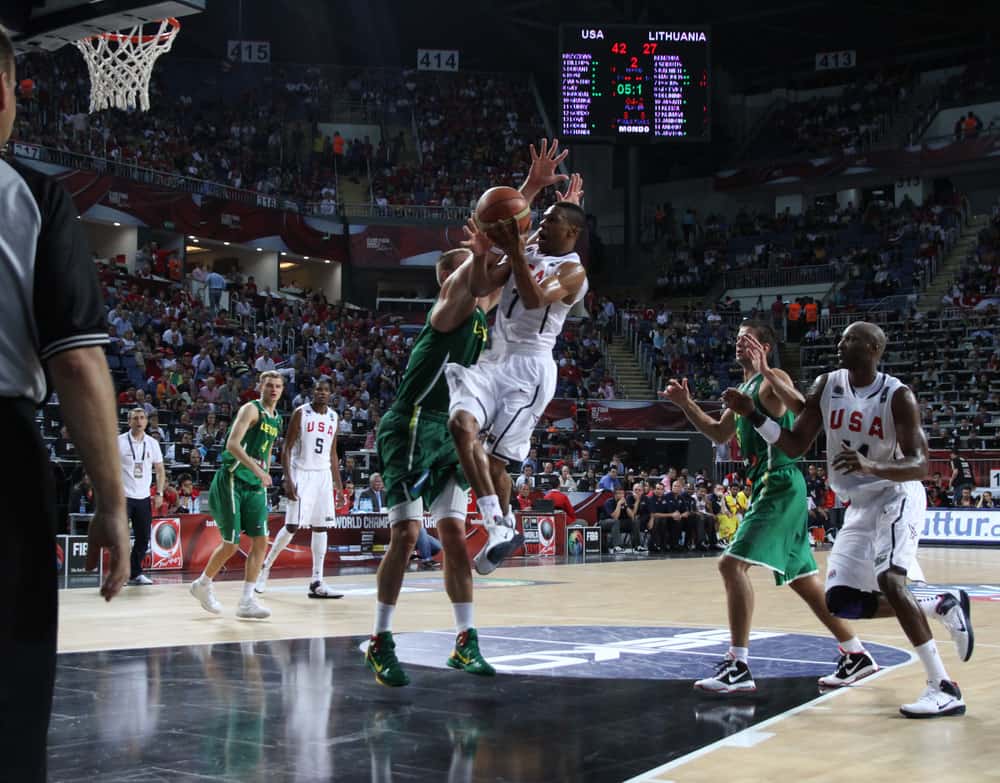 Let's find out more about Russell Westbrook's handling of the basketball.
What does it mean to palm a basketball?
When a player dribbles a ball and allows it to rest on their hands or palm completely, that's considered palming a basketball. Such is also the case when a player touches a ball with their palm when it's at the peak of bouncing.
Due to the difficulty of fully palming a basketball, many are amazed when a player is able to do this move. However, it is considered a violation while in court because it gives the ball handler an unfair advantage over the opponent.
What are the benefits of having large hands in basketball?
When you're a basketball player, having large hands can be a huge advantage during offense and defense. With big hands, players find it easy to pick, catch, and control a ball.
It particularly comes in handy during offense, allowing players to be ahead of their opponents. On the other hand, it is also a great factor during defense, as large hands can help players grab rebounds and swipe balls much more easily.
While that is the case, there is no guarantee that having large hands will help basketball players shoot better and score more baskets. Large hands can aid in offense and defense, but they don't provide a sure-win for teams. It still takes talent, skills and commitment to score a point.
How large is Russell Westbrook's hand?
Compared with many basketball players, Russell Westbrook's hands are average in size. According to some estimates, the player's hands are around 8.2 inches long each. They are not the largest hands in basketball, but they are bigger than 10% of most Americans' hands.
Russell Westbrook is good at offense, with over 7,500 rebounds throughout his career, but he isn't a defender. Aside from having big hands, he has tremendous athletic prowess. However, he never had a season when he successfully defended for any team he was in.
To also support the notion that large hands don't equal terrific shooting, Russell Westbrooks isn't a great shooter.
Which NBA players can palm a basketball?
Russell Westbrook isn't the only NBA player with hands large enough to palm a ball. There are other players like Michael Jordan, who can easily hold a basketball in one hand. Michael Jordan's hands are around 11.4 inches, allowing him to palm a ball at will easily.
Shaquille O'Neal could also palm a basketball with his 12 inches palm. The player had a great time being a defender. He was also good at offense and shooting.
Can all NBA players palm a basketball?
It's important to note that not every basketballer can palm a ball. It seems like an easy move when you envision it, but holding a full basketball with one hand isn't easy.
So, it explains why players like Kevin Durant, whose hands are 8.75 inches long, struggle to palm a basketball. However, it's rare to find players as tall as Durant who can't palm a ball, as part of being tall is usually having long, large hands. However, his inability to palm a ball doesn't stop him from being a great player all in all.
Are Russell Westbrook's parents tall?
The average height of a professional basketball player is 6 feet and 7 inches. Russell Westbrook stands at 6 feet and 3 inches, which is somehow short for a point guard. However, he's definitely taller than the average person.
Height usually comes from your parents. But Russel Westbrook is taller than his parents, making people wonder where he inherited his tall genes. The NBA star was born to Russell Westbrook Jr., who is 5 feet and 8 inches tall, while his mother, Shannon Horton, is 5 feet and 7 inches tall.
Conclusion
When Russell Westbrook started his professional basketball career, he was around 5 feet and 8 inches. But he couldn't start from his freshman year in college because he wasn't at the right height.
In junior year, he made the team upon reaching his full adult height of 6 feet 3 inches. Not only did his game improve after that, but he was also able to palm a ball.