Courteney Cox shot to fame in the 1990s and the resulting success left many wondering if she ever earned an Emmy from her performance on Friends.
Courteney Cox, despite her much-loved portrayal of Monica Geller on the hit show Friends, was the only main cast member who failed to receive any nominations for her work on the show. During its run, the show actually only won one Emmy for Best Comedy.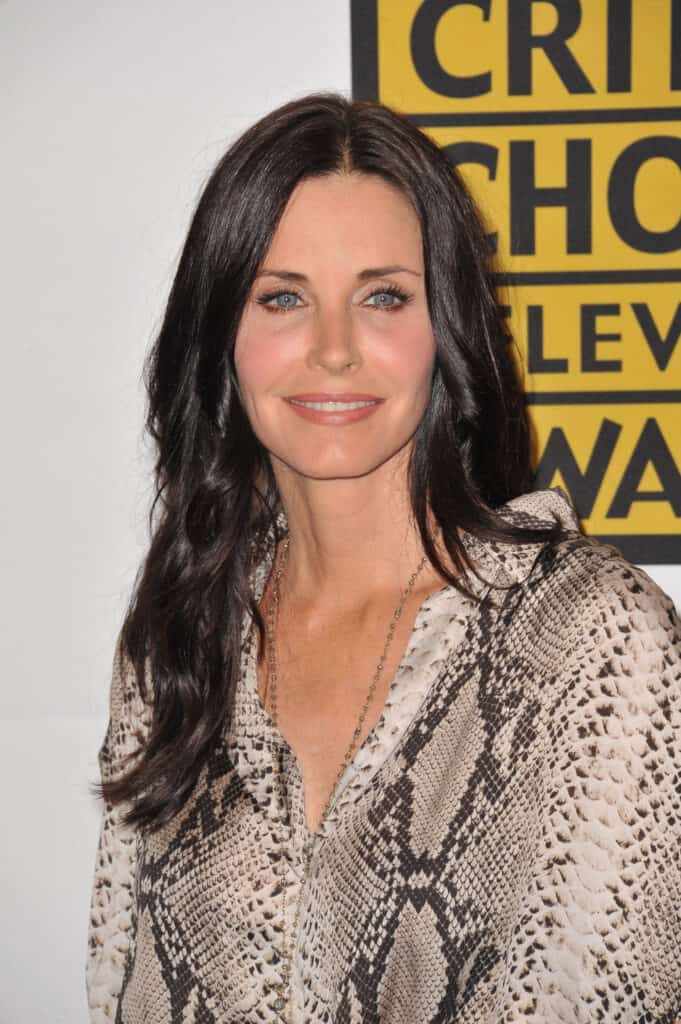 Despite never taking home an Emmy, Cox's work in later years garnered her more recognition within the industry and afforded her an illustrious career.
Early Life
Courteney Cox initially attended Mount Vernon College, where she studied architecture, but she later dropped out to pursue a modeling career in New York City.
She got a taste of the big screen when she was cast in Bruce Springsteen's "Dancing in the Dark" music video.
Cox subsequently booked several TV ads and decided to throw herself into acting. She used the money earned from her TV spots and invested in acting classes and voice lessons to help her flatten out her native Alabama accent.
In 1985, she moved to Los Angeles and ended up signing on to play Michael J. Fox's girlfriend on the series Family Ties.
Despite the success of Family Ties, Cox's mainstream recognition didn't come until she starred on Friends which ran from 1994 until 2004. The show made her a household name and has instilled her as a pop culture icon.
In the 1990's she also branched out into movies and gained notoriety with roles such as Ace Ventura: Pet Detective, Scream and Scream 2.
She is known to have a shrewd business sense and Lisa Kudrow, her co-star on Friends, has said of Cox, "She is really smart about focusing on the task at hand and the bigger picture, the job, the work. It was always extraordinary to me that emotion never clouded her professionalism."
Industry Recognition
Over the duration of Friends, Cox's co-stars Jennifer Aniston and Lisa Kudrow won Emmys for their performances. Matt LeBlanc, Matthew Perry and David Schwimmer were all nominated but failed to win.
Unfortunately, Cox was the only regular cast member who was never recognized by the television academy.
Despite being passed over for an Emmy for her work on Friends, Cox did eventually earn an Emmy nomination in 2017.
She was nominated by the Daytime Emmys for the show Celebrity Name Game which she produced along with her ex-husband, David Arquette.
In later years, she did earn a Golden Globe nomination for Best Actress in a Comedy/Musical TV Series in 2010 for her work on Cougar Town.
Cox Admits to Binge-Watching Friends
Cox admitted that although she remembers characters of the hit show, she forgot the overall plot.
In 2020, while she was completing a quarantine period, she admitted to binge-watching Friends and becoming wrapped up in nostalgia.
She revealed that the Thanksgiving episodes were her favorites and that she wants to watch the show again to know the trivia when fans ask, though her knowledge of the show is still impressive.
Many have a lasting image of Cox playing Monica Geller to perfection, although she initially auditioned to play Rachel Green.
Marta Kauffman, one of the creators and executive producers of Friends, said of Cox, "Let's face it, she's adorable and intelligent and really together. She is Monica."
Friends' Lasting Impact
Over the course of its 10-year run, Friends was nominated for a total of 62 Emmys, yet the hit show only took home six in total.
Despite the lack of industry recognition, Friends has held an iconic pop culture status.
The cast has stayed close and often reunite to the delight of their fans.
Most notably, they have all confirmed they will be involved in a reboot of the show.
Moving forward, Cox's desire to continue acting and testing her boundaries has not wavered.
In an interview in 2015 she admitted, "I'd like to do other things in acting that I've not done. I've had a nice career. I've been lucky to have been on successful television series that have spanned for 16 years. Sixteen solid years of television is a lot, but I have more roles to play. I'm not done yet."
Who knows? With a Friends reboot on its way, perhaps Cox will have another chance to be nominated for an Emmy!