Kurt Cobain may have been gone too soon but he'll never be forgotten, remembered for the many things he's done for the music industry. In fact, he's still making new fans, many of which are interested in learning all they can about the music icon, including his personal life, like did he have a car? And if he did, what was it?
Kurt Cobain had a car, a powder-blue 1965 Dodge Dart.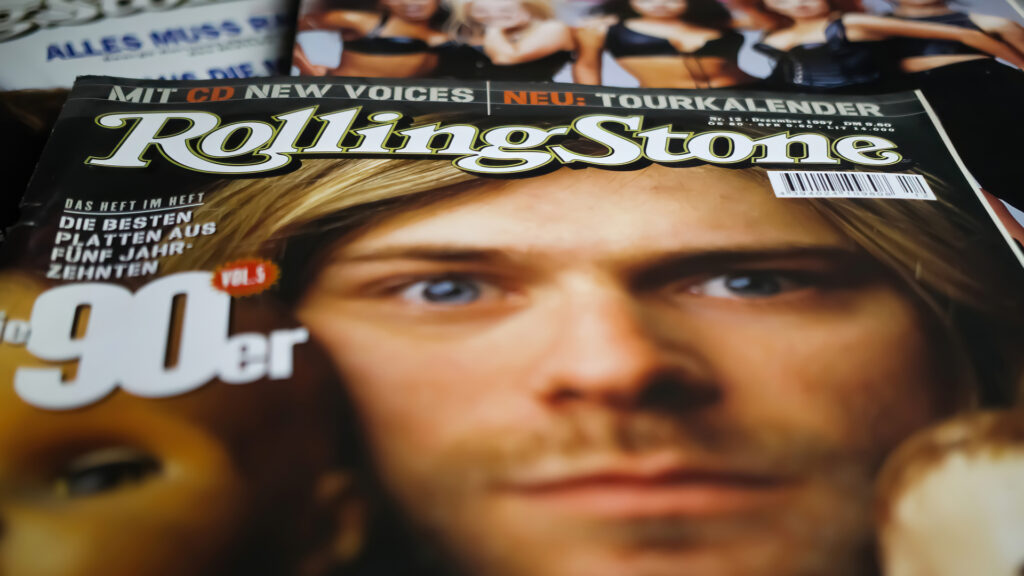 The Grunge Genre
Grunge – literally dirt or grime; any muck that collects on something old. Also the name of the main musical genre associated with the "Seattle Sound," and the style (both life- and fashion-) to which the world is indebted to the Pacific Northwest city of Seattle, has its aural icons; pioneers as iconoclastic and unexpected as the genre itself. You've got your Melvins with Buzz "King Buzzo" Osbourne, Soundgarden and Chris Cornell, Alice in Chains with Jerry Cantrell, Pearl Jam and Eddie Vedder, and of course, Nirvana spearheaded by "Aberdeen" auteur Kurt Cobain.
The occasionally sludgy and somehow soothing rawness of the Nirvana frontman and their 21 singles are a precious find in the flea market of contemporary rock. Much like the Seattle Sound – something clunky, a tad subversive, a bit punk, but with an obstinate solidity that somehow tugs at the heartstrings – is the only automotive relic, likely to have been used for nearby gigs, possibly some touring, and all kinds of tomfoolery (musical or otherwise), proven to have been owned by the forever young Kurt Cobain.
Smells Like Teen Spirit
Cobain's premature passing surely left innumerable fans devastated, with many mourning still to this day while listening to static-y bootlegs or rough B-sides. Despite his gung-ho lifestyle and the denoted mindset he had, he wasn't a hundred percent haphazard. And much like the thrift shop finds that dominated the grunge scene back in the day, he was never really ostentatious. Much like his ride: the light powder-blue clunker brought to light in a 2018 exhibit honoring Cobain in Newbridge, Ireland's Museum of Style Icons. 
The 1965 Dodge Dart was the third series from the manufacturer. There were some options of the '65 available, the "safest" of which was the rear-wheel drive, 101-horsepower inline engine. At the other end of the spectrum was a brawny V8 that produced 235 horses. The happy medium in terms of performance to mileage was the four-barrel carburetor 273 engine.
The bestselling Dart of that series was a two-door model to be had at approximately $2,650. That same year, that particular Dodge model had larger wheels because of the introduction of disc brakes and the larger radii needed by the calipers. Front seat belts also became standard; a boon to the hard-rocking Cobain.
Although there are rumors of Kurt driving around in a 1986 Volvo 240 – another literal and figurative safe automotive bet – the Dart is the sole surviving car in the public eye to have been owned by Cobain. Reports have also circulated that wife Courtney Love was made to return a car – a Lexus – she bought as it was deemed by the husband to be overly fancy.
In Heavier Than Heaven, author Charles Cross' Cobain bio includes this: "Kurt and Courtney were quarreling when they took a cab to the American Dream car lot. He bought a 1965 sky blue Dodge Dart for $2,500."
Kim Cobain, Kurt's sister, bought it from Love after the death of the Nirvana singer. As it retained its license plates and was backed by a title that proves ownership by the husband and wife rock duo, it was expected to fetch anywhere from $400,000 minimum to $600,0000 tops at an auction. Seven prospective buyers bid, and the car sold for a little less than expected in May 2022.
The Cobain Catalog
In the same auction, the blue 1969 Mustang Fender the frontman played in the video "Smells Like Teen Spirit" went for $4.5 million. 
Cobain praised the guitar in his final Guitar World interview: "I'm left-handed, and it's not very easy to find reasonably priced, high-quality left-handed guitars. But out of all the guitars in the whole world, the Fender Mustang is my favorite. I've only owned two of them."
Another instrument in the Cobain catalog was a spruce-top and mahogany Dreadnought-style steel-string Martin D-18E bought at Los Angeles' Voltage Guitars, according to band technician Earnie Bailey. It was modded to house a Bartolini electric pickup, and be played by Cobain left-handed. The acoustic guitar comes with a weather-beaten vintage black hard case, three Dunlop guitar picks, a partial set of strings, and a pouch containing lapel pins. Other curios, like three baggage claim stubs, add to the itinerant Nirvana nostalgia.
Other items up for grabs were a skateboard with an illustration of Eddie, the mascot of rock band Iron Maiden, and a Michael Jackson painting. Smaller, yet no less precious knickknacks up for auction are a Pokey figure from the Gumby claymation series, a well-preserved backstage pass to one of the band's concerts, and Kurt's travel itinerary for the Nevermind tour.