Since she appeared on The Tonight Show Starring Jimmy Fallon back in 2016, the world wants to know everything there is to know about the Folktronica artist Aurora. People are eager to know what inspires her eccentric style, her kooky personality, and — of course — her haunting songs.
Aurora began writing her own songs when she was just nine years old. She started playing the piano three years earlier but waited until she had a better grasp of the English language before honing her lyrical skills. Since then, she has written songs that inspire the likes of Billie Eilish.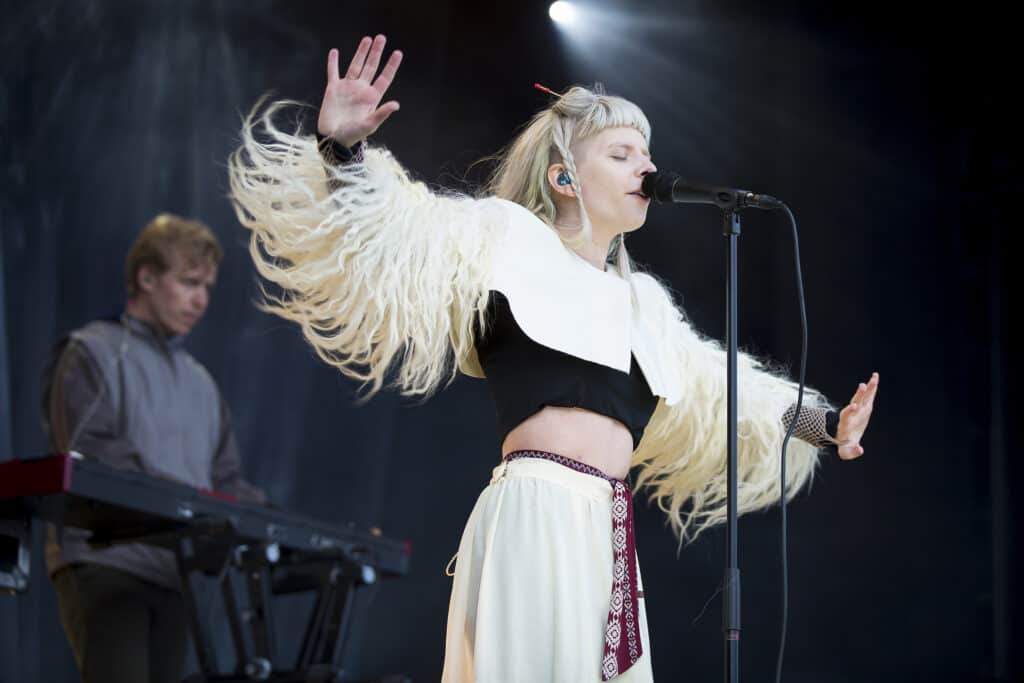 Who is Aurora and how did she develop her passion for music? How does she write her lyrics and what is the inspiration behind some of her best songs? What kind of commercial success has Aurora seen? You've got the questions, and we've got the answers.
Who is Aurora?
Aurora Aksnes, who goes by the mononymous stage-name AURORA, was born on 15 June 1996 in Stavanger, Norway. She was the third child to May-Britt Froastad and Jan Øystein Aksnes and the little sister to Miranda and Viktoria.
The eccentric singer spent most of her childhood in Høle before her family moved to a remote farmhouse in the Os mountains. She grew up surrounded by nature, and her fondness for all thing earthy would stick with her for the rest of her life.
The lone musician of the family, Aurora started learning how to play the piano she had found in the farmhouse attic when she was just six years old. She immediately connected to the instrument and began writing her own music.
At the age of nine, she began writing her own songs too. From the day she started writing songs, her lyrics focused on intense subjects such as depression, feminism, murder, and politics. When she was 12 years old, she wrote a song called 'Runaway' which ended up inspiring Billie Eilish to pursue a career in music.
How Does Aurora Write Her Songs?
Aurora, who Katy Perry reckons has "the voice of an angel" and makes "new music that makes my heart a flutter" is a seasoned songwriter. She writes 'songs for the scars we get' and says that while she had a great childhood, she experienced loss and uses that as inspiration for many of her songs.
Despite drawing on her real-life experiences for inspiration, only 'Lucky' and 'Runaway' are written about her. Speaking to The Independent, she reveals "None of my songs are about me… But everything is the world's experiences."
In an interview with The Culture Trip, Aurora delved into the inspiration behind some of her songs. When asked where the "darker connotation" in her music comes from, she responded with "I only write about the things that grind in mind; the things I wonder about, or can't figure out…I think about my music, and my mind is very drawn to the dark side of things because that makes me wonder the most."
Aurora says that "the meaning of my songs changes all the time. I've never been very personal in my music, but then again I take everything personally." While the quirky artist has full creative input in her songs and music videos, she doesn't watch her own work — in fact, she doesn't listen to anyone else's music either.
Aurora's Impressive Resume
The singer-songwriter has won an EBBA Award for her album 'Running with the Wolves' and was nominated for a Public Choice Award for the same album. She tidied up at the Spellemannprisen in 2016, 2017, 2018, and 2020 alike with numerous nominations and three awards.
In 2016, she was nominated as the Best Norweigan Act at the MTV Europe Music Awards and took home the Silver Creator Award at the YouTube Creator Awards that same year.
Aurora doesn't just write her own songs. Back in 2016, she teamed up with Fran Healy to write '3 Miles High' for the Scottish rock band called Travis. In 2019 she wrote 'To Be Loved' for Askjell and 'Bango' for British electronic duo The Chemical Brothers.
On top of her remarkable success as a singer and songwriter, Aurora has made quite a few on-screen appearances on both the big and small screen. While she has appeared as herself in several short films and documentaries, her most notable acting credit to date is her tole of The Voice in Disney's Frozen II.