Daniel Robert Middleton, known to billions on YouTube as DanTDM, is a perfect example of how someone can become a celebrity simply by uploading fun and enjoyable videos on the internet. Aside from his incredibly successful YouTube account, he maintains an active presence on social networks like Twitter and Instagram, but does DanTDM have TikTok?
The number of users on TikTok has exploded in recent months and years, and given his large following, it is no surprise that DanTDM has also decided to jump aboard this growing fad. By joining this increasingly popular social networking and video-sharing app, DanTDM has created closer ties to his fan base while simultaneously expanding it.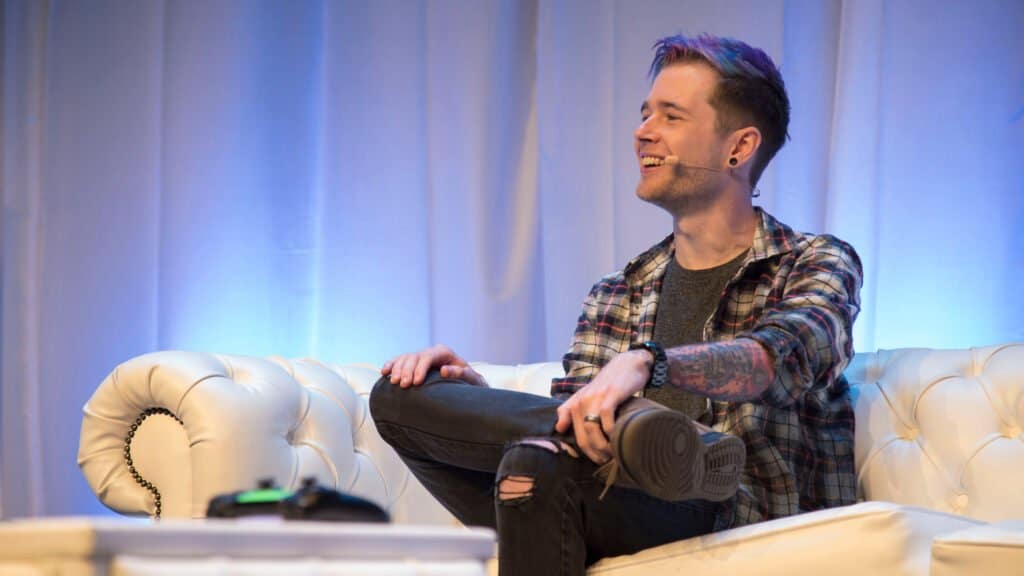 DanTDM On YouTube
A native of Aldershot, Hampshire, England, DanTDM first joined YouTube under the account name "PokemanDanlvl4" in 2009. At the time, his channel was solely dedicated to videos of him playing the first-person shooter game Counter-Strike: Global Offensive.
Three years later, in 2012, DanTDM started a second gaming channel on YouTube called TheDiamondMinecart, which focused mainly on the popular sandbox game Minecraft. It was with this new channel that his career on YouTube truly began to blast off.
Only a year later, despite never showing his face, DanTDM had gained 100,000 subscribers on this new channel. To commemorate this major milestone, he finally revealed himself to his subscribers and has continued to show his face in subsequent videos.
Just two years after beginning the channel, DanTDM had gained 2.5 million subscribers.
He changed the name of his channel to DanTDM in 2016. The three letters at the end stand for the channel's original name, TheDiamondMinecart.
By August of that year, his channel had 12 million subscribers. In 2017, his channel entered the Guinness World Records Gamer's Edition for having the most views for a dedicated Minecraft video channel.
While he still uploads Minecraft videos, DanTDM has diversified his channel over the years. He now plays other kinds of games, such as Roblox and Fortnite, and even posts reaction videos, which have become quite popular on YouTube.
DanTDM is one of the most successful YouTube stars in the United Kingdom. His channel has over 24 million subscribers and has amassed 17 billion views across its thousands of videos.
Aside from his work as a YouTube creator, DanTDM has written a graphic novel. Entitled Trayaurus and the Enchanted Crystal, it was published in 2016 and appeared on the New York Times bestseller list for six weeks.
DanTDM Beyond YouTube
Beyond YouTube, DanTDM can be found on Instagram and Twitter. Similar to his YouTube page, both his Instagram and Twitter accounts have millions of followers.
On Instagram, DanTDM posts about his YouTube channel, as well as his personal life. In March 2013, he married his longtime girlfriend Jemma, and the two welcomed a son named Asher in January 2020.
Both Jemma and Asher make frequent appearances in his Instagram posts, as well as his pet pug Darcie.
On Twitter, DanTDM makes similar posts about his family. He also shares updates, opinions, and will ask his fans questions from time to time.
In addition to social media networks, DanTDM has a substantial presence on the live streaming service Twitch. On Twitch, he broadcasts videos of himself playing video games.
DanTDM On TikTok
On TikTok, users post short videos often accompanied by music, colorful transitions, and other effects. DanTDM posted his first TikTok video on November 11, 2020, which can be seen below:
The video features DanTDM and his son Asher and is accompanied by the song "Coming of Age" by the musical group Blondes. Since it was posted, it has garnered well over 500,000 likes and 20,000 comments from other users.
Though DanTDM has not been as active on TikTok as he is on YouTube, he has over a million followers and over four million likes across all of his videos. As he posts more videos on TikTok, these numbers will almost certainly increase.
While some internet celebrities have yet to join TikTok, DanTDM is far from the only major YouTube creator on the video-sharing app. James Charles, Markiplier, and Kimberly Loaiza can also be found on TikTok.
It would seem that no matter what online platform or social network DanTDM appears on, his large and loyal fanbase is eager to follow. As TikTok continues to grow, many other YouTube creators may join the app, but it seems unlikely that this will diminish the massive following that DanTDM already has.