If you haven't been keeping up with Imagine Dragons' recent work, then take your mind back to 2012 when they had earned their first top spot on a music chart with the second single, "Radioactive." That kind of catchy pop-rock has been the American bands calling card, seemingly unable to miss when it comes to producing stellar albums, but who actually writes their music?
Imagine Dragons write all of their own songs, with at least one but usually all four band members having accreditation as a songwriter on every track. They will also work with one or two extra songwriters, such as Alexander Grant.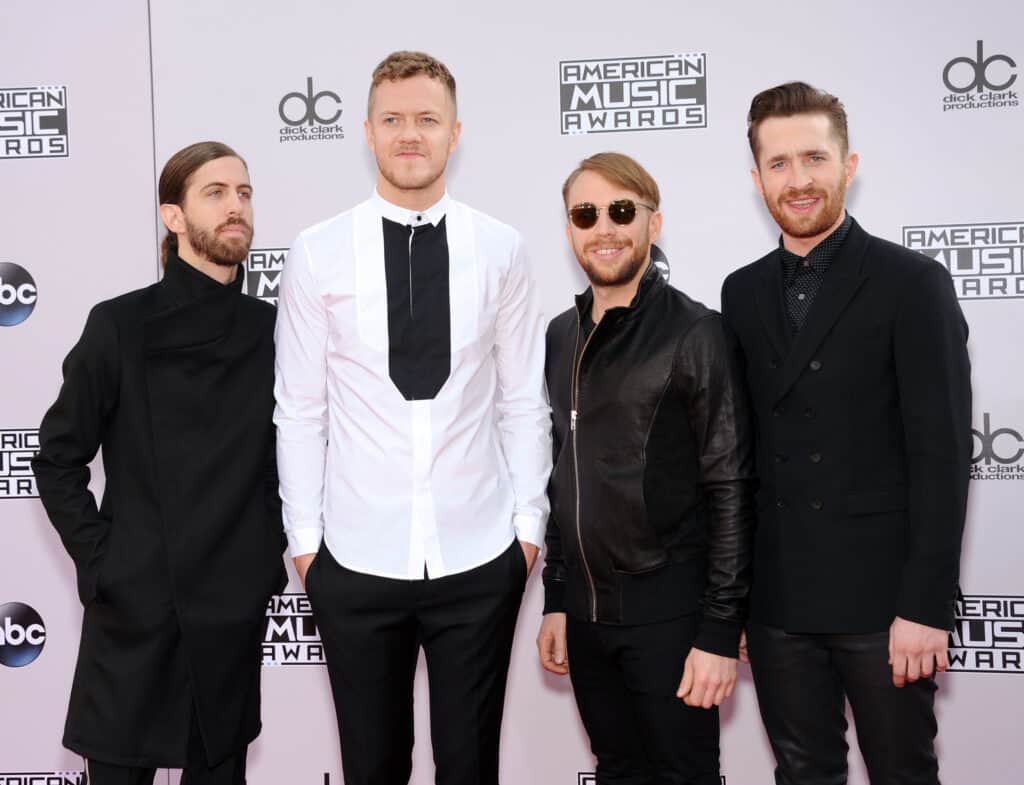 Imagine Dragons enjoyed a rapid rise to success during the 2010s, no doubt thanks to their ability to put out such incredibly catchy songs, songs instrumental in them managing to capture audiences in a space once dominated by the likes of Linkin Park. A large part of this success is their ability to write those songs themselves, clearly demonstrating a talent for capturing a unique sound while also providing accessible and easy listening.
Imagine Dragons' First Foray Into Songwriting
The inception of the group was the work of original member and lead singer Dan Reynolds, who created the group together with Andrew Tolman, but it wouldn't be until a year or two later that the remainder of the core members were added. The fully complete roster that has had its hand in almost every song they have written consists of Dan Reynolds, long-time friend Wayne Sermon, Ben McKee, and Daniel Platzman.
They had already dipped their toes into the songwriting water with the production of two EPs prior to getting Daniel Platzman onboard, the self-titled Imagine Dragons, and follow-up Hell and Silence. Though the two EPs did well to garner them extra attention, pushing the band further and further into the spotlight, it wasn't until the addition of Platzman that the band's songwriting alchemy would begin producing gold.
The album Night Visions was their first studio release, and the first time that all four core members of the band worked together on the music, from the lyrics to the production, they were heavily invested in the process from start to finish. Another key member of note to the entire process was Alexander Kid, also known as Alex da Kid, a British producer whose name you see across much of the Imagine Dragons discography.
One of the standout singles on Night Visions was the second single from the album, "Radioactive". Although each track brings something unique to the table, you can really get a taste for the group's songwriting style on the track, with Reynolds offering insights on the fact that the lyricism and style of the song reflected a "confusing time" in his life, and how the hard-hitting style of the song was influenced by his origins as a drummer.
It was a message that resonated with listeners, with the vocal crescendo and powerful lyrics clearly managing to strike a chord in the hearts of new fans, securing the song a place at the top of any and every alternative or rock music chart. Although the popularity of the song should be enough of a testament to its success, there's also the records that it broke, managing to hold its place on the Billboard Hot 100 for more than 76 weeks.
Recognition of Talent
The band has repeated that success since then, continuing to produce a solid body of work entirely written by themselves. Each subsequent album that they released has managed to hit that most coveted number one spot on rock music charts, driven primarily by their ability to continue allowing their songwriting talents to grow and adapt.
As recognition of his then up and coming talent, the Songwriters Hall of Fame issued lead singer Reynolds with the Hal David Starlight Award, an award given to especially talented songwriters who have managed to create culturally significant original pieces of work.
Hearing Reynolds explains the emotions that he goes through for the songwriting process, you can tell that the group pours their heart and soul into every aspect of each song. Just like with his comments about "Radioactive", Reynolds discusses at length the emotional turmoil from the band's experiences that are infused into each song, creating not just music, but music that contains a completely unique part of themselves.