Marshawn Lynch is an American football running back who is best known by his nickname "Beast Mode". He's retired from the NFL three times, but has he ever won a Super Bowl ring during his time as a professional football player?
Marshawn Lynch has one Super Bowl ring which was given to him after the Super Bowl XLVIII game on 2 February 2014. The ring boasts 42 blue sapphires, 119 diamonds, a marquis diamond, and an emerald tsavorite gem.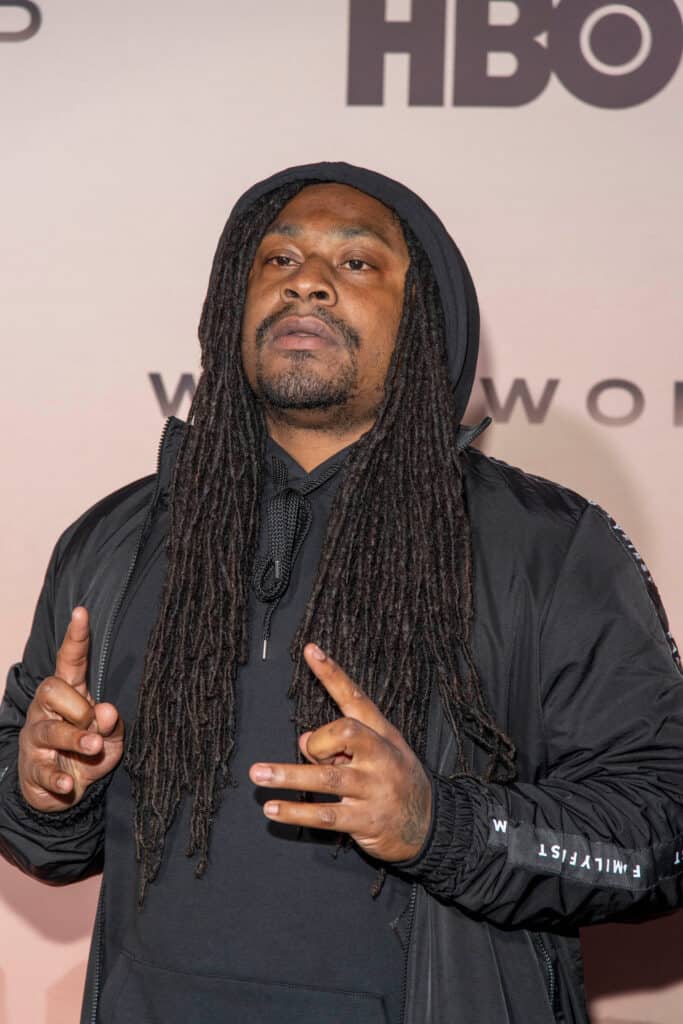 Want to know more about who Marshawn is and what Super Bowl rings are all about? For this information, as well as a close look at Marshawn's ring, keep reading today's article because it covers all this and more.
Who is Marshawn Lynch?
Marshawn Terrell Lynch was born on 22 April 1986 in Oakland, California, to Delisa Lynch. He grew up in his birth town along with three older siblings.
As a high school student, Marshawn was an all-rounder sportsman. He attended Oakland Technical High School and played football and basketball along with taking part in wrestling and running track.
This school is known for churning out athletes. Pervis Atkins, John Brodie, Proverb Jacobs, Josh Johnson, Bill McKalip, Ray Norton, Roy Shivers all have two things in common with Marshawn: they all played in the NFL and they all attended Oakland Tech.
Marshawn achieved great success in high school and won awards such as PrepStar, SuperPrep All-American, and the San Francisco East Bay Player of the Year.
After graduating from high school, Marshawn headed to the University of California, Berkeley, where he majored in social welfare and played for the California Golden Bears football team until 2006.
In 2007, Marshawn said 'goodbye' to college football and 'hello' to the NFL. He started out playing for the Buffalo Bills and then the Seattle Seahawks before retiring, and then returning to the NFL to play for the Oakland Raiders before retiring and then joining the Seattle Seahawks again.
What is a Super Bowl Ring?
Most people have heard the term, but few really know what Super Bowl rings are and what they represent.
Presented to all members of the team that wins the annual Super Bowl, the ring represents the win of the championship game. The ring is presented to all active players in the team, as well as coaches, trainers, executive staff, and whoever else the owner deems a crucial player in the team's win.
Inspired by NBA championship rings that started in 1947, the first Super Bowl ring was awarded to the Green Bay Packers by their head coach, Vince Lombardi, in January of 1967.
Super Bowl rings are made of either rose gold, white gold, or yellow gold and they always feature diamonds. All rings feature the same details such as the phrase 'World Champions', a reference to Vince Lombardi, the Super Bowl number, and the team's logo.
The rings are customized for each player to include their name and uniform number. The NFL pays between USD $5,000.00 and $7,000.00 per ring for a maximum of 150 rings.
Marshawn Lynch's Super Bowl Ring
Marshawn got his Super Bowl ring after the Super Bowl XLVIII game against the Denver Broncos, in which he scored a 1-yard touchdown run, on 2 February 2014.
His ring was presented to him at the official Super Bowl XLVIII championship private ceremony hosted at the EMP Museum in downtown Seattle on 12 June 2014.
Unlike the majority of Super Bowls that are manufactured by Jostens, this ring was manufactured by Tiffany & Co and was designed by the Seattle Seahawks owner, team president, head coach, general manager, and other team executives.
The ring is made of white gold and pays homage to the city of Seattle with the city's skyline as its backdrop and the Seahawks themself with its logo front and center.
Boasting 42 blue sapphires, 119 diamonds, a marquis diamond, and an emerald tsavorite gem, though far from the flashiest, this Super Bowl ring is one to behold.
Each ring includes the player's name and number and is engraved with "LEAVE NO DOUBT. 24/7. SEA 43 – DEN 8. WHAT'S NEXT?"
The Seattle Seahawks have never revealed how much Marshawn and his teammates' rings cost to make, but the bidding on one of these secondhand rings is estimated to start at USD $50,0000.00.