Marshmello, formally known as Christopher Comstock, is an American music producer and DJ who first gained popularity with his remixes of songs by Zedd and Jack U. Marshmello's songs, "Silence", "Wolves", "Friends", "Happier" and "Alone" all have been certified double platinum in a number of countries and have appeared in the Billboard top charts.
Marshmello does have an official TikTok account, with a following of 21.3 million and 169.7 million likes as of February 2021. The DJ is also quite active on other social media platforms such as Instagram and Twitter.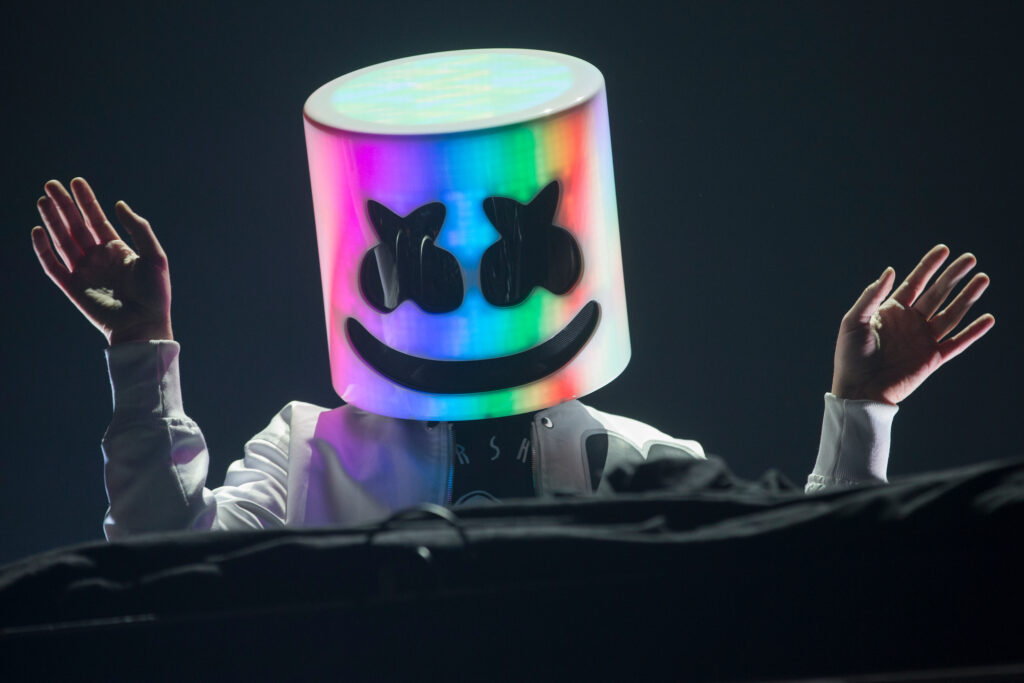 Marshmello is unique and differs from other DJs due to the fact that he actually hides his appearance from fans by wearing a helmet that resembles a marshmallow. He has stated previously that the reason for hiding his face is because he does not want or need fame in his life, his main reason for making music is only to create something positive and impactful for his audience.
Marshmello's Beginning and Secretive Identity
Marshmello is quite the music icon, wearing a full-head covering to hide his identity from fans. The helmet has gained popularity in the media and has made him stand out even more than he already has for his electronic dance music hits.
His career first took off back in 2015 when he posted some music on popular music streaming platform, SoundCloud. Marshmello posted remixes of top-charting music at the time including "Beautiful Now", "Where Are You Now" and others.
Marshmello gained a lot of attention on the music streaming platform and soon gained vocal support from other artists in the industry. With his music career taking off, the Dj was invited to perform at Ultra Music Festival and California's HARD Day of the Dead festival.
In 2016, Marshmello officially released previous tracks and remixes and reached high numbers on top charts. His album, "Joytime", reached number five on Billboard charts and number one on digital top electronic charts.
In 2017, Marshmello continued to release new music and perform at various music concerts and festivals, as well as collaborate with many popular artists. His most popular tracks were "Silence" featuring Khalid and "Wolves" featuring Selena Gomez with both the tracks becoming top 30 hits and certified platinum.
He released his second album, "Joytime II" in 2018 which features "Happier", a high-charting track that includes vocals by Bastille singer, Dan Smith. By the summertime, "Happier" reached the top of the Billboard electronic chart and was a number two hit on the Hot 100 chart.
Marshmello seems to thrive on mixing music and remixing various sounds, along with collaborating with a number of popular artists. In the next two years following the release of his second album, Mashmello collaborated with Chvrches, Tyga, Chris Brown, Kane Brown, Slushii, Flux Pavillion, Elohim, Vance Joy, and even Halsey.
Marshmello On Connecting With Fans and Social Media
Having a secret identity does have its perks, although it might be harder to truly connect with fans on a deeper level since they don't really know what you look like. Marshmello decided to give up fame for a more secretive, lowkey, and safe lifestyle, which is pretty rare in today's music industry.
His brand is recognizable, although it is not recognizable in the way most people's brands are because no one is really able to spot him in public. That's what separates him from other traditional DJs these days, such as Diplo or Zedd.
Marshmello has fans from all around the world, and he tries to keep his audience in the loop with his life and upcoming songs and collaborations through his social media platforms. He seems to be most active on Instagram and Twitter, having 29.6 million followers on Instagram and 2.4 million on Twitter.
Marshmello uses the social media platform, Twitter, to retweet his friends' music, his own releases, remixes, and just random things about his songs.
On Instagram, Marshmello usually posts pictures of himself (with his helmet on, of course) with other artists or the projects that he's working on. His Instagram is quite funny- it must be nice not having to worry about what you look like!
On TikTok, Marshmello also tries to stay up to date with his audience by posting random clips of him working on projects or snippets of him and his music. He sometimes posts funny clips of him and other DJs goofing around, such as one of his most recent videos of him and Benny Blanco creating the world's largest s'more.