With his ever-growing popularity and fame, many are asking whether Post Malone is responsible for his massive success, or if there's another artist behind the scenes?
While Post Malone has been a part of many collaborations with different music artists, his own songs are completely his own. From the release of his first single White Iverson, Malone has played the main part in the writing of all of his songs.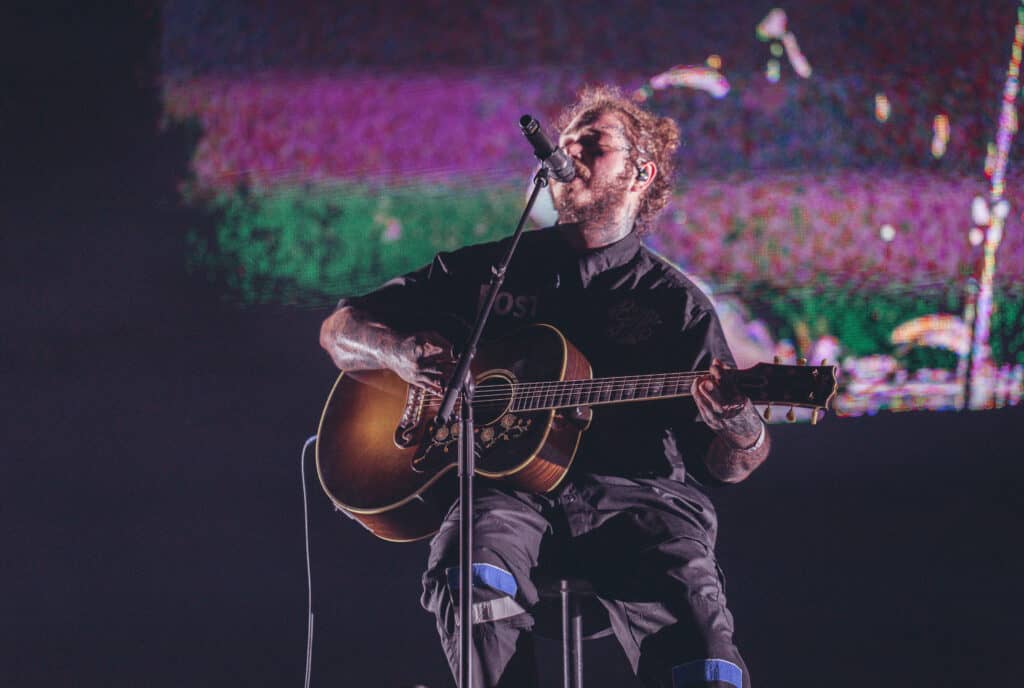 But where did it all start for the man we know as Post Malone?
Before He Was Famous
Post Malone was born Austin Richard Post on July 4th, 1995 to American parents in Syracuse, New York. At nine years old, Malone moved with his family to Grapevine, Texas when his father became the manager for the Dallas Cowboys.
Malone's father was a huge music fan and had been a DJ in his youth, so he introduced Malone to many genres of music as he grew up. As a teenager, he learned to play the guitar and was a fan of emo music, and even formed part of a heavy metal band. He soon transitioned to softer rock and into hip-hop before he started experimenting with creating his own music.
In high school Malone used a "rap name generator" to create his rap name "Post Malone" and it stuck. Not long after, he created his first mixtape which he shared with his classmates at school. As a senior in high school, he was voted "Most Likely to Become Famous". From the very beginning, Malone was writing his very own songs.
Moving to L.A.
Malone made the move to Los Angeles, California where it didn't take long for him and several other producers and artists to form a music group; BLCKVRD. Through creating music in this group Malone was introduced to a number of people, including Rex Kudo who produced Malone's first single "White Iverson", which Malone recorded just two days after writing it. A few months later Malone released a music video for the single, which reached one million views in less than a month and received praise from big names such as Mac Miller and Wiz Khalifa.
From there record labels started paying attention to Malone, and he signed a recording contract with Republic Records in 2015.
Collaborating to Make It
After signing the contract, Malone worked with a number of prominent artists and musicians including 50 Cent, Young Thug and Kanye West, and even performed at Kylie Jenner's 18th Birthday Party. Malone met the infamous Justin Bieber late in 2015, and Bieber invited gum to be the opening act for his "Purpose World Tour".
2016 gifted us with Malone's first project titled "August 26", followed by his album "Stoney", featuring the tracks "Deja Vu feat. Justin Bieber", "I Fall Apart" and "Congratulations", all written by Post Malone.
Fame, Fortune, and Future
Malone's success only escalated from the release of his first album, with subsequent albums seeing more and more success, taking home prizes at the American Music Awards 2018 and 2019, and the Juno Awards in 2019, with numerous nominations too. He has broken records and achieved fame and fortune, is a friend to the stars, and has grand homes in multiple states.
Danny Wright of NME describes Malone as someone who is able to "skillfully cherry pick from different genres[, …] But Post Malone is the post-everything star the kids have called for, a musician made for the internet-age; a goofball chameleon instinctively skilled at understanding the ways genres can merge together. These are albums made as playlists that skip seamlessly between styles".
It's rare now to go a day without hearing Malone's dulcet tones on the radio, and anyone who decides to look further into the discography of Post Malone will be pleased to see that each and every track featured on his albums have been written by himself, showing us all that Post Malone is a true writer, lyricist, and musician of our time, and we can expect much more amazing writing to come.