He is also known to go by his real name 'Marshall Mathers' and his alter-ego 'Slim Shady', but you probably know him best as Eminem – now where did this stage name come from?
Quite simply, the name 'Eminem' is an evolution of the initials from 'Marshall Mathers'. It all began as M&M and over time it phonetically and literally formed to a single word.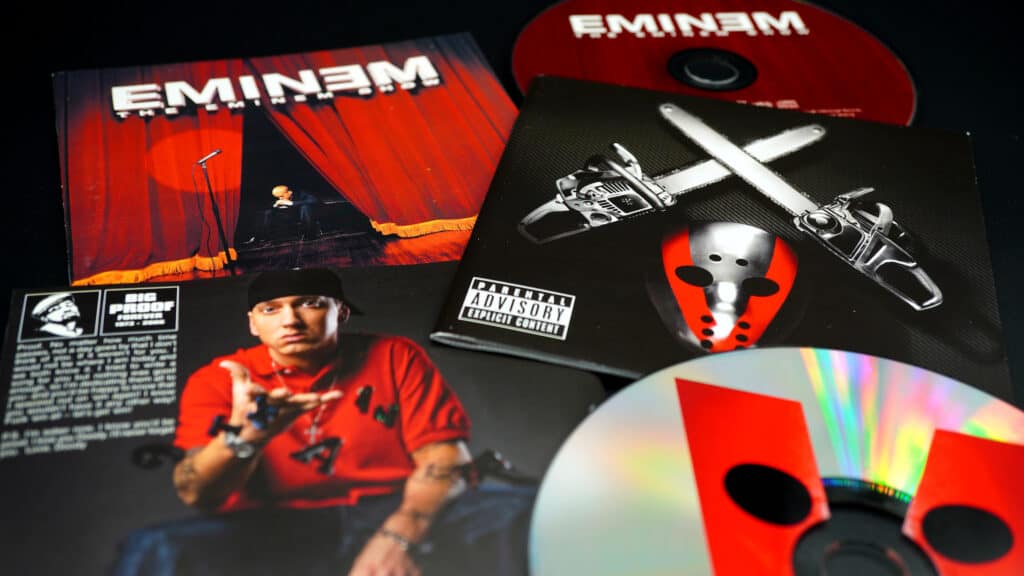 In his rise from poverty to stardom, Eminem went by a few other names and joined a few bands and groups, too.
Earlier aliases, bands, and groups
At the very beginning of Eminem's career, he opted to go by the stage name MC Double M. While under this alias, he joined forces with DJ Butter Fingers (Matt Ruby) to form the group 'New Jacks'.
Combining the DJ skills of Butter Fingers and the lyrical genius of MC Double M, New Jacks joined forces with another duo 'Hype-n-effect' consisting of Matt Ruby's twin brother Michael Ruby as 'MC Manix' and his DJ Steve Mackiewicz (DJ Stezo) to form 'Bassmint Productions'.
After a few more arrivals including Eminem's childhood friend DeShaun Dupree Holton aka 'Proof', Bassmint Productions became 'Soul Intent' in 1992.
In 1996, after the dissolution of Soul Intent, Eminem and Proof formed D12 (The Dirty Dozen) along with 4 other rappers – Bizarre, Kuniva, Swifty McVay, and Mr. Porter.
Early solo career
Eminem's first solo album also came in 1996 titled 'Infinite', which featured rappers Proof and Mr. Porter among others, plus singer Angela Workman. It remains unknown how many copies were sold and figures range from 70–1000. However, this is believed to be the inspiration of Eminem's alter-ego 'Slim Shady'.
Mainstream popularity didn't arrive for Eminem as a solo artist until 1999 when 'The Slim Shady LP' was released. Produced by his idol Dr. Dre, this album didn't only go on to sell millions of copies but also resulted in Eminem's first Grammy award success.
In 2000, The 'Marshall Mathers LP' was released, followed by 'The Eminem Show' in 2002. Both of these also attained Grammy awards, making Eminem the first to win three consecutive 'Best Rap Album' Grammys.
"Cleanin' Out My Closet" was one of the biggest hits from 'The Eminem Show'.
After the release of 'Encore' in 2004 and his 'Anger management Tour' of the US in 2005, Eminem went into a 4-year hiatus.
The return to heights
Eminem was back with a bang in 2009 with the release of 'Relapse', selling 650,000 copies in the first week. The style of this album was very much 'Slim Shady', as he raps about the battle against addiction, including his personal problems with prescription sleep medication. Another consecutive number 1 album.
In June 2010, the release of 'Recovery' saw around 750,000 copies sold in the first week, notably featuring the track "love the way you lie" featuring Rihanna.
'The Marshall Mathers LP2' arrived in 2013, featuring more superstars than ever. Rihanna returns on the track "Monster", accompanied by Kendrick Lamar, Skylar Grey, and Sia on their respective tracks. It's not surprising that just short of 2 million copies were sold by the end of the year in the US alone.
Then along comes 'Revival' in 2017, yet again featuring a legion of superstars. This time sporting the likes of Beyonce, Ed Sheeran, P!nk, Alicia Keys, and more. The album became Eminem's eighth consecutive album to enter the charts at number 1 in both the UK and the US.
'Kamikaze' was released in 2018 with no prior announcement. It differed greatly from the recent albums which had seen all-star appearances – this album was very much back to his roots. Joyner Lucas, Royce Da 5'9" and Jessie Reyez were featured, but no chart-topping artists like we'd begun to see. Opening at number 1 in the charts again and streamed 225 million times in the first week.
Eminem's latest album, released in 2020, is titled 'songs to be murdered by'. It finds a steady balance between his original signature sound and the chart sound he had later adopted. It contains a mix of feature types including the return of both Ed Sheeran and Royce Da 5'9".
From humble beginnings to present-day super-stardom
You likely already know Marshall's story – from the slums of Detroit to world festival-headlining superstar. Whether you picked up the story from within his music or watched '8 Mile', it's clear his climb from MC Double E to featuring the likes of Beyonce has been an incredible journey.