It was a huge scandal in 1991 when Magic Johnson announced that he had tested HIV positive and announced his retirement from the NBA. But, how did he transmit the disease?
It is thought that Earvin 'Magic' Johnson contracted HIV from living a promiscuous lifestyle in the 1980s at the height of his career with the Lakers. It is unclear which of his many partners gave Johnson the disease. At the time, AIDS was known as 'the gay disease' because of the toll it took on the gay community. Many people thought Johnson was gay because he contracted the disease.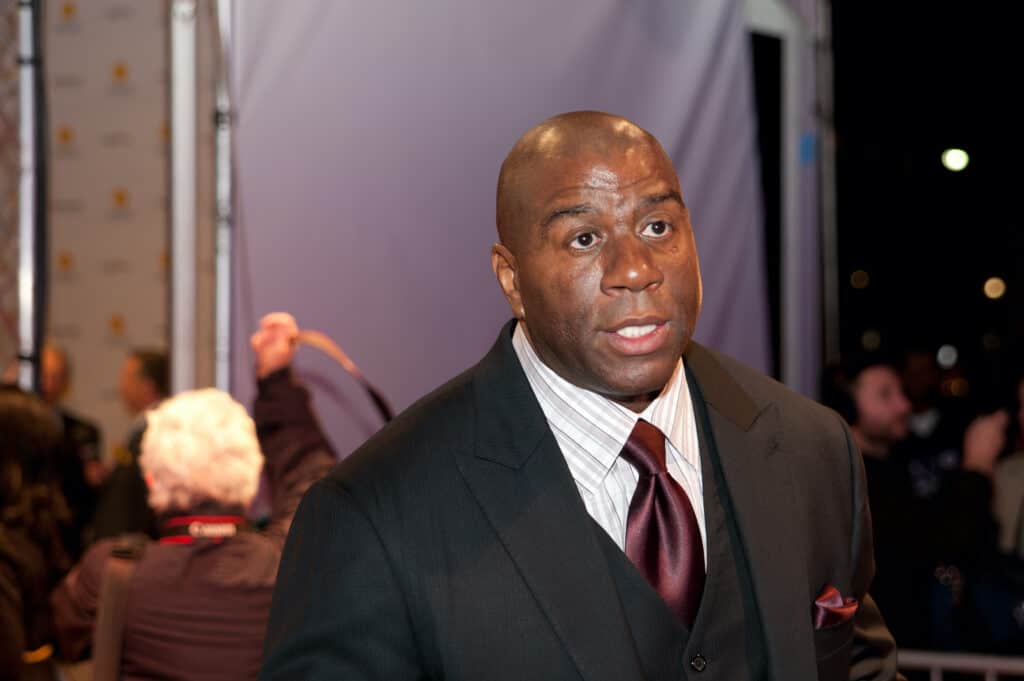 You can read more below about Magic Johnson's contraction of HIV, its effect on his career, and how he deals with it today.
Magic Johnson's HIV Diagnosis
It's November 7, 1991, and Magic Johnson has just announced at a press event that he has tested HIV positive. Beside him at the podium is his wife of only two months and the soon-to-be mother of his son, Cookie Johnson.
The nation is utterly floored by the news. This is because, in 1991, Magic Johnson was the face of the NBA, possibly one of the most beloved players at the time.
A lot of people started to wonder if Johnson was gay because up to this point it had only been queer celebrities who had been diagnosed with the disease. A lot of the celebrities were outed for their sexuality.
People like Liberace, Freddie Mercury, and Rock Hudson had all been outed because of either their deaths from HIV/AIDS-related illness or their diagnosis.
In reality, Magic Johnson was the very first heterosexual celebrity to announce their diagnosis publicly. His decision to go public was mostly due to the insistence of an AIDS activist.
As this article from Frontline explains, it was Elizabeth Glaser who convinced Magic to go public with his HIV diagnosis. Glaser ended up with the disease when she had to have a blood transfusion while giving birth to her daughter.
Glaser's infection led to the infection of both her daughter and her son. This was because during the height of the AIDS epidemic in the 1980s and 90s, donated blood wasn't tested for HIV.
This woman said that Johnson should become the face of AIDS as he would be able to help educate and create awareness surrounding the disease due to his popularity with fans.
You can watch Magic Johnson's announcement to the press of his HIV diagnosis in the below video.
HIVs Effect on Johnson's Career
Not only did the HIV diagnosis cause many to speculate that Magic Johnson was gay, but it also had a huge impact on his career in the NBA. Shortly after he announced that he was HIV positive, Johnson made the decision to retire from basketball.
He said in an ABC PrimeTime Live interview, that he was retiring because of the reaction of people to a cut that he got while playing. When asked about the cut he got, he said he just felt like people were too concerned about it.
He told interviewer Chris Wallace, "I said between this, and all the criticism, it's just too much. It's gonna happen all year long. Scraped. Whether I get cut or somebody else. Boom. There's that panic. There's that fear."
Johnson's retirement announcement still didn't stop fans from voting him into the 1992 NBA All-Star Game. Even though some of his fellow players didn't want him to play, Johnson attended the event and ended up being awarded the MVP title.
He also represented the United States at the 1992 Barcelona Olympics as a part of what became known as 'the dream team.' A team of basketball players including Micheal Jordan and Larry Bird.
Despite retiring due to his disease and concerns surrounding it, Johnson was planning on making an NBA comeback for the '92-'93 season. That plan was abandoned when a lawsuit was filed against him by one of his ex-lovers who stated she had contracted the HIV virus from Johnson.
Magic Johnson's Life Now
Thanks to the invention of the triple-drug cocktail to treat HIV/AIDS positive individuals in 1995, Magic Johnson was able to avoid the agonizing and drawn-out deaths that were suffered by the likes of Eazy E and Freddie Mercury.
While he is still HIV positive as there is no cure for the virus, Johnson has been able to live a relatively normal life. His wife Cookie and son EJ remain HIV negative.