The rock legend and famed actress finally tied the knot in 2018, but how did Neil Young and Daryl Hannah meet in the first place?
Neil Young and Daryl Hannah first met in 2013 when they were both involved in the filming of a Greenpeace documentary. The two went for a road trip in his 1959 bioelectric Lincoln. Young was still married to wife Pegi at the time, but they divorced not long after. This led to a lot of people accusing Daryl Hannah of being a homewrecker.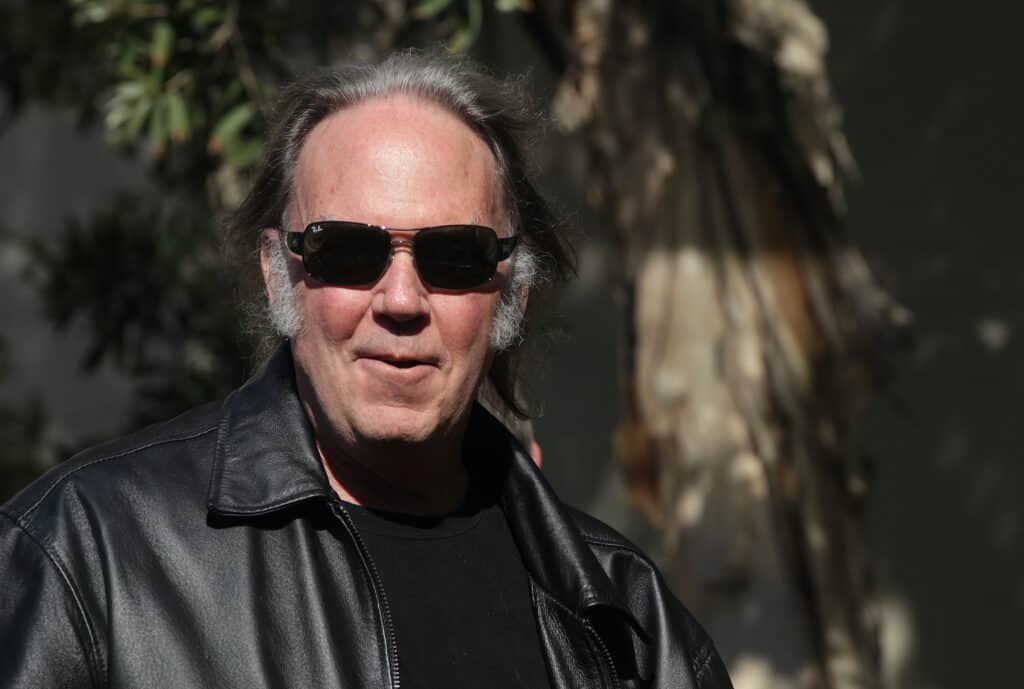 You can read more below about how the two met, the scandal that their relationship caused, and their secret wedding below.
Young and Hannah Meet Through Greenpeace
As mentioned, the two met in 2013 when they were both working with Greenpeace on a documentary. The documentary was all about the Alberta tar sands and the Athabasca Chipewyan First Nation.
Both Young and Hannah were well-known activists at this point so it wasn't out of the normal to see them working in the same collaboration. For the documentary, the two traveled in Neil's 1959 Lincoln, a bioelectric car, for six and a half hours along with a film crew to Fort McMurray, Alberta.
After the road trip, the two were seen together at a rally protesting the Keystone XL pipeline in April 2014. The protest was held by the Cowboy and Indian Alliance.
Something must have happened on that road trip because it was all of seven months later that Young filed for divorce from his wife, Pegi Young. The two had been married for 36 years.
You can watch the below video of Neil Young and Daryl Hannah attending a drum circle at the Cowboy and Indian Alliance protest.
Scandal Surrounding Neil Young's Divorce
The whole affair of Neil Young and Daryl Hannah caused a huge stir because many wondered if it was an actual affair. Young filed for divorce from his longtime wife Pegi Young on July 29, 2014.
The big scandal was that he was in a public relationship with Daryl Hannah all of a month after filing for divorce. It led many people to speculate on whether the two were in a relationship beforehand.
Sources close to the rockstar said that he had been dating Hannah for months before filing for divorce from his wife. The whole affair even led to Young being publicly criticized by a longtime friend and collaborator.
As this Daily Mail article points out, David Crosby said "I happen to know that [Young] is hanging out with somebody that's a purely poisonous predator now. And that's karma. He's gonna get hurt. But I understand why it happened. I'm just sad about it. I'm always sad when I see love tossed in the gutter."
According to the article, Crosby later apologized for his remarks. However, Crosby's remarks left lasting scars on his friendship with Young.
In 2020, Vulture reported that Young had no plans to reunite with Crosby because of what he said about Daryl Hannah. Even though Crosby has repeatedly reached out multiple times to apologize to Young for his comments.
Neil Young and Daryl Hannah Tie the Knot (In Secret)
In 2018, reports came out that Neil Young and Daryl Hannah had gotten married in secret. This is understandable considering the field day that the press had when the two got together amid his divorce.
On July 27, 2018, they were married on his yacht named the W.G. Ragland. The news of their wedding was reported by a local ship captain in the San Juan Islands area.
Even though the wedding happened in July, it wasn't until mid-August that rumors arose that the two had tied the knot.
Then on August 29, 2018, Page Six reported that they had held a 100 person wedding reception in San Luis Obispo, California. Famous guests like Joni Mitchell and Stephen Stills attended the gathering, while many other celebs took to social media to congratulate them.
Their marriage happened only six months after they premiered a Western film that they had co-created at SXSW. The film was titled Paradox and starred Young and other musicians like Willie Nelson.
At the premiere of the film, Hannah and Young did not take pictures on the red carpet and were only seen with each other during the film's question period. Maybe it was a tactic to throw the paparazzi off of their upcoming wedding.