Paul Ryan, if you aren't heavily invested in the world of politics or his personal career, is a name that you'd most likely recognize from 2012's presidential election ballots, where he ran alongside Mitt Romney as Vice President. Ryan has a net worth of up to $6 million, but how did he come to have that much money?
Paul Ryan made his money from a combination of investments, a construction business, and his marriage to partner Janna Little. Over the course of his political career, his wealth has grown exponentially.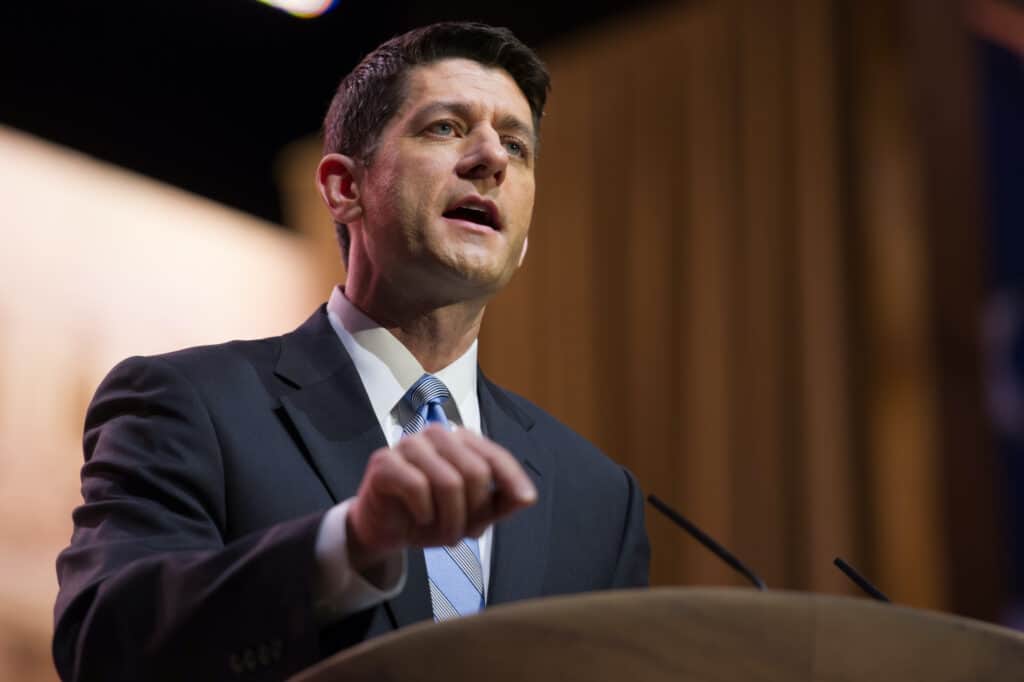 All the way back in 2012, during the presidential campaign, Ryan had something of a "rags-to-riches" style story surrounding his wealth. Many of his speeches were colored by a love of the American dream and making yourself into a success, no matter what adversity gets in your way.
Ryan's Beginnings
When looking into Ryan's early life to get more of an insight into the kind of "work hard to achieve your dreams" mindset that he has espoused in the past, you are met with some information that may seem juxtapositional at the outset.
He's what many would consider as someone who was born wealthy, coming from a family replete with lawyers, businessmen, and political ties. His family has deep roots in their home state of Wisconsin, and Ryan enjoyed a comparatively luxurious life on his family estate during his early years.
Although he had a lot of "privilege" in his upbringing, Ryan does also back up a lot of his talk with some walk, having spent his free time in his youth working what might be described as "menial jobs", such as working at McDonald's.
He certainly didn't amass his multi-million dollar fortune working the fast-food grills, however.
Inheritance
A large part of Ryan's initial wealth came from inheritances, in varying forms. After the tragic loss of his father to a severe alcoholism problem, much of the Ryan estate was divided up into a selection of investments and funds laid out for Ryan and other members of the family to manage.
Ryan himself was set to receive $50,000 directly upon his 30th birthday, whilst his mother was given the rest of the $428,000 probate estate. Even without any assets from his father's estate, however, other arms of the Ryan family have been there for him both financially and in his career.
Some rough estimates put his total wealth somewhere in the region of over $200,000, all before he was even 30, with multiple homes being under his ownership. It was shortly after all this, and a stint at the family-owned construction company, that he would enter the world of politics and also marry Janna Little.
Growing Wealth
Although the combination of wise investments and family ties had secured him a healthy amount of assets, his net worth was soon to be grown far by an amount that almost sounds too unbelievable to be true. After his wedding to Janna Little, the combination of his and his wife's assets totaled at almost $7.6 million.
This was also when his political career began to get underway, serving as a speechwriter under conservative politicians and mentor Jack Kemp. Although this arena was where Ryan first made his name, his beliefs and mentor Kemp's would soon diverge, leaving Ryan to go his own way.
Thanks in part due to the influence of his family and his own talents as a speechwriter and ideas man for the conservative party, Ryan attracted significant donations to the campaigns that he was working on, as well as many individual donations.
His long career in politics has garnered much success on a political level, with the career politician bringing forth many bills over the course of his career, some of which successfully passed into becoming law.
His track record in winning elections and the overall experience in his body of political work led him to become Vice President to Presidential runner Mitt Romney, a role that brought him even more attention from donors.
As with most politicians that rise so high in the ranks of their party and stay there, Ryan's wealth has also continued to grow steadily, maintaining a healthy rise all the way until he finally retired from politics in 2018.