One of the most familiar faces on American TV, Peter Falk portrayed Lieutenant Columbo for more than 30 years. How did the actor lose his eye?
Peter Falk lost his eye when he was three years old after being diagnosed with retinoblastoma, a rare form of eye cancer. Falk's right eye was removed and he was fitted with a prosthetic. He lived a further 80 years as a cancer survivor, most famously starring in "Columbo" from 1968 to 2003.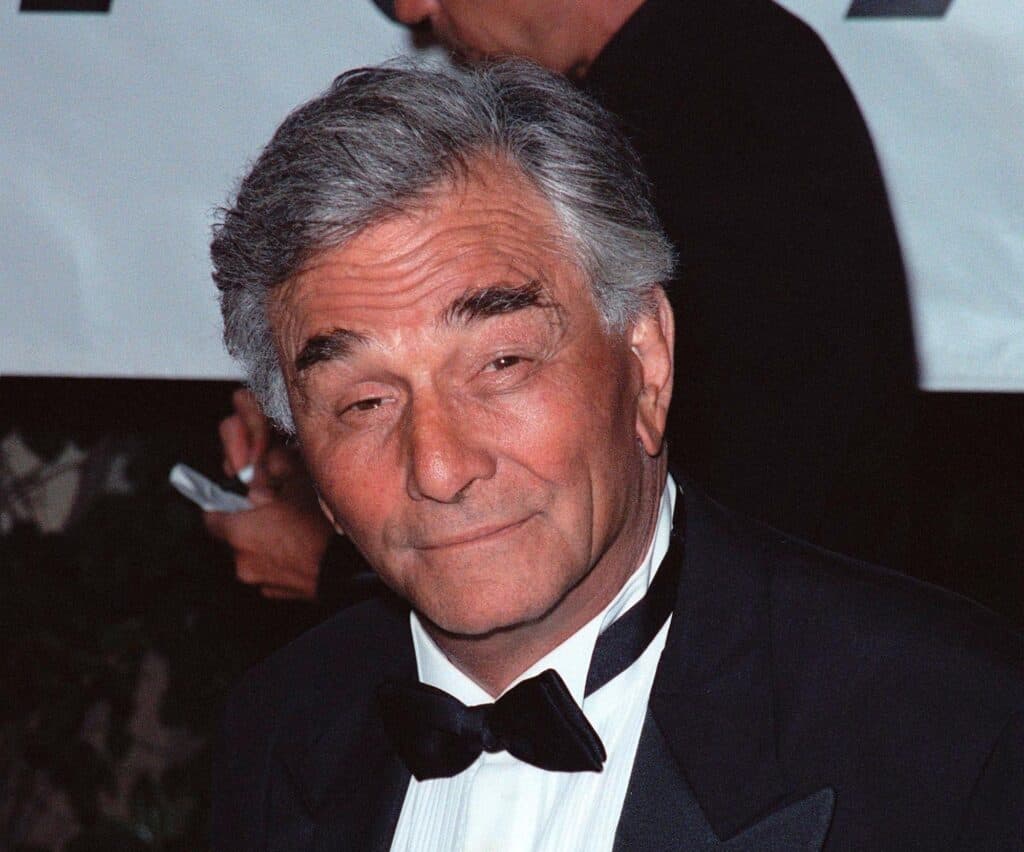 For more on Peter Falk and the loss of his eye, read on.
Peter Falk
Peter Michael Falk was born in New York City on September 16, 1927. His parents were Michael Peter Falk, who owned a clothing and dry goods store, and Madeline Hochhauser, an accountant. Both of Falk's parents were Jewish, of East European descent.
When he was three, Falk's preschool teacher noticed that he cocked his head at an unusual angle to look at things and suggested that his parents take him to a doctor.
The family was informed that Falk had retinoblastoma, a rare eye cancer that requires quick treatment to prevent its spread. Two days later, Falk's tumor and his right eye were removed.
Falk, who lived with his prosthetic eye for 80 years, always treated it with humor. The loss of his eye resulted in a distinctive squint, which became a signature trait throughout his lengthy screen career.
Education and Career
Despite his disadvantage, Falk was considered one of the best athletes at Ossining High School, also becoming president of his senior class.
While playing high school baseball, he once took issue with what he considered a bad call when he was called out at the third base. In protest, Falk removed his prosthetic eye and gave it to the umpire, telling him that he would be able to see better.
Falk graduated from high school in 1945 and enrolled at Hamilton College in New York. World War II was nearing its conclusion and Falk tried to enlist but failed to pass his medical examination due to his missing eye.
Instead, he joined the United States Merchant Marine, working as a cook and mess boy. He said that the Merchant Marine didn't care whether or not he could see, as the only person who needs to see was the captain.
In the case of the Titanic, he said, the captain couldn't see very well either. After a year at sea, Falk returned to college but quickly became bored by academic life again.
He signed up to fight for Israel in the War of Independence in 1949 but the conflict ended before his ship undocked.
He eventually completed his education in 1951, graduating from New York's New School for Social Research with a degree in literature and political science.
Despite graduating, Falk still had no real sense of purpose in life. He worked on a railroad in Yugoslavia for six months then enrolled at Syracuse University.
He earned a Master of Public Administration degree from Syracuse, designed to train future employees for the federal government. He applied to work for the CIA but was rejected.
While serving in the Merchant Marine, Falk had been required to join the Marine Cooks and Stewards Union. The union was considered a communist group and, despite not being active in the group, Falk was disqualified from working for the CIA.
Columbo
Falk joined a community theater group in Hartford, Connecticut while working as a management analyst. He was encouraged to become a professional actor by Eva Le Gallienne, who he was studying under.
After a successful stage career, including a run on Broadway, Falk found his breakout screen role in "Murder, Inc." in 1960.
Falk was cast as Lieutenant Columbo in a 1968 pilot and remained in the role until 2003, starring in 69 episodes of "Columbo" and becoming a TV icon.