The inventor of electricity, Thomas Edison, had two wives throughout his life. His first wife Mary Stilwell passed away and he remarried Mina Miller who passed away in 1947; after his death in 1931.
Thomas Edison's first wife, Mary Stilwell, officially died from "congestion of the brain" and his second wife Mina Miller died from a heart attack after Edison's death. There is still a lot of speculation on how Mary Stilwell died. Two theories are that she died of Typhoid Fever or a morphine overdose.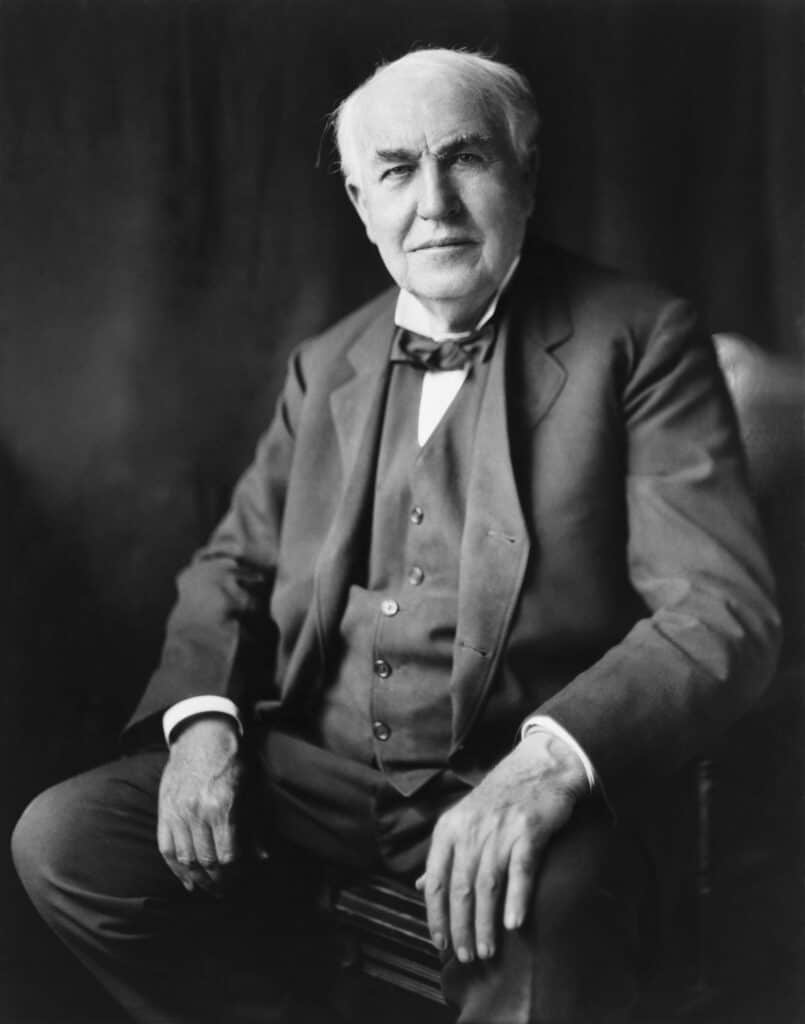 Scroll down to read more about the theories of how Mary Stilwell passed away, how Mina Miller passed away, and how Thomas Edison died.
Mary Stilwell Edison's Life and Death
Mary Stilwell met Thomas Edison when she was only 16-years-old while working in one of his labs in Newark, New Jersey. It was only two months after meeting Edison that she married the famed inventor.
The two were married for thirteen years and she gave birth to three children with Thomas Edison. Their children were Marion Estelle Edison, Thomas Alva Edison Jr., and William Leslie Edison.
According to W. K. L. Dickson, most of Edison's workers liked Mary Stilwell a lot because she was one of Edison's workers. However, when she was 29-years-old her health declined and she succumbed to her illness.
The official reports on her death were that she had passed away from "congestion of the brain" in 1884. Congestion of the brain was a term used in the 1800s for what we call a hemorrhagic stroke today.
A hemorrhagic stroke is bleeding in the brain that pools and then causes a stroke. While this was the official report, there has been speculation that her death was possibly due to other causes.
Other speculation says that she had Typhoid Fever and succumbed to her illness. However, it seems to be widely accepted now that she may have died from a morphine overdose.
Rutgers University published a paper in Phys Org that talks about the Thomas Edison Papers that they were reviewing, specifically Volume 7: Losses and Loyalties. This volume included Edison's recollections of his personal life from April 1883 to December 1884.
Through analysis of Volume 7 and the research of other sources available, the Rutgers University team was able to conclude that Mary had been a longtime morphine user and had probably overdosed. Congestion of the brain was a common cause of death among long-term opiate users.
Mina Miller's Life and Death
Two years after the death of his first wife, Thomas Edison remarried Mina Miller. Mina met Thomas Edison through a mutual friend of her father's and Edison, Ezra Gilliland.
In 1886, the two married, and Mina gave birth to three children with Edison. Those children were Madeleine Edison, Charles Edison, and Theodore Miller Edison.
You can watch the below PBS video that goes over Mina Miller's full life and eventual death.
Mina and Thomas Edison were married for 45 years and their home was under Mina's name to prevent it from being taken by debters in the case that Edison ever went bankrupt. Mina became Edison's widow when he passed away in 1931.
It was four years after Edison's death that Mina remarried Edward Everett Hughes and remained married to him until his death in 1940. She had met Edward when he was her next-door neighbor at their summer home in Chautauqua, New York.
Mina passed away in 1947 at the age of 82-years-old. Her obituary states that Dr. James A. Goss Jr. attributed her death to cardiac failure after a months-long hospitalization.
Thomas Edison's Death
Throughout his life, Thomas Edison was an incredibly prolific inventor. Among his inventions were the phonograph, electricity, and improvements to the telegraph and rechargeable battery.
It was in his later years that Edison's health declined due to his diabetes. His obituary in the New York Times stated that he had collapsed into a diabetes-induced coma until he passed at 3:24 am on October 18, 1931.
His decline in health could have been due to a fad diet that he was participating in where he drank a pint of milk every three hours and smoked cigars.
Strangely enough, when Edison passed away a plaster cast was made of his face to be put in a museum to commemorate his life. A vial of his last breath was taken when he was on his deathbed.