How did this American author, philanthropist, public speaker, and actor go from a poor janitor to a man worth an estimated $600 million with his own private Fijian Island? Let's find out.
Robbins started out working for Jim Rohn. Robbins worked hard to prepare his own life coaching seminars, through which he held hundreds across North America and built a brand for himself. He became a millionaire at 26 years old thanks to his seminars and bestselling book and continued growing with infomercials, other book deals, and over 30 company investments.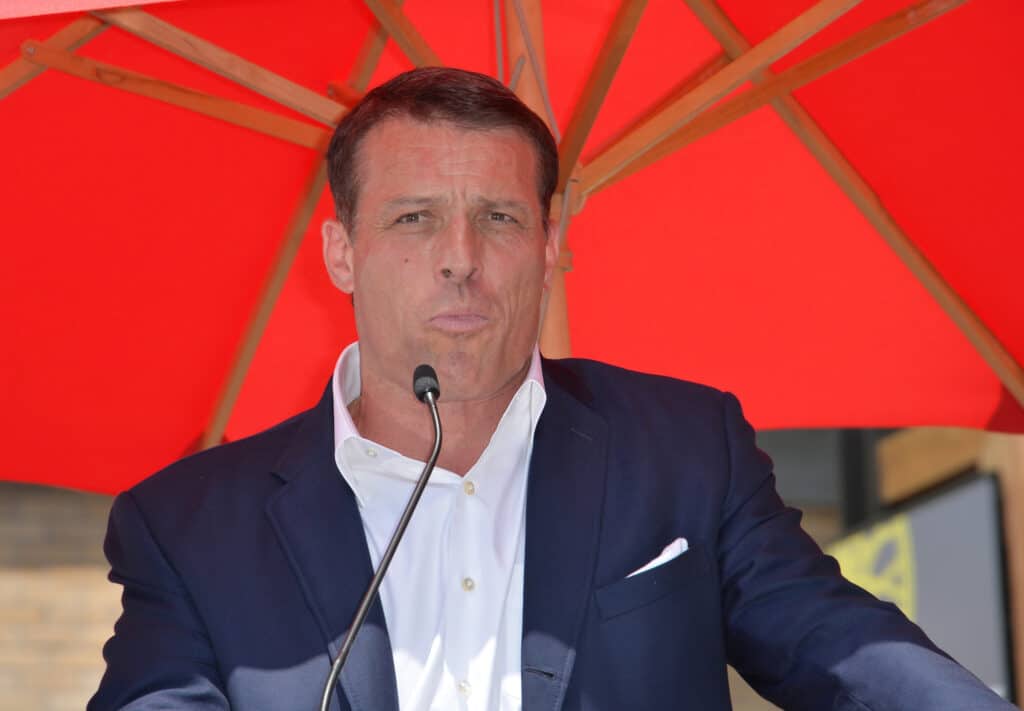 Continue reading for an in-depth look at Robbins' rise to riches, going from an abusive home life to working hard to make a better life for himself by helping others.
Making a Better Life for Himself
Born Anthony J. Mahavoric in 1960, Robbins grew up in North Hollywood, California with two siblings. After his parents decided to divorce when he was 7 years old, his mother remarried several times, one of them to a semi-pro baseball player named Jim Robbins.
Jim eventually adopted Tony when we turned 12 years old, hence the changeover of his last name.
Throughout his childhood, Tony's mother was unfortunately heavily into drugs. She barely left their house and was abusive towards her children.
As a result, Robbins found himself cooking the meals, shopping for food, and doing other daily household chores to look after his younger siblings. At 17 years old, he decided enough was enough and ventured out on his own without looking back.
"She wasn't a bad human being; she loved me" Robbins opened up to Business Insider in 2017 about his mom.
"But the problem was she abused drugs and prescription drugs and alcohol so much that it changes your personality. And so I had to protect my brother and sister, so I became a practical psychologist just out of necessity."
After running away from his difficult home life, Robbins took on a job as a janitor in addition to some other odd jobs. This work was mainly to support his siblings back at home.
Out of curiosity for human behavior, he began reading books about psychology and philosophy to expand his knowledge on the subjects.
One day, while working an odd job as a mover, he ran into an old family friend who told him about seminars held by Jim Rohn – an American entrepreneur and motivational speaker.
An Extremely Hard Worker
Robbins was so intrigued by Rohn's work that he sacrificed a week's paycheck to buy a ticket to one of his speeches.
After attending one seminar, Robbins was hooked. He knew that he wanted to do a similar thing, and set out lifelong milestones he wanted to reach by 20 years old, 40 years old, 60 years, and so on.
At this point, he was still fairly broke and even had a fearful view of money. In the clip below, he talks about the day he knew he became rich, even though he barely had a cent to his name:
From there, Robbins began holding his own workshops in order to build a brand.
Luckily enough, Robbins got to meet Rohn after he had given several of his own personal development speeches to Standard Oil executives and employees. He started working for the famous entrepreneur through promoting Rohn's seminars and becoming somewhat of his apprentice.
In the beginning of his growing career, Robbins worked exceptionally hard to get his name out there.
In the same interview with Business Insider, he shared that he was touring America living a "very, very crazy life", hosting four weekend seminars in a month, plus media appearances and events. "I was working as hard as a human being could work," he said.
This arduous and relentless schedule soon paid off (literally) when he managed to release his own book, Unlimited Power: The New Science of Personal Achievement, in 1986.
With revenue from his book, seminars, a business partnership with NLP, and multiple infomercials, Robbins was a millionaire at 26 years old.
Books, Investments & High-Energy Seminars
Robbins' success continued to flourish throughout the late '80s, '90s, and '00s.
He became a highly trusted life and business strategist, transforming the lives and coaching many highly successful people, like Salesforce CEO Marc Benioff.
He's invested in over 30 businesses worth more than $5 billion, developed self-help products and audio programs, continued hosting seminars, and wrote several other books.