She's now in her 80s, but the Grace and Frankie star looks anything but an octogenarian. How has she managed to stay in such good shape?
Jane Fonda is active and focuses on moving, stretching, and eating a lot of fresh fruits and vegetables. Although she looks amazing, Fonda has had some issues that many elderly people face. Specifically, she has had hip and knee replacements, back surgery, and dealt with cancer. Fonda has also admitted to having plastic surgery in the past.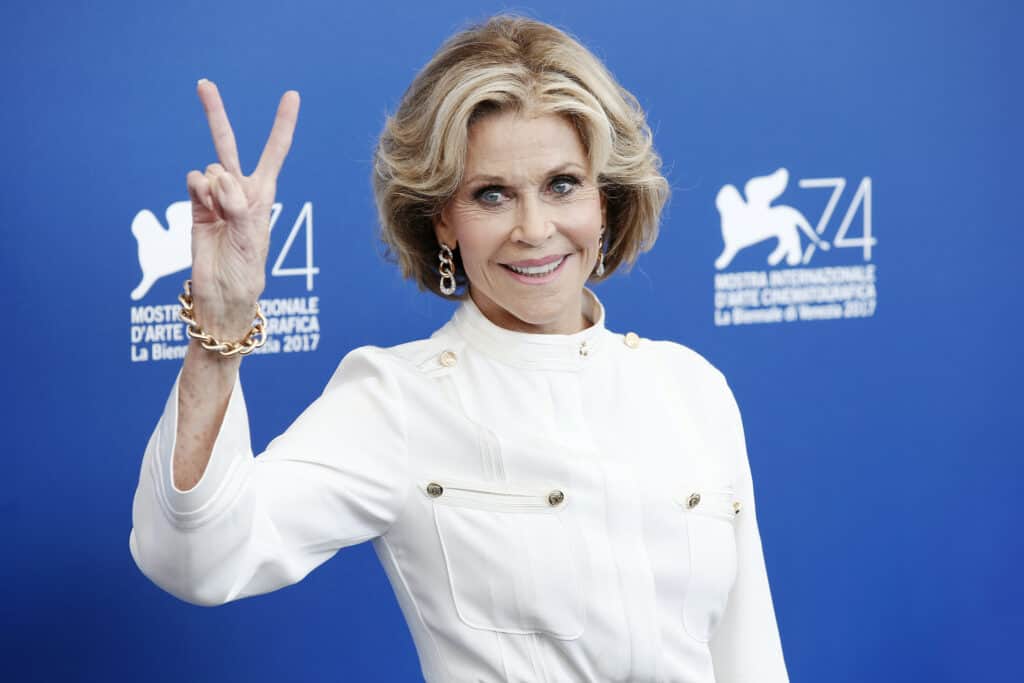 You can read more below about Jane Fonda's fitness routine, her diet, and her plastic surgery.
Jane Fonda's Workout Routine
It's pretty common knowledge that Jane Fonda created her own VHS workout videos in the 1980s. It is referred to as The Jane Fonda Workout and many people say that the workout still holds up today.
The videos featured a mix of aerobics, different stretches, yoga poses, pilates moves, and demanding exercises. Fonda has said that she can't do her famous workouts these days because of her age and mobility, but she still focuses on having a fitness routine.
She told Well + Good that "I have osteoarthritis, so I can't lift heavy weights or anything. I use resistance bands, and I do floor work, and I work every muscle group but I do it slowly and very intentionally."
This is really important for someone at her age because moving too fast, too jerkily, and not focusing on form can lead to irreparable damage. She has also said that she uses CBD and hemp oils to help with her muscle soreness and body tension.
As this Healthline article points out, CBD oil has the proven health benefits of relieving pain, helping with anxiety and depression, benefiting heart health, and even some anti-tumor effects. It can also help to alleviate muscle soreness and help benefit muscular healing, so no wonder Jane Fonda uses it.
On top of all of this, Jane Fonda says that she stretches every single day to help with her mobility and osteoarthritis. She also sleeps eight to nine hours a night.
Fonda takes to heart the saying that 'health is wealth.' You can watch her talking to Ellen DeGeneres about her 1980s workouts in the below video.
Fonda's Diet and Eating Habits
Not only does Fonda focus on healthy activity, but she is also very adamant about eating healthily and consciously. She is a known environmental activist and has changed her diet based on everything she has learned about climate change.
She told Who What Wear "[I] eat healthy food—a variety of fresh fruits and vegetables, nuts, and yogurt." Fonda has also said that she does eat meat.
However, her recent ventures into climate activism have led to her cutting back on meat-eating. She now eats minimal amounts of meat.
Fonda also used to eat a lot of fish, as she told Healthy Living Magazine a while back. After she learned that big fish populations in the ocean are disappearing, she cut off her consumption of fish as well.
In the Well + Good interview referred to above, Fonda also said that there are areas of the world that rely heavily on fish as their only source of protein. Since she lives in a part of the world where she can choose what meat she eats, it is her responsibility to choose something other than fish.
Jane Fonda Has Had Work Done
It's not really a secret that Jane Fonda has had plastic surgery and often gets injections to keep herself looking younger. She has even openly admitted to having tons of different operations.
Fonda has even credited her plastic surgery with helping to extend her acting career in a time when there wasn't a lot of opportunity for women over the age of fifty. However, she has also said that, in part, it is her own self-insecurities that spurred her on to continue having work done.
Being in the limelight for so long, it is understandable that Fonda has insecurities. After all, she was a sex symbol in Hollywood for decades.
More recently, she has opened up and spoken about her struggles with mental health and bulimia. Her self-image struggles are one of the reasons why she is so focused on her health and well-being.
In 2020, Jane Fonda appeared on the cover of Elle Magazine and she spoke about her plastic surgery in the cover article. She told the magazine that she is vowing to stop with her plastic surgery forays from here on out to help with her own self-acceptance.