One of the world's most successful competitive eaters, Matt Stonie has held numerous world records throughout his career. How does Stonie stay in shape?
During the Major League Eating season, Matt Stonie consumes six protein shakes a day, accompanied by fruit or nuts. He works out five days per week and eats two large meals as weekly training. In the winter offseason months, he eats a regular diet.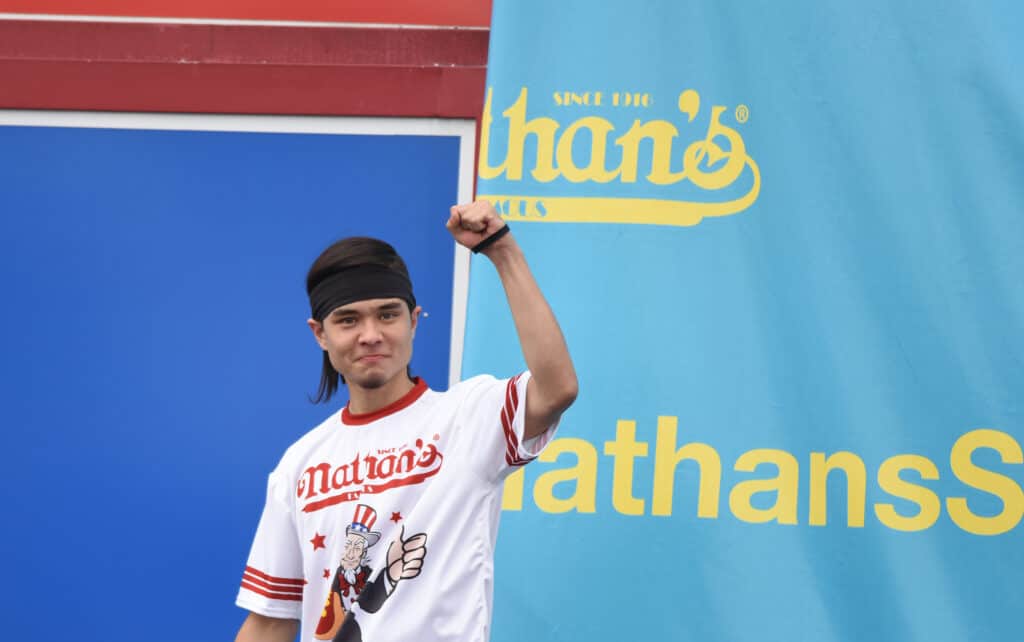 For more on Matt "Megatoad" Stonie and how he stays in shape, read on.
Matt Stonie
Matthew Kai Stonie was born in San Jose, California on May 24, 1992. He has mixed Japanese, Czechoslovakian and Lithuanian ancestry, and has a younger brother, Morgan, who is often seen in Matt's YouTube videos.
Stonie attended Evergreen Valley High School in San Jose and graduated from Mission College in Santa Clara. He is nicknamed "Megatoad", inspired by Toad from the "Super Mario" videogame series.
Despite his relative lack of size at 5 feet 8 inches tall and weighing in the region of 130 pounds, Stonie began eating competitively in his teens. He was inspired after entering a local lobster roll eating contest in New Hampshire, which had a $1000 prize.
Stonie reasoned that, even if he failed to win the contest, he would be able to enjoy free lobster rolls. He ultimately won the competition, defeating the favorite to win by eating half a lobster roll more.
Competitive Eating
He debuted in Major League Eating in 2011 when he was just 19 years old, making him the youngest member of the organization.
He quickly established himself as one of the leading names in the group, frequently coming up against legendary competitive eater Joey Chestnut. Stonie's first win over Chestnut came on July 4, 2015, in a Nathan's Hot Dog Eating Contest.
Despite his relative inexperience, Stonie was able to eat 62 hotdogs, compared to Chestnut's 60. Stonie ate his staggering 62 hot dogs in ten minutes and it was clear that the young star from San Jose was the real deal.
Stonie has a highly successful YouTube channel where he undertakes numerous eating challenges. He has more than 12 million subscribers and has amassed in excess of 2 billion views, making him one of the most popular competitive eaters in history.
He has held numerous world records in his career, generally in the pork-based category.
Staying in Shape
Given Stonie's career as a professional eater and the enormous amount of calories he consumes both in contests and on his YouTube channel, there is a great deal of work required to keep his weight around the 130 lb mark.
Stonie has said that eating is his full-time job and it's important that he takes care of himself, as his metabolism is naturally no different to anybody else's.
When training for a contest, Stonie will usually eat two challenging meals per week and rest for a few days in between. He equates this to bodybuilding, where someone will push their body to its limit and then allow days for their muscles to relax and recover.
In the aftermath of a contest, Stonie enters a state of recovery. On the first day, his body is bloated, then his body loses a significant amount of water weight on the second, then on the third, his body is mostly back to its original shape.
Stonie eats very little solid food during his recovery process and instead drinks plenty of water and consumes whey protein and multi-vitamins to fulfill his nutritional needs. He is usually in the gym five days a week, burning off calories and keeping his metabolism as active as possible.
On recovery days, Stonie usually eats six meals. Five of these meals consist of a 100 calorie protein shake, accompanied by an apple, carrots, almonds or bread. Before going to bed, he has casein protein and almonds to aid his recovery while he sleeps.
Before a competition, Stonie avoids fasting and activates his stomach by drinking a gallon of fluid. His drink of choice is usually Powerade, used to expand and relax his stomach.
He follows this with coffee, to ensure he empties his bladder before the competition begins, and drinks a protein shake for some final nutrition. He has said that the final preparation before a contest is a delicate balance between maintaining energy levels but keeping an empty stomach.
During the Major League Eating offseason, Stonie eats a normal diet, other than his YouTube eating challenges.