He's the center of the Velocity television show Chasing Classic Cars and the owner of a classic car sales shop. Wayne Carini has become the face of the classic car world and he has a personal collection that will wow any car fanatic.
Wayne Carini owns at least 25 of his own personal cars. He has said that it was always a dream of his to have a barn filled with cars and he ended up doing that. His most prized car is his 1948 Davis Divan, a three-wheeled convertible. His is one of only 13 cars ever manufactured.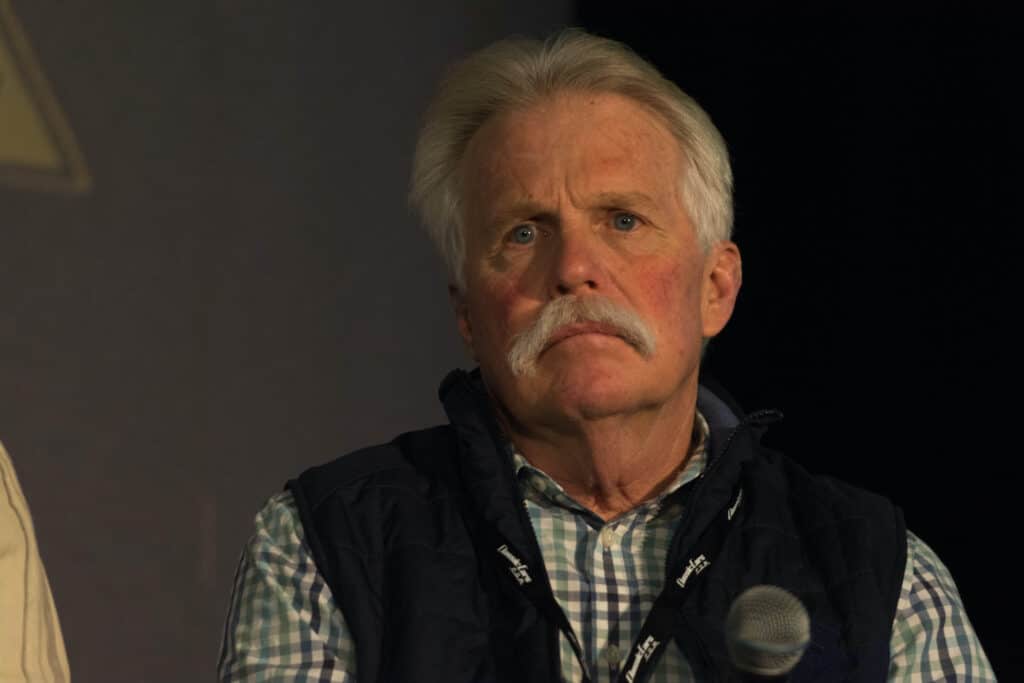 Scroll down to read more about other vehicles that are in Wayne Carini's car collection.
Wayne's Office of Motorcycles
In 2019, Hagerty Driver's Club Magazine did a Facebook live stream with Wayne Carini where they were granted access to do a full tour of Wayne's private collection. It was the first time the public was able to see just what exactly the classic car dealer keeps for himself without having to pay a large fee.
Carini's entire car collection sits in what used to be an old horse veterinarian clinic. He had a car sitting in his office before, but as he collected more motorcycles, he decided that he would make his office theme just that: motorcycles.
So in his office, he has seven motorcycles that are of different makes and models. Some of these models include an Indian, BMW, Brough Superior, and a Harley Davidson.
His Brough Superior Motorcycle is a 1936 SS80 with the Watsonian Sport Sidecar and is quite possibly the same one that sold at a Las Vegas Bonham's car auction for $115,000. This sale broke the world auction record for the sale of a matchless-engined SS80.
Carini's Harley Davidson Knucklehead is a 1946 and as he has explained, the tops of the heads on the rocker boxes look like the tops of a person's knuckles. Hence the name Knucklehead.
You can watch the below video of Carini's barn find of a 1948 Harley Davidson on Chasing Classic Cars.
He has some other motorcycles in his collection that don't sit in his office which includes a 1928 Indian Scout. This bike is argued to be the best model that the Indian brand ever manufactured.
In his office, he also keeps his grandson's collection. This includes a pedal car and a Blower Bentley, which is an electric car.
Carini's Back Room & Shop Cars
Behind his office, Wayne has what he calls his back storage room that is filled with filing boxes and more classic cars and bikes. A total of 18 cars and 5 motorcycles sit in this back storage room that used to be the hayloft of the barn.
Walking into the room, the first thing to immediately catch someone's eye would have to be one of Carini's most prized possessions, his 1948 Davis Divan. As stated above, this car was one of only thirteen ever made before the Davis Company went bankrupt.
Wayne Carini's barn loft collection also includes a 1963½ Ford Falcon Sprint complete with bucket seats and a green interior. He also has an original Arnolt-Bristol Roadster and it's sister coupe.
As this article states, there were only 142 Arnolt-Bristol cars manufactured to go to America, and of those, they were all roadsters except for two or three coupes. Wayne Carini owns one of those coupes.
Other vehicles that you can find in Wayne Carini's car collection are two Auto Red Bugs, which are micro-cars from the 1920s. One is a regular size while the other is the only known Junior Auto Red Bug currently in existence.
He has a VW Routan Special that features a Porsche four-cam engine; that engine is a collector's item in and of itself, valued at close to a quarter of a million USD. Also in his car collection is an MG Racer, 1933 Model B Ford pickup, a motor wheel collection, a 1912 Chase carriage car, a 1957 Ranch Country Wagon, and a Group 44 Triumph racecar.
Wayne Carini owns some other vehicles, but he also stores cars for other people. He stored one of Jay Leno's cars for a while.
Included in that category would be the Renault Jolly, also known as the Renault 4CV, a beach car that features really cool wicker seats. He also stores the Buick that was in the movie Rainman for its owner.