Ted Bundy is a name to send chills down anyone's spine because of the gruesome crimes he committed. Do we know how many people he actually killed though?
Ted Bundy confessed to killing thirty people before he was executed by electric chair in 1989. The murders took place between 1974 and 1978 in the states of Washington, Utah, Idaho, California, Colorado, Oregon, and Florida. While he confessed to thirty murders, it is suspected that the number of people he killed is much higher.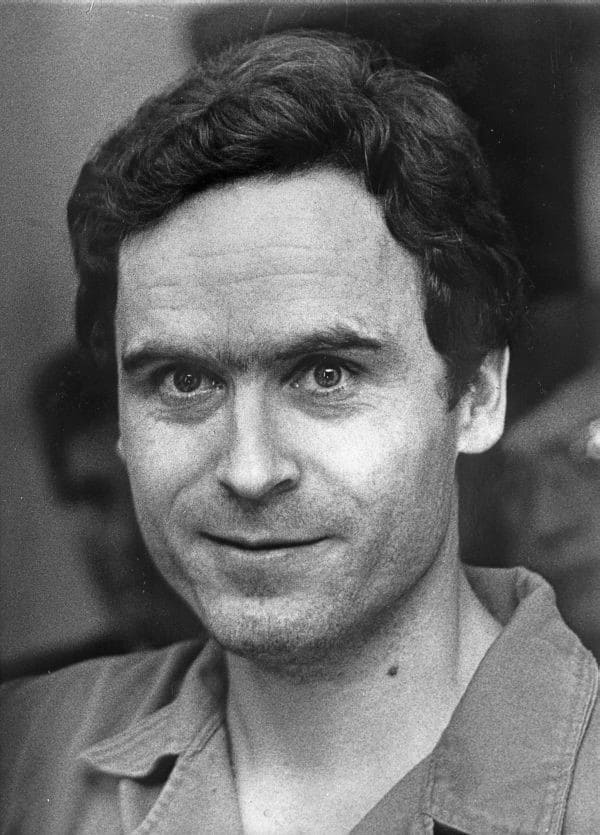 Scroll down to read more about who some of Ted Bundy's victims were and how he avoided arrest for so long.
Who Did Ted Bundy Kill?
As mentioned above, Ted Bundy confessed to the murder of over thirty women before he was executed in 1989. These murders took place across seven US states, mainly in the Pacific Northwest.
Bundy targeted young women whose ages ranged from 12 to 26 years old. His first known victim was Karen Sparks, who survived Bundy's attack when he broke into her basement apartment, but was left permanently disabled from blunt force trauma.
In 1974, Bundy murdered twelve women in Washington, Oregon, and Utah. He attempted to abduct Carol DaRonch in the same year, but she was able to escape by fighting off his attack.
The following year, Ted Bundy kidnapped and murdered another five women in Utah, Idaho, and Colorado. He was finally arrested in 1976 and was identified by Carol DaRonch as the man who tried to kidnap her.
Bundy was finally imprisoned because of his attempted kidnapping of Carol and it was while he was in prison that he was set to be tried for the murder of Caryn Campbell. She was a nurse who went missing after walking down a hotel hallway in Colorado.
It was during his second escape from prison that Bundy made his way to Florida and committed the heinous attack on the FSU sorority house. In the sorority house, he sexually assaulted and murdered Margaret Bowman and Lisa Levy while they slept, and assaulted two other women who survived his attack.
Bundy's final victim was twelve-year-old Kimberley Leach in Lake City, Florida. Knowing this, it isn't a surprise that people gathered and cheered when Ted Bundy was put to death.
Watch the video below to see a 1989 Eye Witness News report that shows people's reactions to Ted Bundy's death.
Bundy Avoided Arrest on Multiple Occasions
During the first half of 1974, Ted Bundy committed his first documented homicides. We say "documented" because it is suspected that he had committed murder as early as 1961 when he was fourteen.
Bundy was targeting young women at university campuses in Seattle and the surrounding areas. He would pretend to be injured and say that he needed some help to his car where he would then assault and kidnap his victims.
This went on for roughly six months until there were eyewitness accounts that provided the police with a facial sketch, as well as a description of Bundy's brown VW Beetle. Some of his colleagues, as well as his girlfriend Elizabeth Kloepfer, recognized him as the man in the sketch and they reported him.
Unfortunately, the police refused to believe that a clean-cut, good looking, young law student could possibly be a serial killer. They dismissed the reports from not one, but two people.
When Bundy moved to Salt Lake City in August of 1974, young women started disappearing in this area too. As mentioned above, Carol DaRonch managed to escape Ted Bundy's kidnapping attempt, but many more weren't as lucky.
It was in August of 1975, that a Utah police officer arrested Bundy originally for suspicion of burglary. When the police searched his apartment, they found a ski resort brochure where Caryn Campbell had gone missing and the brochure for a play where another woman had been abducted.
However, the police missed a stash of polaroids that Ted Bundy kept of his victims. When he was released from custody due to a lack of substantial evidence, Bundy returned to his apartment and destroyed the pictures.
It was in 1976 that Bundy was trialed for the kidnapping attempt on Carol DaRonch after she was able to identify him in a police lineup. He was sentenced to prison and then further convicted of murder upon the finding of new evidence.
However, Bundy still managed to escape twice. The first time he was found after six days, but the second escape lasted a month and a half, where Bundy escaped to Florida and attacked five women, murdering three of them.