George Herman Ruth, better known as Babe Ruth, a man who helped to popularise not only the legacy of the Yankees and their notorious "Murderers' Row" in 1927 but the sport of Baseball as a whole. Although you'd associate Ruth more with record-setting home runs, how many times did he strike out?
Babe Ruth had a total of 1330 strikeouts in his career. Ruth actually held a record for the number of times he had struck out, a record that would remain unbroken for 30 years.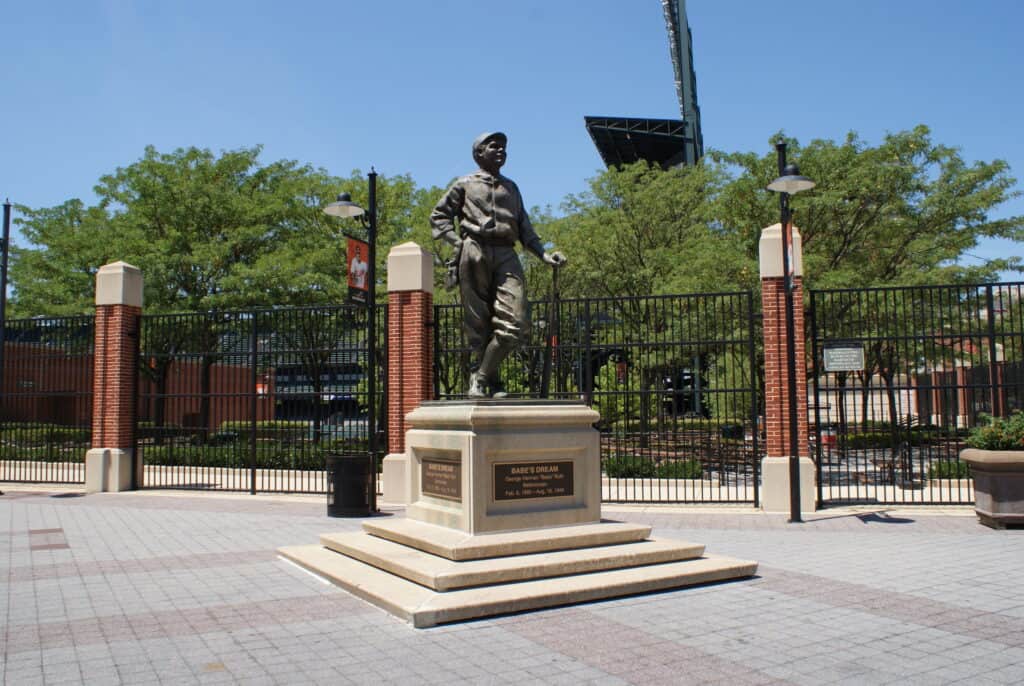 Ruth's history of strikeouts is directly correlated with his legacy of home runs in the sport of Baseball. The reason for the huge amount of strikeouts that he racked up over the course of his career wasn't a slight on him as a player, it was a symptom of how he changed the game of baseball forever with an impetuous new style that relied on exciting plays and risk-taking.
The History of the Strikeout
Although it has become a far more accepted style as the sport has progressed, there was once a time in Baseball where the batting form adopted by players was defined by a fear of being struck out.
In a sense, it's a logical position to take. You don't want to let down your team, and when you are on the plate facing down a pitcher throwing in excess of 70mph, it's only in your wildest dreams that you'd be able to accurately hit the ball at that speed.
For that reason, hitters opted to go for a safety-first strategy, attempting to ensure that the ball would hit the bat. The efficacy of the hit was still important, but it was an afterthought to the idea of simply guarding the plate.
Going for a heavier hit required a more open, risky stance. The stance was one that allowed the hitter to leverage for a wide swinging arc, but also leaving the plate far less protected.
Before Babe Ruth revolutionized the approach to batting, it was a risk that many didn't want to take. A home run was thought of as a fluke, as something that only happened purely by mistake.
The Dual King
When Ruth stepped up to the plate, it wasn't with the intention of playing a conservative game and it wasn't with the protection of the plate being at the forefront of his mind. Ruth's plan was to hit that ball as hard and as fast as he could.
His intention was clear, he was going to knock the ball out of the park, and if doing that took a couple of strikeouts, then as far as Ruth was concerned, that was the price that had to be paid. A strikeout was no longer a failure, it was just a minor inconvenience.
Although there are multiple versions, one great quote from Ruth which perfectly encapsulated his philosophy on the subject was as follows: "Never let the fear of striking out get in your way."
It was a philosophy that he followed to the letter, as not only did Ruth break multiple records for his hitting abilities and his home runs, he also broke the record for the number of times he had struck out.
In a way, it was two sides of the same coin, every time that Ruth swung, he was gambling that the coin would land on a home run and not a strikeout. That's why even though he had some complimentary nicknames like "The Sultan of Swat", he was also known as the "King of Strikeouts".
He was the original risk-taker when it came to batting, and he inspired generations of new players to follow suit.
Broken Records
Another interesting fact that really informs about the duality of Ruth's homerun strategy was the fact that two of the records he held, one for home runs and the other for strikeouts, were broken around the same time.
That, combined with the statistic that there are now an enormous amount of hitters who have similarly high amounts of strikeouts and home runs just further demonstrates the legacy that Ruth left behind.
It wasn't just a legacy for holding records for the number of strikeouts, or the numbers of home runs, it was a legacy that changed the entire game of baseball.