You probably know him as Jim Hopper, the awkward fatherly chief of police in the Netflix original series, Stranger Things. He's played other roles since, like the titular lead in the 2019 film, Hellboy. On-screen, we see him sticking out because of his wide frame and large body built. So naturally, we ask, how tall is David Harbour exactly?
David Harbour stands 6 feet and ¾ inch (1.89 m or 189.9 cm) tall. This brown-haired, blue-eyed fellow weighs around 90kg, which he maintains by working out in the gym.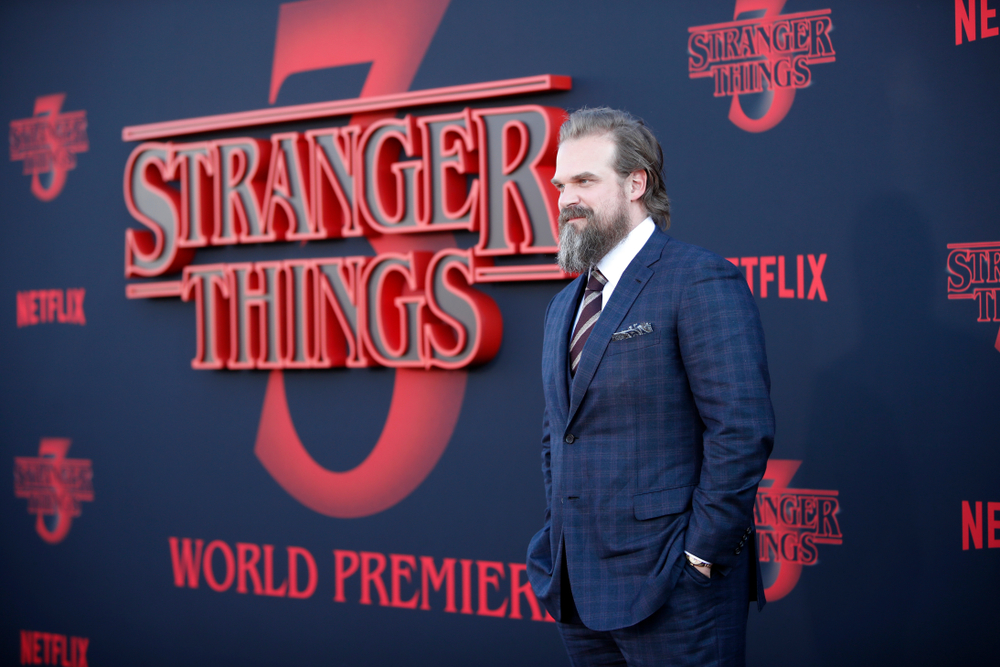 Scroll for more info about the Stranger Things star.
What is David Harbour's age as of 2022?
David Kenneth Harbour was born on April 10, 1975, and was raised in White Plains, New York. His parents were Kenneth and Nancy Harbour, who both worked in real estate. He attended Byram Hills High School and graduated from Dartmouth College in Hanover, New Hampshire, in 1997. He majored in drama and Italian, which hinted at the career he'd be pursuing later on.
David Harbour turned 47 years old in 2022.
One lesser-known info about Harbour is that, when he was young, he was diagnosed with bipolar disorder. He had a mental break when he was 25 and was institutionalized while recovering. Harbour admitted to being an alcoholic during his younger years but has been rehabilitated and stayed sober since his late 20s.
What other David Harbour movies and TV shows are out there?
Harbour knew that he would be starting from the bottom, so his TV debut was in episodes of Law & Order, Law & Order: Special Victims Unit, and Pan Am.
Then he got supporting roles in big blockbuster hits like the James Bond film, Quantum of Solace (with Daniel Craig), Revolutionary Road (with Kate Winslet and Leonardo DiCaprio), and State of Play (with Ben Affleck).
His other film credits include Brokeback Mountain, The Green Hornet, End of Watch, and Between Us.
Harbour returned to television and played the recurring role of Dr. Reed Akley in the historical drama, Manhattan. He then was cast as Chief Jim Hopper in Stranger Things in 2016, a role that propelled him to worldwide recognition and acclaim. He joins Millie Bobby Brown, Finn Wolfhard, and Winona Ryder in the cast of the Netflix series.
In recent years, he's been given the titular role in Hellboy and the character of Alexei Shostakov/Red Guardian in the Marvel Cinematic Universe film, Black Widow. He will be reprising the role in the film, Thunderbolts in 2024.
What is David Harbour's net worth?
David Harbour has come a long way in terms of his career and earnings in show business. With his recent successes, he has amassed a net worth of $5 million. Most of it came from his movies and television gigs.
Is David Harbour married?
David Harbour has been around the block before finally settling down with his wife, singer Lily Allen. We heard that he used to be engaged to actress Maria Thayer from 2008-2011 and then he got into a solid 4-year relationship with actress Julia Stiles. While together, the couple lived in New York.
After his split with Stiles, he stayed single for a while until 2018, he met actress Alison Sudol.
They were together until May of the next year. Shortly thereafter, he met English singer, songwriter, and actress Lily Allen. The two were married in Las Vegas on September 7, 2020, which was officiated by an Elvis impersonator.
David Harbour's wife, Lily Allen, is 10 years his junior. The couple has a significant height difference as well, with Lily standing at 5 feet 2 inches tall.