Bernard Arnault is one of the richest men in the world as the Chairman of LVMH Moët Hennessy – Louis Vuitton SE. He is consistently at the top of the Forbes Real-Time Billionaires List, so is he self-made?
Bernard Arnault is not self-made. When he was done studying engineering, he joined his father's company Ferret-Savinel, which was originally his maternal Grandfather's company. He worked there for six years before using his family's money to acquire Financière Agache, the company that owned Christian Dior. From there, he focused on the fashion industry and acquiring high-fashion brands.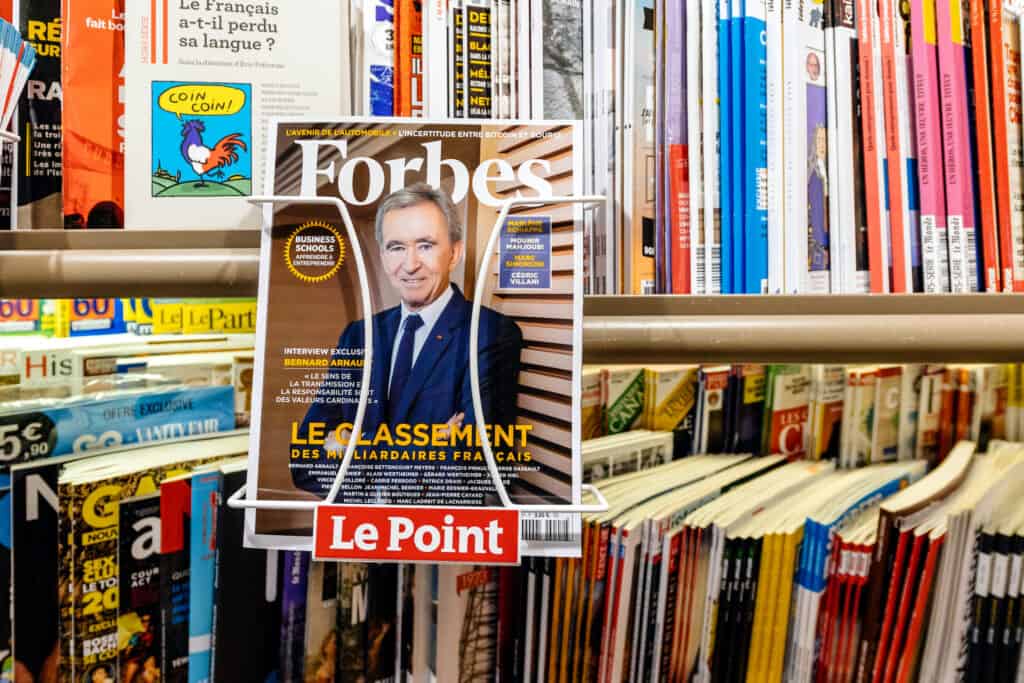 Scroll down to read more about Bernard Arnault's early career and how he acquired LVMH.
Bernard Arnault's Early Career
Bernard Arnault graduated from the École Polytechnique in 1971 with an Engineering degree. This school is the leading school for engineering in France and he immediately went to work for his father after graduating.
His father's company was Ferret-Savinel and it was a manufacturing and civil engineering company. It had nothing to do with fashion whatsoever.
According to Arnault, his desire to follow fashion came from his mother's fascination with Dior. It was still a while before he got into that area though.
It was in 1976 that Arnault convinced his father to sell off the construction side of the company and invest in real estate. He became president of the new company named Ferinel, which specialized in vacation properties.
In 1983, Bernard Arnault saw his opportunity to go after Dior, the company that his mother was so fascinated with. That was because the textile company that owned Dior, Boussac Saint-Frères, went bankrupt.
He swept in taking his opportunity to own the iconic fashion brand through acquiring Financière Agache, the parent company of Boussac and Dior. He ended up selling off most of the company and keeping only two brands: Christian Dior and Le Bon Marché.
Bernard Arnault now had ahold of the iconic fashion brand and soon he would take over more and more companies; building up an empire that has made him the richest person in fashion.
You can watch the below coverage from Yahoo! Finance of when Arnault became the second richest man in the world.
Acquiring LVMH
After the acquisition of Boussac and Dior, Bernard Arnault set his eyes on another struggling fashion company, LVMH. Louis Vuitton and Moët Hennessy had merged in 1987 and that was when Arnault started buying up shares.
He originally invested $1.5 billion along with the company Guinness to create a holding company that owned 24% of the LVMH shares. When he heard rumors that Louis Vuitton was attempting to create a 'blocking minority' he bought another 13.5% of the company's shares.
A blocking minority is when someone owns enough shares in a company to prevent another company from buying or owning it. Henry Racamier, the head of the Louis Vuitton division, was trying to do exactly this when Bernard Arnault swept in and achieved this goal instead.
It cost Arnault a total of $2.6 billion to take over LVMH and become the conglomerate's new chairman with 43.5% of its shares and 35% voting power. It was 1989 and he had successfully achieved his goal for the decade about eight years early.
Although Bernard Arnault was now the head of the company bringing Dior in under the umbrella as well, he was in for the boardroom battle of a lifetime. Racamier was not pleased that he lost the battle for the shares against Arnault.
Racamier was now set on running Louis Vuitton completely separate from the rest of the LVMH conglomerate.
The two ended up in what was the French newspapers called the 'The Young Wolf Versus the Old Lion.' It was a battle that was seen frequently in the United States but not in France.
In France, no one came in and just took over these companies and brands that had been around since the 18th century, it was unheard of! Arnault did it though and that also earned him the nickname 'The Wolf in Cashmere.'
In the end, Arnault won out. Since then, he has increased the companies profits by billions of dollars and he decentralized all of the brands within the conglomerate so they are seen as independent.
Bernard Arnault has bought up dozens of other brands that now sit under the LVMH conglomerate umbrella as subsidiaries.
Some of those brands include Fendi, Marc Jacobs, Emilio Pucci, Givenchy, Dom Pérignon, Château Cheval Blanc, Krug, TAG Heuer, Bulgari, Chaumet, and Rihanna's brand Fenty.
While Bernard Arnault is not self-made, he certainly took his small beginnings and turned them into a very big thing.