Listen to his music for just a minute or two and you'll have one question in your head: is Eminem the fastest rapper? The artist is impressive when it comes to his word per minute abilities, but does this mean that he's at the top?
While he's definitely one of the fastest rappers, Eminem doesn't hold the number one spot. The Guiness Book of World Records has listed Chicago MC Twista as the World's Fastest Rapper. However, this is a complicated question and Eminem may in fact be the fastest rapper in the world.
The 2020 hit Godzilla features a posthumous appearance from Juice WRLD and is extremely popular for a couple of reasons—most notably, Eminem's rapping speed. Touted as a "Rap God," the song's third verse is nothing short of impressive
Rapping Like Godzilla
Eminem (born Marshall Bruce Mathers III) certainly raps like a monster in his new album. He accomplishes an impressive 224 words and 330 total syllables in just 31 seconds. For those who like their math, that's 10.65 syllables per second and 7.23 words per second.
The average person speaks about 1.67 to 2.67 words per second and four to five syllables per second.
What does this mean? That Eminem is FAST.
Since the release of this song, multiple media outlets quickly started reporting that Eminem broke the previously-broken Guiness World Record. However, according to the folks at the Guiness Book of Records themselves, they have yet to make a record based on speed like this.
Twista's current record is based on his ability to rap 598 syllables in just 55 seconds. For this, he is commonly considered the fastest rapper of all time. He became the Guinness Fastest Rapper Alive in 1992 and still officially remains at the top. 
Eminem as a Rap God
While Eminem can't spit raps faster than everyone else on this planet, he does currently have the record for most words rapped in a hit single. His song "Rap God" has 1,560 words.
To put this into context, most songs have less words—much less words. The Beatles' Let It Be has 139 words and Born to Run by Bruce Springsteen has 281 words.
Is Eminem The Fastest Rapper?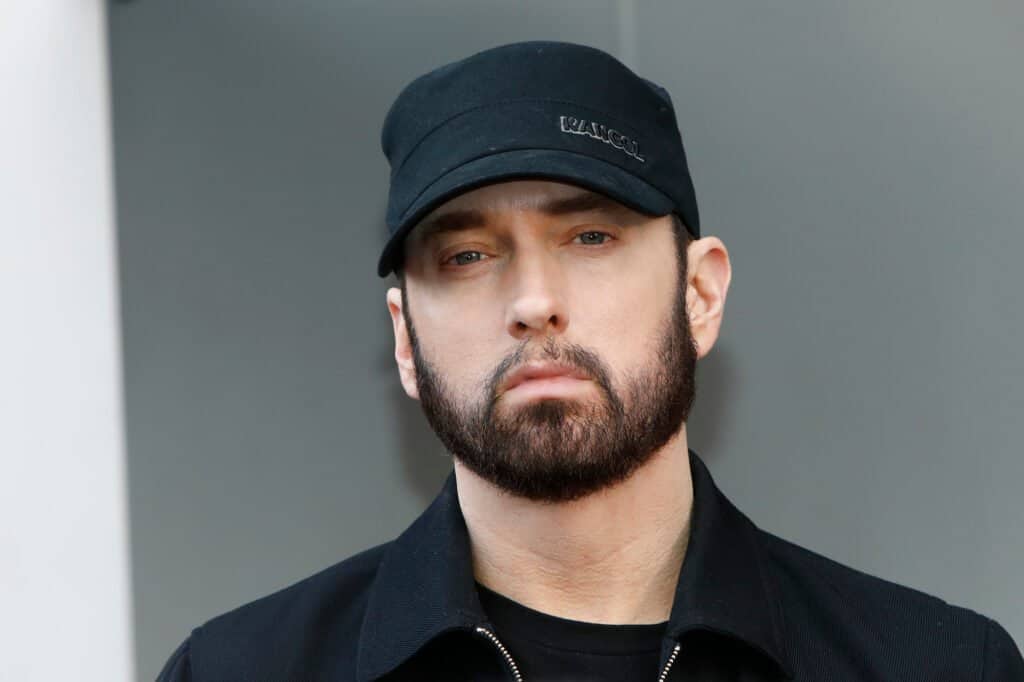 When it comes down to this question, it really depends on how you look at it. While Eminem has yet to officially be named the World's Fastest Rapper, he does have the fastest rap verse.
This is the third time Eminem has achieved the status of having the fastest rap verse. The song 'Rap God' featured a speed of 9.6 syllables per second. Before that, Eminem was featured on Nikki Minaj's hit 'Majesty' which featured a speed of 10.2 syllables per second.
Eminem is part of a small group of rappers who are able to rap fast. Pairing rapid lyrics with a quick beat has brought fame to the likes of Aesop Rock, Busta Rhymes, Tech N9ne, Tonedeff, Krayzie Bone, and Twisted Insane.
These artists have perfected skills that most of us would think unimaginable. They've not only been inspired by their unique experiences and other artists in the hip-hop community, but have also written lyrics that they really connect with, those that have allowed them to tell their stories in a unique way.
Combine this with a perfect track and tons of practice, and they've been able to turn the impossible into what we hear on the radio.
It takes a tremendous amount of breathing and diaphragm control. Like any other skill, Eminem would have had to practice for hours and spend a lot of time exercising his vocal cords.
But, after all is said and done, it appears that all the practice has paid off. Eminem is now one of the fastest (and in some circles, the fastest) rappers out there. And you never know, he may end up officially beating the record one day.