Tons of Jeff Goldblum's fans seem to think that he looks like different Bollywood stars. So could he have an Indian heritage?
Jeff Goldblum is not Indian. However, in 2018 different fans online started doing some digging and found that he has at least two Indian doppelgangers. The one he is said to look most like is Priyanshu Chatterjee. Goldblum is American with his heritage linking back to Russia, Austria, Hungary, Belarus, and Ukraine. He is also Jewish.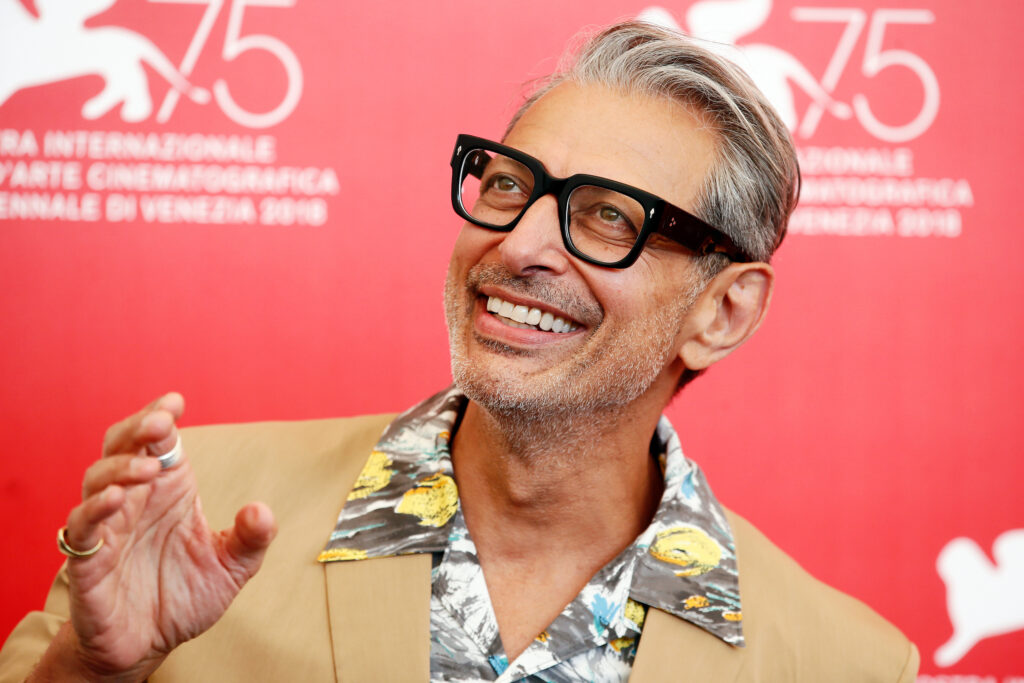 You can read more below about Jeff Goldblum's family heritage, his many doppelgangers, and his Jewish upbringing.
Jeff Goldblum's Heritage
Jeff Goldblum is 100 percent American and born in West Homestead, Pennsylvania to Shirley Jane Temeles and Harold Leonard Goldblum. Both of his parents were born in the United States too.
It was his grandparents though, that had immigrated to the United States from Europe. Goldblum was able to find out more about his family's heritage when he was on Season 6 Episode 5 of PBS' Finding Your Roots.
In the episode, he spoke of how he was only in contact with his mother's mother growing up. He said that they never even visited his father's family.
The first thing that Jeff found out was that his mother's father, Sam Temeles, had been arrested for arson in West Virginia in 1937. He was never charged though because he had a heart attack and died right in the middle of the trial.
Through his grandfather's line, Jeff Goldblum found out that he has an Austrian heritage. That side of his family immigrated to the United States in 1911.
The town in Austria that his family was from is actually part of modern-day Ukraine. In the late 1800s when the family lived there, it was part of the Austro-Hungarian empire, very impoverished, and a largely anti-Semitic area.
Jeff's father served in WWII as a part of the United States Military. He had a very strong link to his Jewish culture, however, he never told Jeff anything about his family.
In the same Finding Your Roots episode, Goldblum was able to discover that his dad's father also immigrated to the US in 1911, but from Starobin, Russia. The timing was impeccable because only a year later the town was burned to the ground by anti-Semitsts.
Learning all of this information was astonishing to Goldblum.
The Goldblumelgangers
While Jeff Goldblum is not Indian, that hasn't stopped more than one person from discovering that he has at least one Indian doppelganger. That one is the Bollywood actor, Priyashnu Chatterjee.
Chatterjee is Goldblum's junior by 21 years and from New Dehli, India. He starred in the hit Bollywood film Tum Bin in 2001.
While there are similarities between the two at a younger age, they have both aged to look quite different.
You can watch Jeff Goldblum learning about all of the Goldblumelgangers on The Graham Norton Show in the below video clip.
An article on Inuth pointed out that Jeff has another Indian doppelganger in Indraneil Sengupta. He is also over 20 years younger than Jeff Goldblum.
Sengupta has starred in Bollywood and Bengali films. He's a massive success in India.
One more shocking doppelganger that has been pointed out is the American poet Allen Ginsberg. While the two don't look anything alike, there is one photo of Ginsberg wearing thick black-framed glasses that make him look like a twin to young Goldblum.
Ginsberg also happens to be another famous person of Jewish heritage.
Jeff Goldblum's Jewish Heritage
Goldblum has embraced his Jewish heritage since he was a young boy. His parents moved to West Homestead, Pennsylvania from Pittsburgh before Jeff was born.
Before their move the town had a large Jewish community, however, it had been in decline for years. This didn't stop the local Hebrew School or synagogue from remaining open even though attendance was dwindling.
Jeff Goldblum's parents ensured he attended the Hebrew School. While attending the school, he was bullied by some of his other classmates but it was there that he also found inspiration.
That inspiration was to pursue acting and performing as a career.
Goldblum has recalled that while studying for his bar mitzvah, he felt his professional calling. He was learning his portion of the Torah when he discovered that he really enjoyed performing.
This led him to move to New York City when he was fresh out of high school, forgoing college. It was there that he pursued his acting career and well the rest is history.