Michael Strahan is a former American football player, journalist, and television personality who famously hosted 'Good Morning America.' He's also a philanthropist, the founder of 'The Michael Strahan Foundation,' and a father. As far as possible, the sports legend keeps his private life private, which leads many to wonder: is Michael Strahan gay?
Michael Strahan is not gay, nor has he ever publicly revealed that he has been in a homosexual relationship. In the midst of divorce proceedings, his ex-wife Jean Muggli claimed Michael was gay, but he denied this allegation.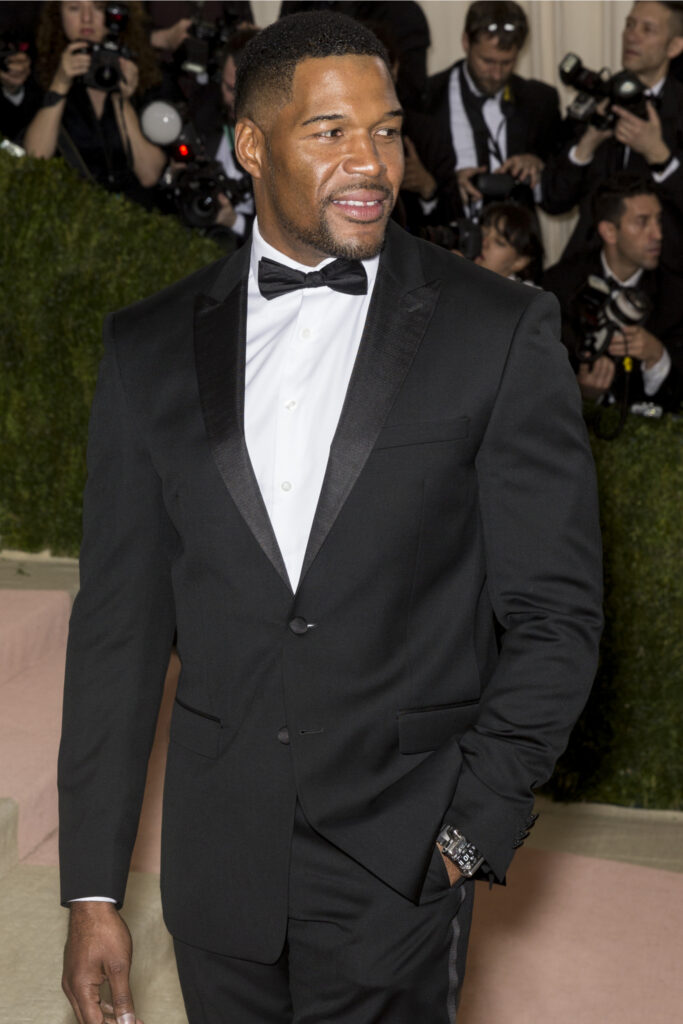 Let's explore the topic of Michael Strahan's sexual orientation, get to the bottom of why so many people believe he is gay, and look into Michael's relationship with the LGBTQI+ community at large. Ready? Hut!
Is Michael Strahan Gay?
Contrary to popular belief, Michael is not gay. In the past, he has only been involved in heterosexual relationships with women. Over the years, Michael has been in several romantic relationships with different women, but, admittedly, he does his best to keep the details of these relationships private.
His first relationship was with an American businesswoman and interior designer called Wanda Hutchins. The pair met when Michael was 17 years old and Wanda was 15 years old and began dating after a few years. They married in 1992 and had two children together, but ultimately divorced in 1996. 
Three years later, Michael married a woman called Jean Muggli who he met at a spa in 1994. Michael became a father again when Jean gave birth to twin daughters in 2004. In 2005, the pair filed for divorce – but more on that down below!
After two failed marriages, in 2009, Michael became engaged to Nicole Mitchell, who is Eddie Murphy's ex-wife. Sadly, this relationship didn't work out either and their engagement (and entire relationship) ended in 2014.
Despite his failed marriages and broken engagement, Michael never gave up on love and since then he has been involved in relationships with Marianna Hewitt and Kayla Quick.
Why Do People Think Michael Strahan Is Gay?
As you can see from the above, Michael's past relationships do nothing but suggest that the star is heterosexual. So, why do so many people think – despite his dating history – that Michael is gay?
The rumor that Michael is gay began circulating in 2006, in the midst of his contentious divorce with Jean Muggli, and was sparked by Jean herself when she suggested her husband was involved with TV doctor Ian Smith. Before her lawyer advised her to stop speaking, Jean told the court, "Michael moved into Ian's one-bedroom apartment and you can say an alternative lifestyle sprouted."
Michael denied the insinuation and told Wendy Williams, "If this were true, it would hit the fan from the get-go. I have plenty of friends that are bi or homosexual. It's fine with me… I don't frown on anybody for that lifestyle, but it's not my lifestyle. As you know, I just laugh. All that matters is that I'm gonna take care of my kids."
In 2012, Michael set the record straight once more by telling HBO's Bryant Gumbel, "I'm not an adulterer. I'm not gay." and that was that.  
Does Michael Strahan Support The LGBTQI+ Community?
Though he is not a member of the LGBTQI+ community himself, Michael is an ally of those who are. In addition to having close friends who identify as bisexual and homosexual, Michael has long been a vocal supporter of the LGBTQI+ community.
In 2011, Michael shared his views on marriage equality in New York with OutSports, "As a defensive end for the New York Giants, I always played the game tough but fair. And I feel it's unfair to keep committed couples from being married."
In 2016, he appeared on 'Watch What Happens Live' to discuss homosexuality in sports and told Andy Cohen, "I feel at this point in the landscape of sports and anybody with common sense understands that people are different. What you do as a person and at home doesn't determine how you do your job. And as athletes, we understand that. I think the locker room is a safe space."