American comedian TV personality Jon Stewart is known for his unapologetic humor and pointed opinions on American politics and culture. But which way does the former Daily Show host truly lean, politically?
Jon Stewart has been quoted saying he is neither a Democrat nor a Republican. Stewart isn't officially registered with either party. Instead, his political leanings fall more within the realm of socialist or independent.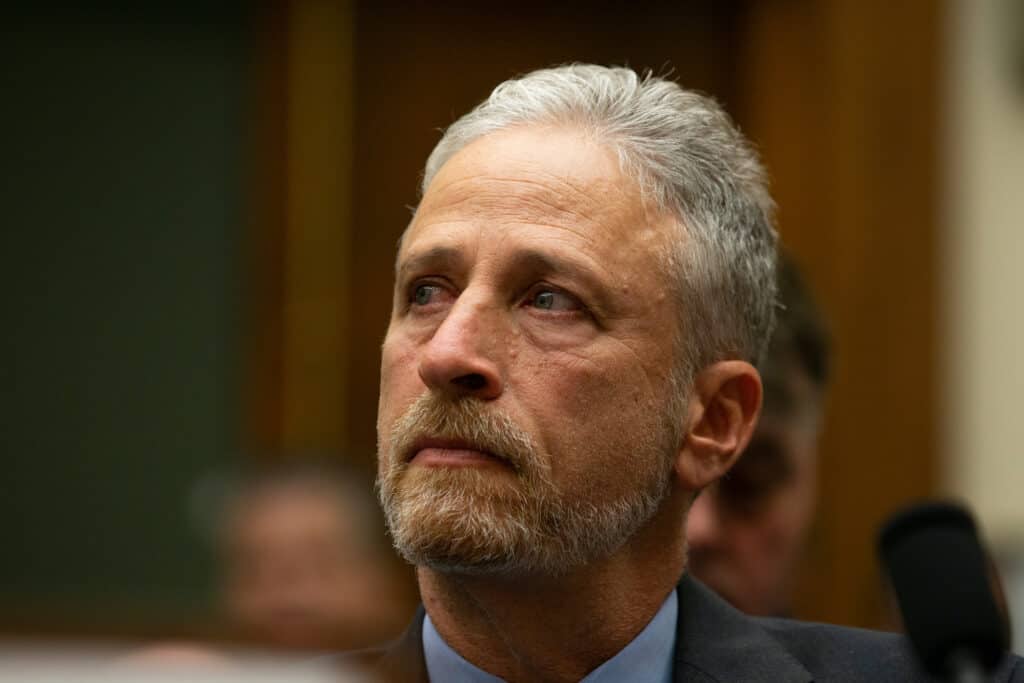 However, Stewart maintains that identifying as a socialist doesn't indicate that he holds static political opinions.
Defining the Term
In interviews, Jon Stewart has talked about the word 'socialist' as being an elastic concept that changes with the times and from person to person.
Stewart's interpretation of the concept includes a rejection of state-controlled and/or collectivized industry but does support government-funded social programs like Obamacare.
Stewart has also pointed to the fact that there are even conservatives, like Sarah Palin and Mitt Romney, who have shown support for such programs that are widely criticized for being 'too socialist.'
He believes that socialism is often used as a loaded word, indicating a threat to capitalist society– when in fact, there are aspects of socialist ideology that could really benefit the U.S.
Stewart has criticized Republicans for what he perceives as their hypocrisy when it comes to supporting things like Medicare, while simultaneously rejecting Obamacare.
He feels this hypocrisy is widespread, and that it's even reared its ugly head when it comes to deciding which renewable energy sources would be subsidized by the federal government.
In 2012, many Republicans were supporting the subsidization of ethanol-based energy (aka energy created by processing corn) and rejecting the subsidization of solar energy.
Stewart took these critiques so far as to feature segments about them on "The Daily Show".
He Hasn't Always Voted for the Same Party
While Jon Stewart's political views are undeniably left-leaning, the celebrated comedian has not always voted for democratic or independent candidates.
In a 2011 interview with Christopher Wallace of Fox News, Stewart admitted having voted for George H.W. Bush in 1988.
Compared to his Democrat opponent Michael Dukakis, Stewart believed that Bush Sr. had a level of integrity that was admirable enough to garner his vote.
This is not to say that Stewart was ever a Republican or supporter of Fox News, however. In fact, this particular conversation between Wallace and Stewart had gotten pretty heated.
Wallace had claimed that a joke Stewart once made about Sarah Palin's bus tour was a pointed political comment.
In reference to Fox News' pushing of the Republican agenda, Stewart retorted, "Ideological regimes can't understand that there is a free media somewhere, because they take marching orders."
Defining the Current Political Landscape
Jon Stewart was one of the first celebrities to personalize his brand of political satire and social justice-charged comedy.
In the 16 years Stewart spent hosting "The Daily Show" from 1999 to 2015, he solidified this specific genre of comedy that blends current national and world affairs with satire.
In fact, some have suggested that Stewart's impact on public viewers from his time on "The Daily Show" has in some ways shaped the over-saturated world of media we live in today.
Indeed, our views on politics are no longer shaped by government officials and politicians alone.
TV personalities and celebrities like Stewart, John Oliver, and even people like Tomi Lahren have a huge influence over how the average American understands political happenings in the U.S.
His Political Satire May Have Been a Bust
Stewart's vocalism when it comes to politics didn't cease when he left "The Daily Show" in 2015.
In 2020, Jon Stewart wrote and directed a politically-charged comedy film called Irresistible.
The movie stars Steve Carrell. Carrell plays Garry Zimmer, a Democratic Party strategist who delves into a political race in small-town Wisconsin.
The film follows Gary Zimmer in the wake of the 2016 U.S. election, as he leads the campaign of an unlikely local candidate named Jack Hastings (Chris Cooper). Jack is a white Marine veteran and dairy farmer.
It's exactly because Jack doesn't seem like a Democrat from an outside perspective that Gary believes him to be the perfect candidate to revamp the Democratic party's image
Unfortunately, critics have found the movie rather disappointing.
Some have said that as hard as it tried, Irresistible felt out of tune, rather than current and head-on in its political critiques.
Indeed, a lot has changed since 2016, the time period the movie is set in.