Since first starring in "Veronica Mars" in 2004, Kristen Bell has become one of the most recognizable faces (and voices) in entertainment. What is Bell's political affiliation?
It is thought that Kristen Bell is a Democrat. She campaigned for Barack Obama during the 2008 US Presidential Election and has supported other Democratic candidates. Bell has also been vocal in her opposition to President Donald Trump.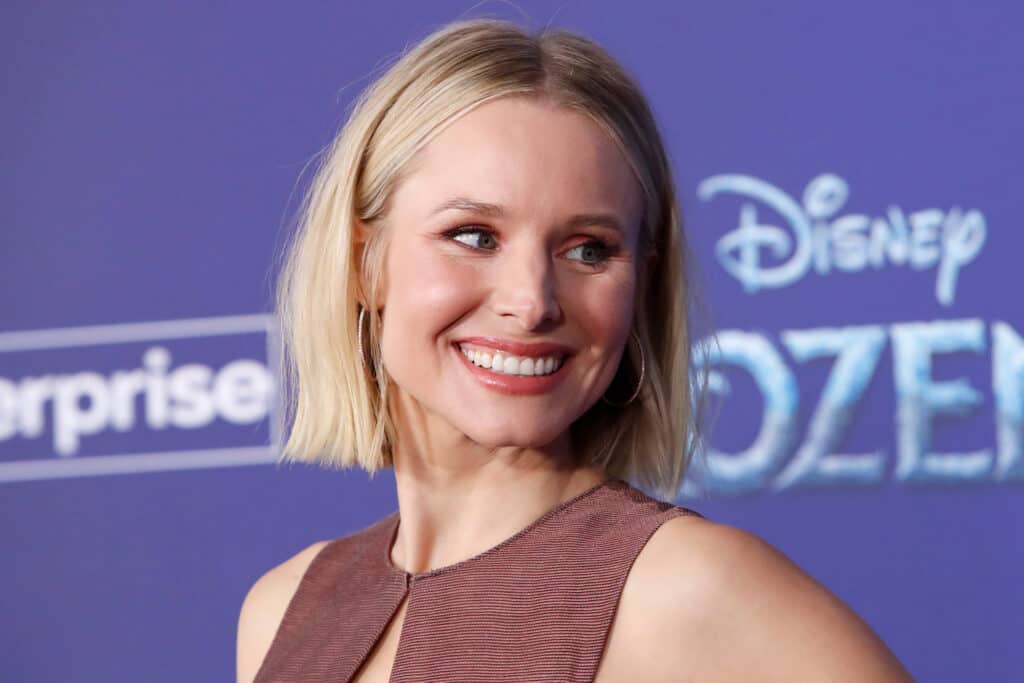 For more on Kristen Bell's political views and how she expresses them, read on.
Political Affiliation
During the 2008 United States presidential election, Bell was a vocal supporter of Barack Obama. She visited a number of college campuses, alongside fellow actress Rashida Jones, encouraging people to vote and discussing the different candidates.
Following Donald Trump's victory in the 2016 US Presidental election, Bell asked her Twitter followers "Anyone else want to puke?.
The tweet was not the only online interaction between Bell and Trump. Trump was criticized for using a six-sided star in a graphic attacking Hillary Clinton during their election campaigns, with some viewing the image as anti-Semitic.
In response, Trump tweeted about a similar star appearing in an officially licensed "Frozen" coloring book, featuring characters from the hit Disney franchise. Bell provides the voice of Princess Anna in the films and responded "Zip it Don & get ur head outta ur ass" on Twitter.
She then suggested that Trump should focus on the police shootings of Alton Sterling and Philando Castile. A Twitter user asked whether those shootings should be all anyone is allowed to talk about on the site and Bell responded that politicians who claim to care about the people's welfare should do so.
Bell has also been outspoken on some of the responses to celebrities expressing their political views in the media. During a conversation at the 2017 BE Conference, she asked "So I'm not a citizen anymore because I'm an actor?" and gave a strongly worded follow-up answer.
Her political causes are not defined by a sense of party obligation. She has been vocal in discussing issues such as the Flint water crisis and child hunger.
Bell has said that, rather than feeling she shouldn't speak out due to her position in the public eye, she is lucky to have an audience to whom she can express her beliefs. She feels it would be unreasonable for somebody to lose the freedom to speak their mind simply because they are a prominent public figure.
Political Causes
In 2018, Bell visited Simi Valley in California to support congressional candidate Katie Hill and State Assembly candidate Christy Smith. Hill won her seat but would later resign her position after admitting to an "inappropriate" relationship with a member of her campaign.
Smith also won and went on to serve as a California State Assemblywoman. Bell has proven herself to be a strong supporter of the Democratic party, not only voicing her opinions on social media but also getting out and campaigning on behalf of her chosen candidates.
Bell has written a politically-themed children's book alongside her friend Benjamin Hart. The book, titled "The World Needs More Purple People", about a girl who is asked whether she wants to be red or blue and instead says that she wants to be purple.
When Bell was asked why she would write a political book for children, she answered that it's unlikely a child would be reading the book alone and have a parent with them. In this way, it seems children aren't the only people Bell would like to positively influence with her writing, hopefully having an effect on children and parents alike.
She also said that she wanted the book to encourage people to find common ground and focus on their similarities, rather than focusing on their differences.
Bell has been known to show her support in other ways. In 2019, she began posting a photo of a different teacher every week, using the platform to reach more than 12 million followers and highlight some of the struggles faced by teachers.
Part of Bell's motivation for "#FeaturedTeacherFriday" was exposing the lack of sufficient teaching materials in many schools. Bell encouraged her followers to donate to funds to buy teaching equipment, using her Instagram reach to enact real change in the lives of teachers and their students.
Some schools posted images of the gifts sent to their schools by Bell's followers and the results were overwhelming. Education is clearly an issue that is very important to Kristen Bell.