As the lead vocalist of Five Finger Death Punch, Ivan Moody has been the frontman for one of the most successful heavy metal bands of the 2010s. Did he also serve in the military?
Ivan Moody has not served in the military. Moody and Five Finger Death Punch have been strong supporters of the military, raising money for veterans through merchandise sales and trying to connect struggling veterans with organizations that can help them.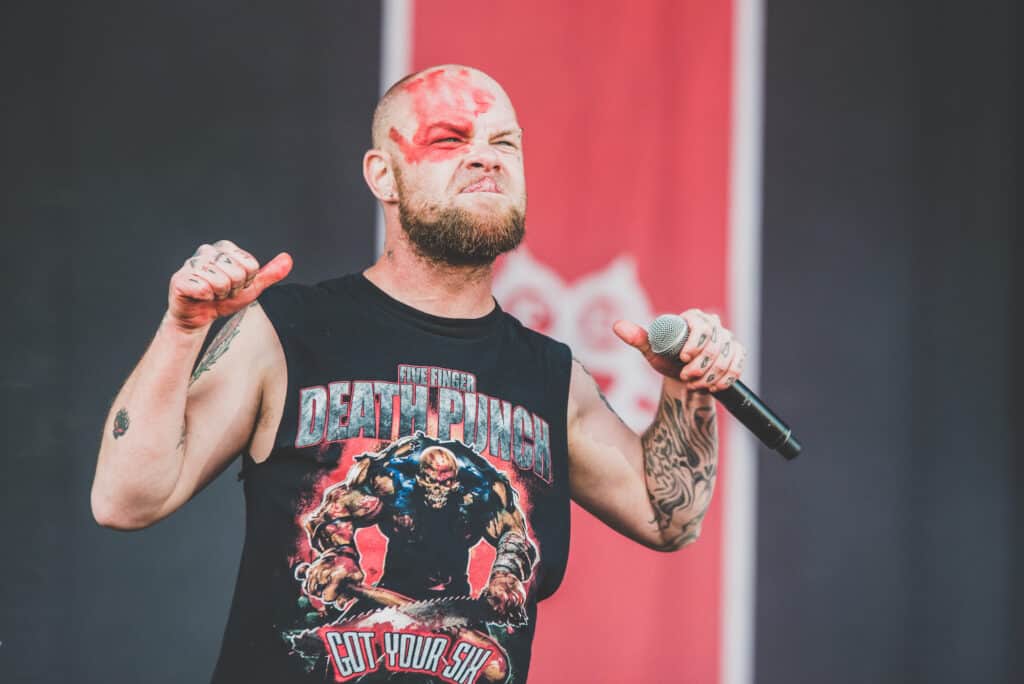 For more on Ivan Moody and his support of the military, read on.
Growing Up
Ivan Lewis Greening was born on January 7, 1980, in Denver Colorado. He spent his youth in a number of smaller cities close to Denver, such as Castle Rock and Northglenn.
He discovered music at an early age and started singing when his grandmother, who he stayed with for a few summers in La Crosse, Wisconsin, had him join a choir. He continued with the choir for a few years and has always found music to be a stabilizing presence while the rest of life has its ups and downs.
He joined his first band when he was 16 years old and recalls being kicked out of bars after his sets were completed, due to him being too young to attend. He moved to Los Angeles in 2001 and began using the stage name Moody, his mother's maiden name.
Moody joined his first band as an adult, called Toiz, recording a demo that was never released. He then moved on to join Motograter and released an album of the same name.
Motograter enjoyed moderate success, performing at Ozzfest in 2003 and playing support for a number of major bands such as Disturbed, Slipknot, and Korn. The band went on hiatus two years later in 2005.
Five Finger Death Punch
Although he was not one of the band's original members, Moody joined Five Finger Death Punch in their second year as a group. They started recording their debut album and completed it by the end of 2006, producing "The Way of the Fist".
Once Moody joined, the band was an almost immediate success with "The Way of the Fist" selling more than 600,000 copies and producing three top 10 singles in the Billboard chart. They would enjoy steady growth with the release of their following albums.
"War is the Answer", the band's second album, released in 2009 and has sold more than 700,000 copies. Their third album, "American Capitalist", released in 2011 and has gone on to be certified platinum, selling more than a million copies.
The enjoyed many triumphs in the 2010s, releasing numerous successful records and touring.
Moody left 5FDP following a June 2017 concert in the Netherlands. This was because he was checking into rehab for alcoholism, a condition that had become so severe that he suffered alcohol-induced seizures.
His stay in rehab was successful and, having been sober for 22 months, Moody began touring with 5FDP again in December 2019. He has also credited CBD products with helping him overcome his addiction and owns a dispensary called Moody's Medicinals.
Military Support
Though Ivan Moody has never served in the military, Five Finger Death Punch has long had a strong relationship with soldiers. Like many heavy metal bands including Motorhead, Black Sabbath, and Metallica, 5FDP have included lyrics about soldiers and war in their catalog.
The band has played on USO tours in the Middle East. While in Iraq, Moody was approached by a soldier who gave him a burnt iPod which had been worn by a friend who was killed while on a mission.
When the soldier was later found, the last song played on the iPod was "The Bleeding" by Five Finger Death Punch.
5FDP has set up a website to raise money for military veterans, as well as providing links to helpful organizations for veterans who are struggling with post-military life.