George Clooney is the picture of refinement and has been for some time now. Just looking at him makes you wonder what he smells like in person.
George Clooney wears Mediterraneo Carthusia and Green Irish Tweed by Creed cologne. Another rumored favorite of the actors is Frederic Malle Musc Ravageur. Two of these fragrances are actually for both men and women.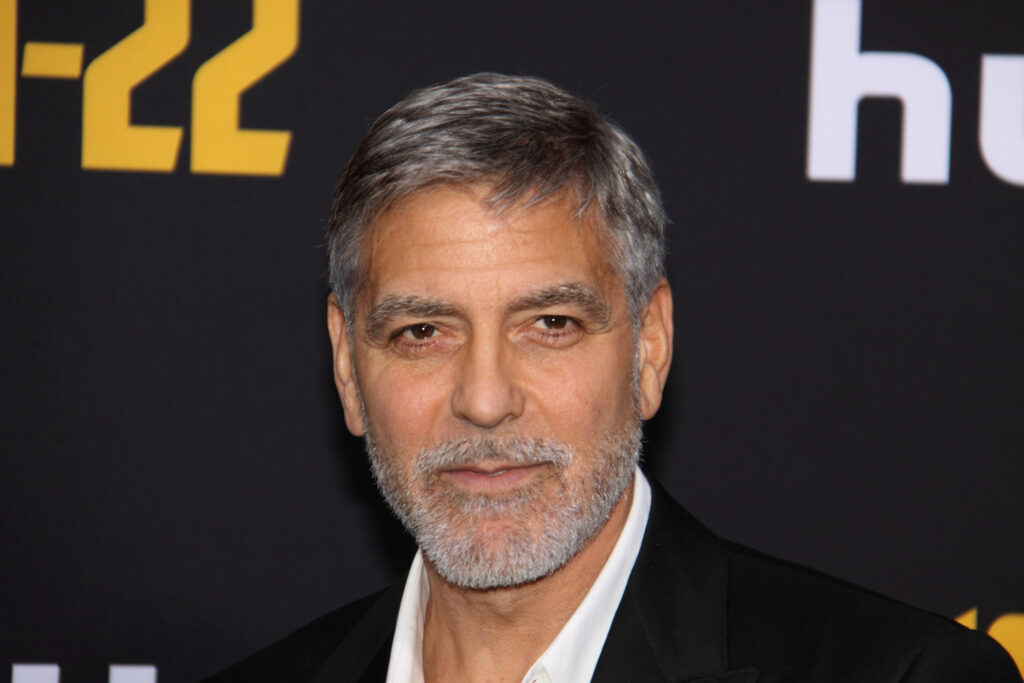 Scroll down to learn more about the different fragrances that George Clooney wears, their cost, and the different notes found within.
Clooney Wears Mediterraneo Carthusia
When you picture George Clooney it's often in the Mediterranean on a yacht or on the red carpet at Cannes Film Festival. So it's not a real shock that his main cologne is based on and from that region of the world.
The Mediterraneo Profumi di Capri by Carthusia is dedicated to the cradle of Europe, Africa, and Asia, ie. the Mediterranean. The Carthusia website describes it as "a sunny fragrance, original yet versatile, which blends the classical pristine freshness of lemon leaves with the youthful and sparkling tones of green tea."
It also isn't considered a cologne either. It's actually a perfume that is unisex and can be worn by anyone if they want. (That's true of any fragrance, it's just that this one was manufactured specifically for anyone.)
Ultimately, many of its wearers have been drawn to the scent because of its unique smell that isn't widely found in other fragrances.
It has top notes of bergamot, lemon, mint, red thyme, eucalyptus, and litsea cubeba. At its heart are wildflowers, cardamon, jasmine, and Sicilian Mandarin. Finally, it has only one base note which is white musk.
The scent was launched in 2003 and Clooney has been reported as wearing it since. A 50ml bottle of the fragrance is just over $100 USD, which is actually quite reasonably priced.
Watch the below video from Smelling Great Fragrance Reviews to learn more about Carthusia and also tour their perfumery in Capri, Italy.
Other Colognes George Clooney Wears
There are two other fragrances that George Clooney wears outside of Mediterraneo Carthusia. They are the two that we mentioned above, Green Irish Tweed by Creed and Frederic Malle Musc Ravageur.
Green Irish Tweed is actually a scent worn by a few different celebrities that include George Clooney. Among those celebrities are Clint Eastwood and Pierce Brosnan.
Green Irish Tweed by Creed is an Eau De Parfum that has been manufactured since its inception in 1985. And we have to say that Creed has nailed the description of a cologne worn by such prominent men.
The Creed website says "Like a perfectly tailored suit, Green Irish Tweed has been, and continues to be, worn by confident men at the peak of their field." How fitting for a cologne worn by Clooney, Brosnan, and Eastwood.
The smell of the cologne is described as a Woody Floral Musk with top notes of iris and lemon verbena. Violet leaf sits at the heart of this cologne while the base is sandalwood and ambergris.
A classic yet simple combination that was created by none other than the House of Creed Head, Olivier Creed. He is the sixth-generation master perfumer of the Creed perfumery.
And, by the way, a bottle of this profound scent will cost about $300 for 50ml.
The last fragrance that Clooney wears, or is at least rumored to wear, is the Frederic Malle Musc Ravageur. This is another unisex fragrance.
Despite its use of floral notes, the Frederic Malle website says that it manages to create a musk scent that excludes the flowery smell. To describe the scent, Frederic Malle uses only three words "Savage sex appeal."
The unisex fragrance has top notes of bergamot, lavender, and mandarin; middle notes of vanilla, musk, and amber; and base notes of sandalwood and musk. It seems like we are starting to see a trend with what notes George Clooney likes in a cologne.
Scents from sandalwood, bergamot, and mandarin all seem to appeal to the ER star.
Again, unlike the Mediterraneo Carthusia, the Musc Ravageur by Frederic Malle is a bit pricier. A 50ml bottle of this musk will cost $250 USD. However, for a man with a rumored net worth of $500 million that's just pocket change.
Either way, after reading all of the possible scents listed above it really makes you want to see what George Clooney actually smells like in person.