Tom Brady isn't only one of the most iconic quarterbacks the NFL has seen. He is also known for being a leader in men's fashion.
Tom Brady wears Stetson Cologne and Tom Ford cologne. He is also a huge fan of wearing cocoa butter. His former teammates have said that anytime they were around Brady's locker they would smell cocoa butter and expensive cologne.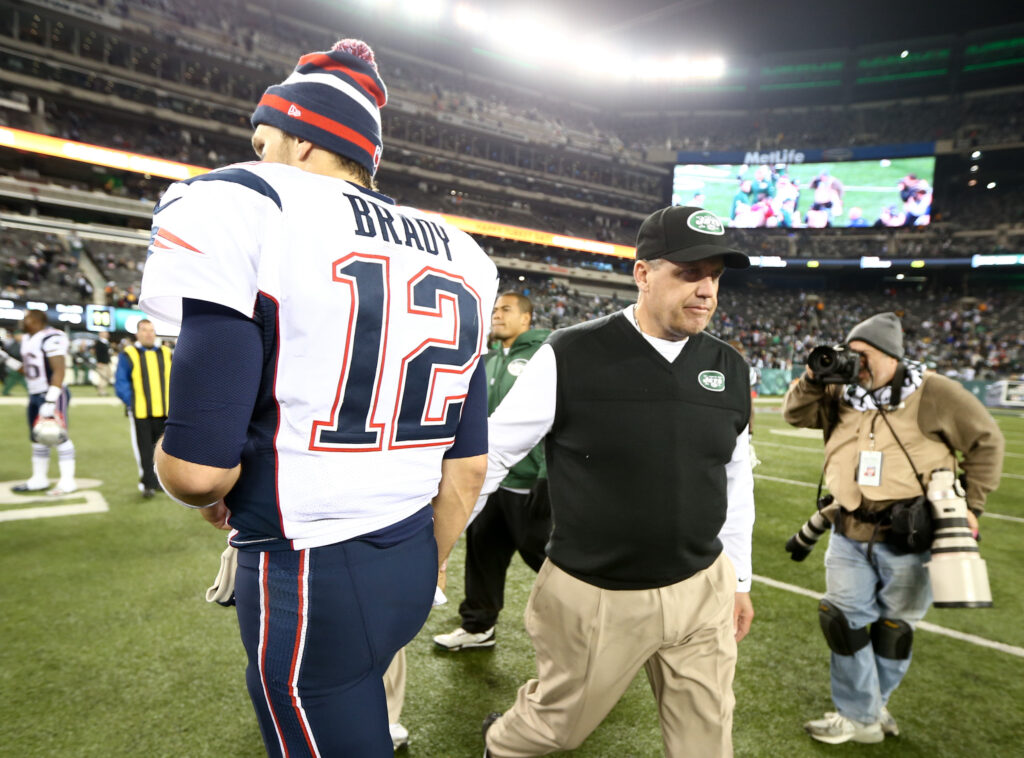 You can read more below about Tom Brady and Stetson Cologne, and his love of Tom Ford.
Tom Brady & Stetson
Back in 2007, Tom Brady landed a deal as the face of Stetson Cologne. The Stetson Cologne brand has been classically known as All American and always features its models wearing cowboy hats in the ads. However, Tom Brady became the first man not to follow in those footsteps to portray the brand's Old West theme.
Instead, he appeared in the ads laying in the grass in a sheepskin coat along with a model who is wearing a cowboy hat. In another one of the ads, he is seen wearing a black dress shirt while driving a classic red convertible.
Two years later, Tom Brady was in Stetson's ad campaign for their new fragrance, All American. The ads for the new cologne had him kicking gravel in a dirtied white long sleeve tee, as well as posing on a dirtbike.
Of Tom Brady, Stetson said they chose him because he is "confident, rugged, masculine. He's a strong, masculine risk-taker with undeniable sex appeal."
As for the Stetson Cologne, it is a drugstore brand of cologne that can be found at retailers such as Walmart. Despite some drugstore brands having a bad rep, many users of the cologne have said that it is of great value for the price and smells great.
The original Stetson cologne is a chypre fragrance and was launched in 1981. The parent company of Stetson at the time was Coty Inc., however, its fragrance licensing was sold to Edge Beauty in 2020.
You can watch Tom Brady shooting some of the Stetson ads in the below YouTube video.
Stetson Cologne is a complex mixture of scents that create its citrusy and mossy scent. It has the top notes of clary sage, lavender, bergamot, lemon, and lime. At its heart are the notes of vetiver, geranium, orris root, cedar, carnation, patchouli, and jasmine, and its base features Tonka bean, amber, vanilla, honey, and musk.
The Stetson All American is quite different from the original as a spicy aromatic fragrance for men. It was launched in 2009 and the nose behind it is Harry Fremont the master perfumer at Firmenich.
This cologne features top notes of ginger and guava, with middle notes of nutmeg, sage, suede, and fern. Its base notes are the closest to the original Stetson Cologne as it also uses amber, patchouli, and musk, but also uses vetiver.
Although Tom Brady uses Stetson and was their Brand Ambassador, there is another brand that he loves more.
Tom Brady Loves Tom Ford
If you've been following Tom Brady's fashion forays for a while now, you'll know that he has a certain love for Tom Ford. He has even said that Tom Ford is his favorite designer.
In an interview with Bloomberg, Tom Brady said "I like Tom Ford a lot because it's so classic and has great quality."
Brady seems to also find great quality in Tom Ford's fragrances as well. In a piece by USA Today titled 'The Most Desirable Locker in NFL History: The Spot Next to Tom Brady', his former teammates said that it always smelled great and was full of Tom Ford colognes and cocoa butter.
The disappointing part of that piece was that his teammates never revealed what specific Tom Ford cologne Brady wears. And, Tom Brady has never revealed that information himself either.
Based on his decision to partner with Stetson, we think that his favorite colognes from Tom Ford could be Noir which is an aromatic spicy fragrance, another could be the woody chypre of Tom Ford's Arabian Wood.
We also think that Beau de Jour could be one of the colognes Tom Brady uses as it is an aromatic Fougere with a lot of the same notes as the Stetson cologne. One other that we think he could use is London by Tom Ford which is a Woody and Spicy fragrance from the famous brand.
Of course, this is all speculation and Tom Brady could be using completely different colognes by Tom Ford.