Kelly Ripa is an American talk show host, producer, actress, dancer, wife, and mother who has earned her fan's love by not shying away from discussing personal matters on air. There are however certain things she keeps to herself, such as her dress size — that's where articles like this one come in.
Kelly Ripa wears a US size 2 dress. The former ballerina has often come under fire for being so thin, with many suspecting she has an eating disorder, but Kelly smiles away the rumors away and credits her alkaline diet, intense fitness schedule, and alcohol-free life for her tiny frame.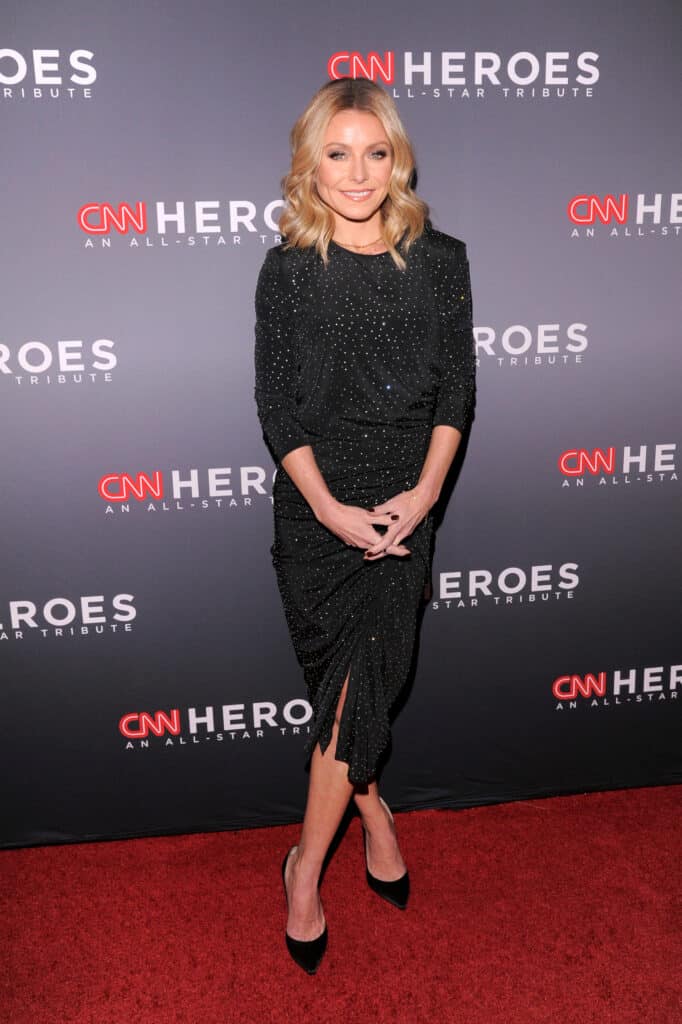 Though Kelly is so open about her life, her fans and followers are always keen to discover more about her. With that being said, let's find out what the award-winning actress typically eats in a day, what her exercise routine consists of, and what her current dress size is.
Kelly Ripa's Dress Size and Style
The actress, who famously played the character Faith on 'Hope & Faith' wears a US size 2 dress. While this is a significantly smaller dress size compared to the average American woman, Kelly has always been petite and so, despite her fan's concerns that she is underweight, she isn't considered unhealthy given her other measurements.
When she's not rolling, Kelly spends most of her time wearing comfortable fitness gear like leggings and sports bras. Likewise, when she is running errands around New York Kelly is often pictured wearing comfortable jeans with a plain T-shirt and a structured blazer with high-heeled shoes or sneakers.
On the other hand, when Kelly is on air, she is the picture of sophisticated grace in tailored dresses paired with minimalist accessories. She bounces between wearing classically designed modest dresses and figure-hugging ones in a range of floral patterns and bold colors.
How Kelly Ripa Stays So Slim
Looking like Kelly Ripa is no easy feat, nor is it a body goal that can be achieved overnight. Though naturally slim, Kelly eats a "very clean diet" and relies on a strict exercise regime to keep her body in shape.
On a typical morning, Kelly's diet consists of plenty of water, multivitamins, supplements, and coffee with ghee. She doesn't eat any "chewable food" before going on air, but once she's done for the day she'll dig into a bowl of porridge that is made up of sliced green apple, cinnamon, and almond butter.
For lunch, which she eats at "such a weird hour", Kelly will munch on a microgreen salad with avocado and a sprinkling of toasted nuts. She is also a big fan of avocado toast which she'll eat as is or with a fried egg or slice of cheese on top of.
Kelly usually eats a smaller bowl of the same lunch salad for dinner with seasonal vegetables and tofu that is either fried or grilled. In terms of snacks, Kelly's go-to choices are raw cashews, almonds, or pistachios — on cheat days, these will be covered in chocolate!
The fitness fanatic who has her own fitness-inspired line of activewear with Ryka works out seven days a week. Most of the time she is joined by her best friend and the personal trainer she shares with Shakira, Anna Kaiser.
Kelly's exercise routine includes AKT cardio-strength exercises, running, and SoulCycle classes. Naturally, the former ballerina also turns to the ballet bar for help with her exercises and she loves incorporating ballet dancing into her fitness regime.
Kelly Ripa's Other Measurements
Kelly is part of the tiny US size 2 dress club just like her fellow famous people Taylor Swift, Carrie Underwood, and Jennifer Garner, but the rest of her measurements are equally small.
The television personality wears a size 32A bra, a US size 7 shoe, stands merely 5'2" tall, measures in at 33-24-33, and has weighed 110 lbs for most of her career.
While most of Kelly's friends are male, she does hang out with Sarah Jessica Parker who wears a US size 2 dress, Cameron Diaz who wears a US size 4 dress, and Sarah Michelle Gellar who wears a US size 6 dress.