In 2015, Twenty One Pilots became a household name with their hit, "Stressed Out," and while new listeners may rush to define them as a pop group, in reality, their music is an eclectic mix of sound.
Twenty One Pilots are signed to the label Fueled by Ramen, most well-known for helping launch the careers of punk acts such as Fall Out Boy and Panic! At The Disco. The band, formed by friends Tyler Joseph and Josh Dun, is an eclectic fusion of pop tunes, reggae beats, punk angst, alternative rock music accompaniment, and the occasional rap. The vast range of the band is likely what has afforded them such wide-ranging success.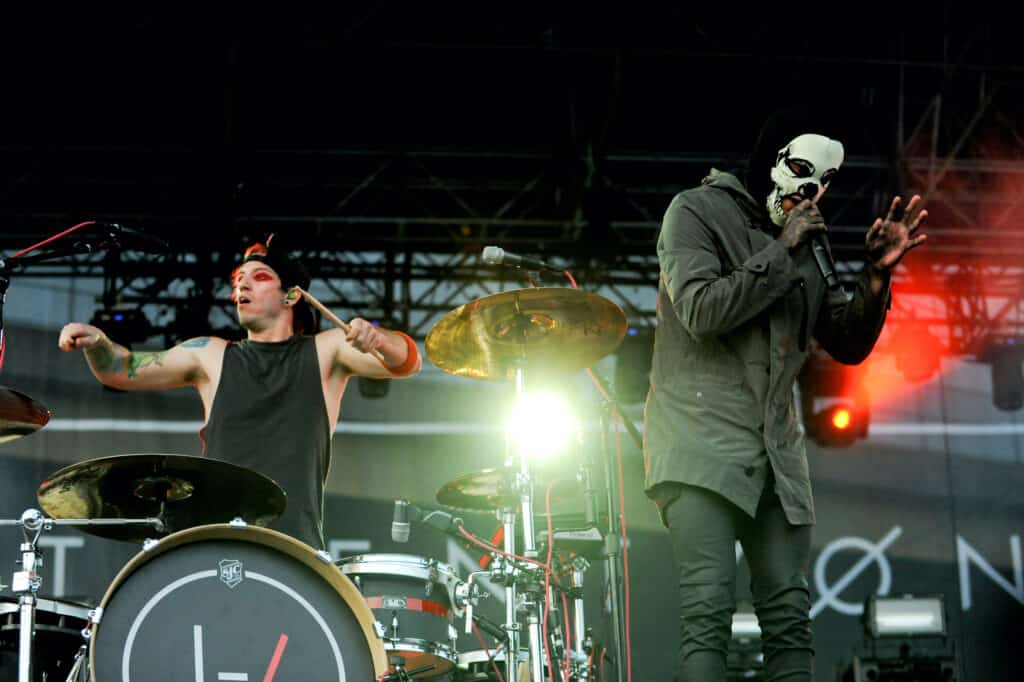 "It's so hard for us to put ourselves in any genre," said Dun in a 2012 interview. "One of our goals as musicians was to break down the walls of musical genres and combine different aspects into our own. Our manager calls us 'pop-rock-piano-rap,' which fits us but is a mouthful. If you can think of one and send it to us, we'll roll with it."
Behind the Name
The name Twenty One Pilots was chosen by Joseph and is a nod to the Arthur Miller play "All My Sons."
In the play, a World War II airplane supplier realizes his parts are faulty but sends them to production anyway; due to his negligence, twenty-one pilots died.
When given new career opportunities, Joseph and Dun will ask each other if the decision will result in them "sending out the parts."
The trajectory of their success has been largely influenced by their ability to stay true to their core beliefs above all else. By not "sending out the parts" they have been able to keep creative control over their sound and their brand.
Humble Beginnings
The band was formed in Ohio between Tyler Joseph and his friends from high school, Nick Thomas and Chris Salih. They built a grassroots following within Ohio and the Midwest thanks to their intense and intimate gigs.
Thomas and Salih left the band in 2011 and shortly thereafter Joseph found Dun as a replacement drummer.
From their first meeting they immediately clicked and spent hours talking; both share a passion for music and grew up in religious households.
Says Dun of his first meeting with Joseph, "I left that day feeling, 'This is a guy I want to be friends with for the rest of my life'. The music world seemed so big, but it seemed like something we could tackle, and tackle together."
The band continued on as a duo, releasing an album and touring at full energy while pushing their unique brand on social media.
"I think there is definitely a desire and an intention to stand out a little bit, particularly within live performances," acknowledges Dun about their intensity.
In 2012 they were signed to Fueled by Ramen and released Three Songs EP. From there, their careers took off at a trajectory they admit they had previously envisioned.
"We've always imagined playing for as many people as possible, and you should shoot for that," muses Josh. "Why not dream big? Why not have as many people hear us and our art as possible? It's fun. It's cool to continue to travel and play music and have that be our jobs."
Devoted Fanbase
Ever since their grassroots start, the intensity of their fans has not faltered. Now dubbed the "Skeleton Clique," Twenty One Pilots have a fiercely devoted fanbase who champion the band, both online and in real life.
The band's music touches upon Dun and Joseph's reflections on their religious upbringings and mental health, something many adolescents can identify with.
Following the band has taken on a conspiracy theorist's intensity in recent years, as the fans comb through music to discover hidden meanings within albums and new music release dates.
There even exists Twenty One Pilots fan fiction; on the website Archive of Our Own there are over 2,000 stories, ranging from vampire fiction to romance novels, though the band admits they don't read those.
Constantly Evolving
The band's intense desire to succeed on their own terms and relate to their fans will push them to continue exploring their own musical limits.
"We have more to risk at every step," concedes Joseph. "Each time we make a decision to risk something, we've got more to lose. But screw it. That's what Josh and I always say."
It seems as though Twenty One Pilots will continue to push their own boundaries, lyrically and musically, for the foreseeable future.