James Harden is an American NBA player and a gold medalist Olympic athlete with a solid college football career behind him. He's practically synonymous with the Arizona State Sun Devils, but what high school did he go to before becoming a college basketball sensation?
James Harden attended Artesia High School and had an incredibly successful high school basketball career before graduating in 2006. As a high school student, James was more focused on basketball than he was on his academics, but he studied enough to get by.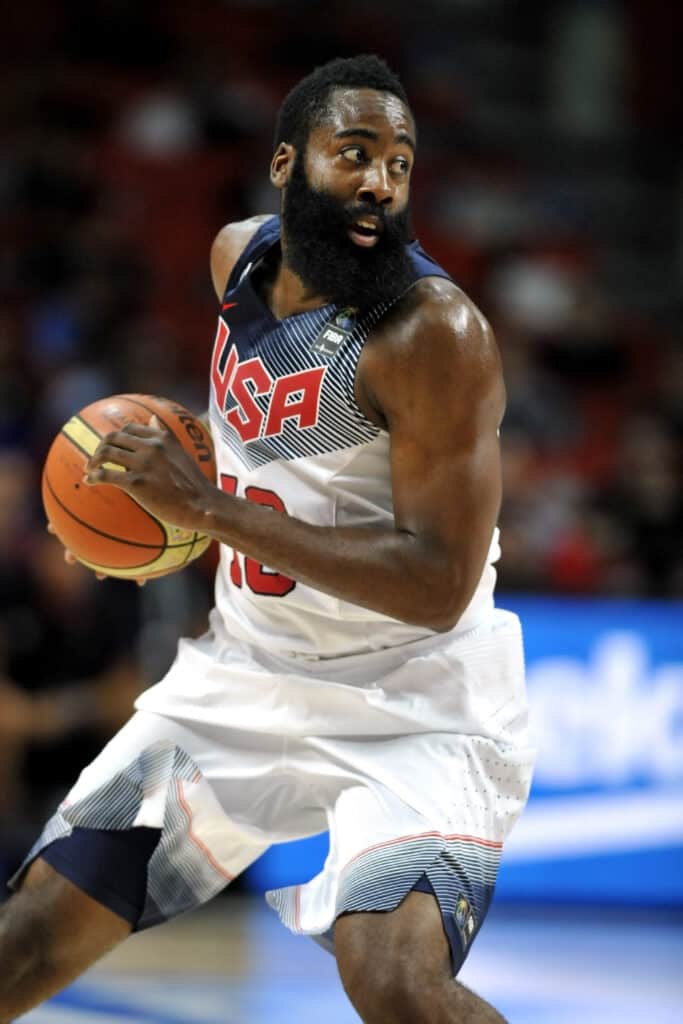 He's regarded as the best shooting guard the NBA has to offer and is widely accepted as one of the best players in the league. But before 'The Beard' was a force to be reckoned with, he was just a schoolboy — let's find out where!
Where Did James Harden Go to Middle School?
James was born on 26 August 1989 in Los Angeles to parents James Sr. and Monja Willis. He was the third and last child that the couple would have.
Growing up, James Sr. was absent from his children's lives and Monja raised the three children herself in Crompton, an area that is known for both its staggering violent crime rate and for churning out celebrities like Dr. Dre, Kendrick Lamar, Serena Williams, Venus Williams, and a load of NFL players.
James was a student at Audubon Middle School from the sixth grade to the eighth. Years later, James would reveal that his time at Audubon helped shape him into the person — and athlete — he is today.
James often opens up about his childhood. He told ESPN, "Even when I was a young kid, I had that edge to make it. I was always in the gym. I was always outside playing. I loved the game of basketball and I loved how it made me feel on the playground with my friends."
Where Did James Harden Go to High School?
When it was time for him to go to high school, James headed to Artesia High School, a public high school located in the nearby city of Lakewood. His passion for basketball grew to new heights in high school.
James told ESPN, "In high school, it got more serious. I used to catch the bus to school really early to be in the gym shooting before classes start, at around 6 or 6:30 AM… I fell in love with the routine. I fell in love with the work ethic and what you get out of it."
James had the determination, and instincts on the court, but was only 6ft 11 inches and suffered from bouts of asthma. Despite these setbacks, his coaches were impressed enough to put him on the team.
He would go on to lead Artesia High School to victory after victory, winning state championships and picking up a McDonald's All American Award and Parade All-American honors along the way.
Where Did James Harden Go to College?
Though James was a highly-decorated high school basketball player and he didn't even pick which college he wanted to attend — even though he had several big-time options available.
Instead, he told his head coach, Scott Pera, that he would follow him to whatever university hired him as a full-time coach.
When Scott was hired as the operations director of basketball at Arizona State University, James did just that. James followed his high school coach to Arizona State and joined the Arizona State Sun Devils.
Scott told AZCentral, "I know James said he would follow, but I wasn't going to hold a gun to his head. He was 16 when he said it, so all I said to James was, 'Look, let me go get to know Coach, get to know ASU and see if this is a place where you can really explode.'"
He continued, "Number 1, it says a lot about his loyalty to me. I don't know if I've ever had more of a compliment in my 27 years of coaching than him saying, 'I'll go where you go, Coach'. Number 2, it tells you something about his personality. He's not afraid to take a chance."
As a freshman, James saw to it that the Arizona State Sun Devils saw many victories. In his sophomore year, he appeared on the cover of 'Sports Illustrated' and appeared on numerous watch lists.