Michael Corleone, Tony Montana, Carlito Brigante – these are only a few of the many names that legendary American actor Al Pacino has made iconic by means of his compelling portrayals. Many know about his famous roles but do we know the basics about the actor himself? Let's find out, starting with finding out how tall Al Pacino really is.
Al Pacino stands 5 feet 5 inches (1.65 m or 165.1 cm) tall. At his peak, he stood an inch taller at 5′ 6″ (1.68 m).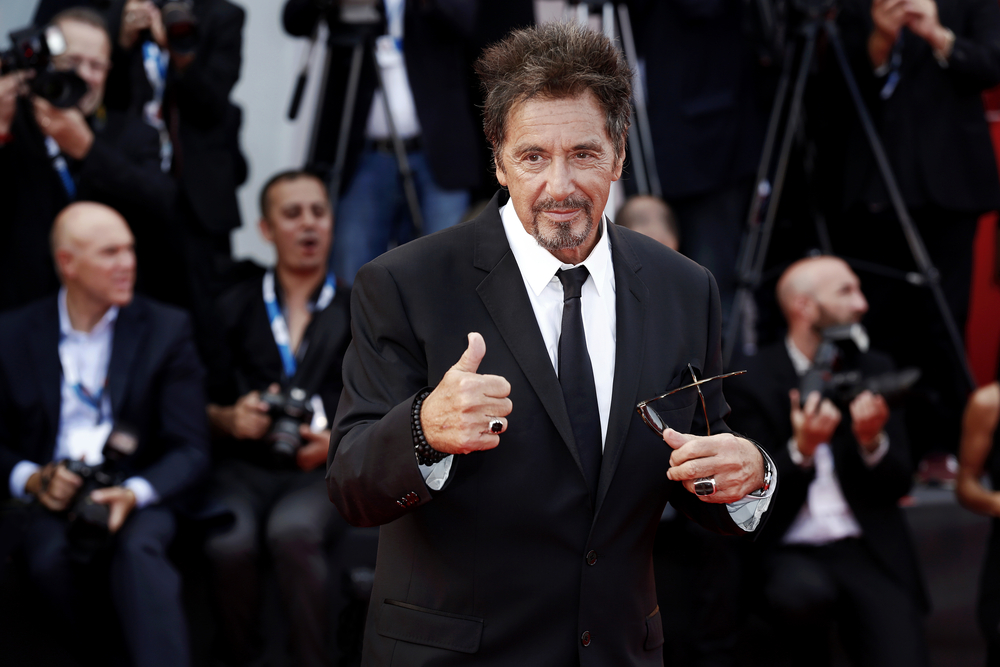 Height means nothing when one is as talented an actor as Mr. Pacino (and there aren't many who come close). Read on to know more about the man who made Scarface unforgettable.
How old is Al Pacino in 2022?
Born on April 25, 1940 in Manhattan, New York City, Alfred James Pacino had always been interested in acting and storytelling. While growing up in the South Bronx, he immersed himself in school plays as a way to cope with depression from family conflict and poverty. His Italian-American parents divorced when he was a young boy so Al grew up with his maternal grandparents around. 
Al Pacino's age is 82 years old as of 2022. He was 32 years old when he got cast in the film role that would catapult him to fame for decades to come – Michael Corleone in Francis Ford Coppola's The Godfather (1972) with Marlon Brando. Two years after, he reprised the role in the sequel, The Godfather Part II with Robert De Niro joining the cast as the young Vito Corleone.
Al Pacino was 43 years old when he played Tony Montana in Scarface (1983). The drug and violence-themed movie also featured Michelle Pfeiffer, who played Montana's girlfriend named Elvira.  
In 1993, when he was 53 years old, Al Pacino won his first Best Actor in a Leading Role Academy Award for his performance in Scent of a Woman (1992). He played a blind war veteran, Lt. Col. Frank Slade, opposite prep school student Charlie Simms played by Chris O'Donnell. To date, Al has been nominated 9 times in the Oscars for his acting.
Who is Al Pacino's wife?
This may come as a surprise to some – Al Pacino is not married and in fact has never married. While he did get into long and serious relationships with several women, he never got around to tying the knot.
A couple of Hollywood actresses whom Pacino dated were Diane Keaton, who played his love interest in The Godfather, and Beverly D'Angelo, with whom Al shares two children: Olivia Rose and Anton James D'Angelo. Julie Pacino, Al's eldest child, was born in 1989. Her mom is acting coach Jan Tarrant.
What other Al Pacino movies are worth watching (aside from the obvious)?
Film and acting buffs may have already gone through all of Al Pacino's movies in order to appreciate this living American cinematic treasure. While doing that is certainly not a waste of time, new fans who want to have a sample of the breadth of the actor's talent can try some of the following titles as recommended by /Film:
The Devil's Advocate (1997)
Al Pacino plays John Milton a.k.a. Satan himself in this legal-themed drama. Joining him in the cast are Keanu Reeves (as newbie defense lawyer Kevin Lomax) and Charlize Theron (as Kevin's wife, Mary Ann.
Donnie Brasco (1997)
In this movie adaptation of the non-fiction novel titled Donnie Brasco: My Undercover Life in the Mafia, Pacino plays "Lefty" Ruggiero opposite the titular role played by Johnny Depp.
Insomnia (2002)
Pacino's role in this Christopher Nolan film is a deviation from his usual New Yorker/Italian/mafioso characters. He plays an LAPD detective named Will Dormer, who was assigned to investigate the death of a teenage girl. The late great comedian and actor Robin Williams is also in the movie as Walter Finch.
What is Al Pacino's net worth (as of 2022)?
Wealthy Gorilla and Celebrity Net Worth list Al Pacino to be worth an estimated $120 million in 2022. This figure consists of his earnings from his long career, an ongoing $10 million per movie deal with HBO, a $20 million paycheck from his work in The Irishman, and real estate.