Eminem, formally Marshall Bruce Mathers II, is an American rapper, songwriter, and producer that is known for popularizing hip-hop in the early 2000s. He is credited for breaking racial barriers in the rap world and the acceptance of white rappers in music. Now considered one of the greatest rappers of all time, Eminem won a number of music awards and an influence for artists everywhere.
Eminem, still a rap legend, has not slowed down on creating new music and continues to make frequent stops at the studio, does home workout routines, including running about 16 miles a day, eats healthy, and focuses on his wellbeing. Eminem's fitness addiction started after he realized he needed to seriously lose weight, and now fitness consumes his life which he doesn't seem to have a problem with.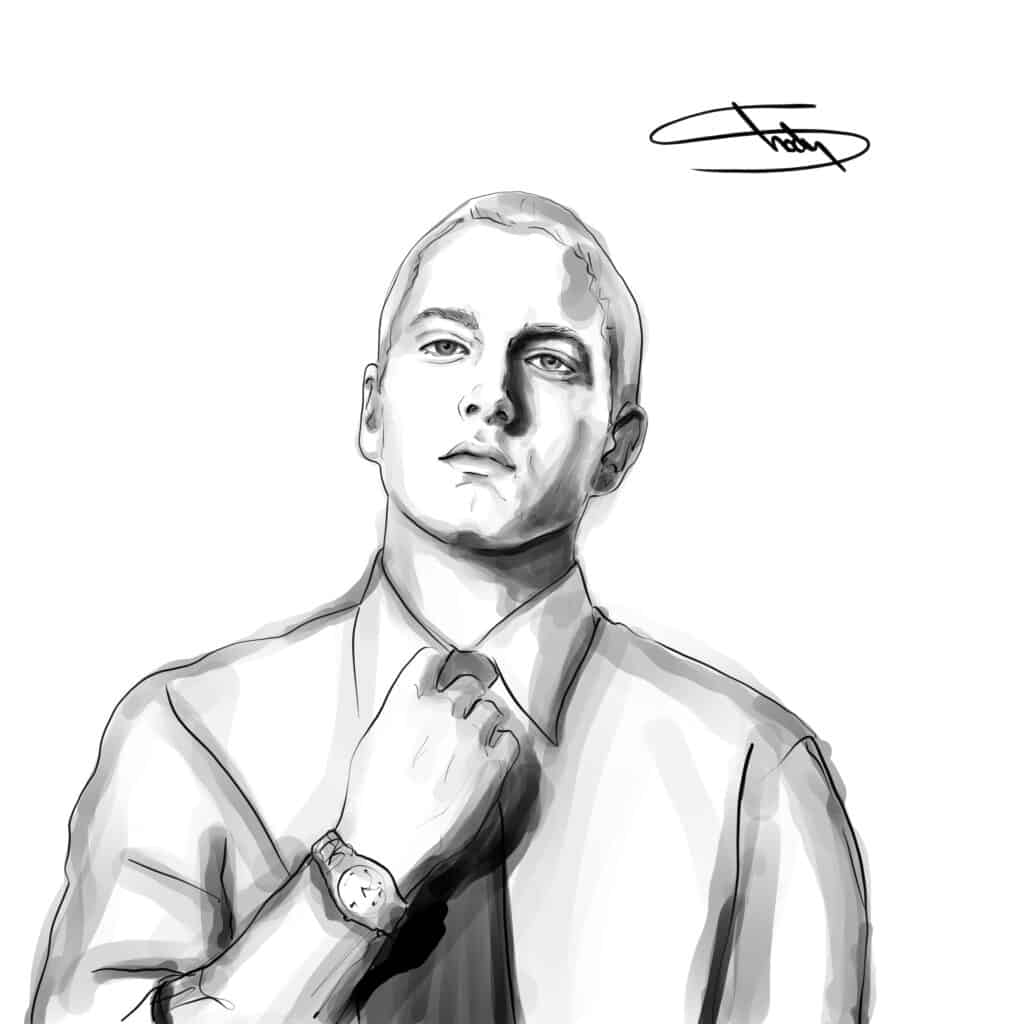 Eminem had a major lifestyle change in the past decade. He was in a dark place, facing drug addiction and issues with his mental and physical health, but he was able to pull himself out of the dark place, change his eating habits, start working out, and work on getting himself back into a good spot in life.
Eminem's Career From Start to Now
Eminem, Marshal Bruce Mathers II, was born in Missouri and had a troublesome childhood. He dropped out of school in ninth grade and started working in order to get himself and his mother out of poverty, although he was often thrown out of the house regardless.
He was bullied in school and had a difficult family situation, without a father and frequently fighting with his mother. Eminem barely lived in one place for a long period of time.
Eminem started entering rap battles and open mic contests because he ended up finding his passion for rap at an early age, and wanted to make it in the hip hop music industry. He quickly became noticed by other boys trying to make it, and ended up joining a Detroit-based rap group, "Dirty Dozen".
The rapper's first album, "Infinite" in 1996 did not sell well, but he still continued to make music all while working strange jobs to provide for himself.
The following year, Eminem entered the Rap Olympics in Los Angeles, where he ended up placing second place in the freestyle rap category. This caught the attention of Dr. Dre, the head of Aftermath Entertainment and a fellow rapper.
With Dr. Dre being his mentor and record producer, Eminem released "The Slim Shady LP" in 1999 and developed his persona of Slim Shady. His vulgar and violent lyrics stood out to hip hop listeners, and with Dr. Dre's involvement in the production, the album sold several million copies quickly.
In 2000, Eminem released "The Marshall Mathers LP" which set a record for the fastest-selling rap album. He won two Grammy Awards, four MTV Video Music Awards for his previous album, although the success of his second album brought attention to his controversial opinions and lyrics of the LGBTQ community.
In order to silence those who were starting controversies about him, Eminem performed with openly gay musician, Elton John, at the year's Grammy Awards.
Eminem started his own record label, "Shady Records" in 2001 and continued to release top-charting singles and successful albums throughout the early and late 2000s, as well as sporadically throughout the late 2010s.
The rapper's most recent album was released in December 2020, "Side B".
The Artist's Day to Day Life
Eminem has had a major lifestyle change throughout the years, losing dozens of pounds, completely changing his diet, staying sober, and staying consistent with workouts. His daily routine includes partaking in heavy-cardio-based workouts, including running up to 16 miles a day and working out with a trainer.
He has turned into a man of complete consistency with his routine. He's stated that even if he stops working out or doing what he does on the regular for more than a few days, it's hard for him to get back into it, therefore he makes sure he stays consistent no matter what.
For a while, he stayed home and did workouts every day on his own without a trainer, although he has dabbled with hiring a personal trainer in recent years. Eminem set new calorific goals for himself and relies on working out to get a natural endorphin high.
Struggling with drug addiction in the past, he made the conscious decision to start focusing more on his wellbeing, and it's apparent that his new addiction to staying healthy is really working out for him.
Along with his daily workouts, he frequently goes to the studio to work on new music and collaborates with other popular artists to create new hits.