Rickie Fowler has won the Players Championship along with four other PGA Tour Championship titles. For a while, he was also ranked as number four on Tour and a good putter has helped with that.
Rickie Fowler's putter is 35-inches in length. This length of a putter is uncommonly long for someone who is 5'7" or 5'9" in spikes. Fowler currently uses a Scotty Cameron Futura X5 Prototype putter. He was using a Scotty Cameron Newport 2 Prototype putter, however, at the Shriner's Cup in October 2020, he switched putters possibly due to his falling in the ranks.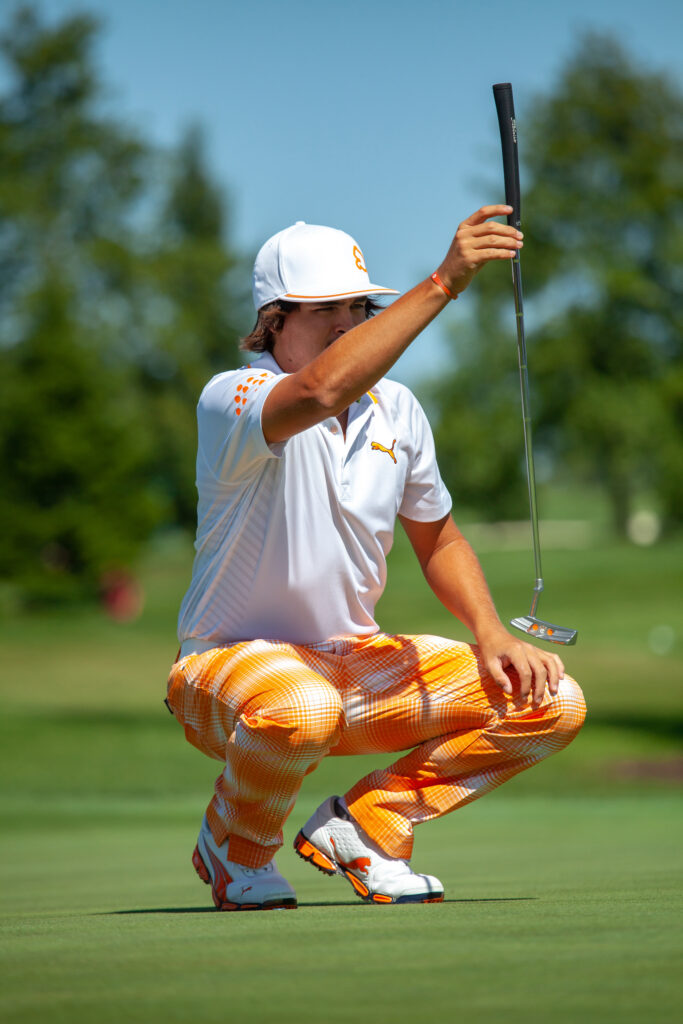 You can read more below about the differences between Rickie Fowler's old and new putters and how his rankings have fallen.
Rickie Fowler's Putter: Old Vs. New
Rickie Fowler was using his old putter for around five years before switching. It had to have been pretty good for him to use it for so long.
That's definitely true. The Scotty Cameron Newport 2 putter has been considered one of the best ones used on the PGA Tour.
The prototype for this putter was originally created in 1999 for none other than Tiger Woods himself. It's actually the putter that Woods still uses today.
In fact, the one that Rickie Fowler owns was a backup prototype that was made for Tiger Woods. Some other players who use their own versions of the Newport 2 putter are Brooks Koepka and Thorbjorn Olesen.
The Scotty Cameron Newport 2's general specs are that its head is made of 303 Stainless Steel, it has tungsten weight balancing and a tri-sole design. It also has a Pistolini Plus grip and a mid-toe flow.
On the other hand, the Futura X5 has a 303 stainless steel head with an aluminum sole. Scotty Cameron states that the shape of this putter and its head size helps to create visual clues for the user who can then align the body with the brain.
A body and brain alignment could be one of the areas that Rickie Fowler is struggling in and that's why he changed putters. Another PGA player who uses the Futura X5 is Justin Thomas.
You can watch Justin Thomas talking about his own switch to the Futura X5 in the below video from Scotty Cameron Putters.
It was due to struggles that Rickie Fowler was having with his performance on the PGA Tour that has led him to pursue equipment changes.
Rickie Fowler's PGA Tour Ranking Has Fallen
As we said at the top, Rickie Fowler has won more than just one major golf tournament in the PGA Tour. He has a total of five different tournaments including The Players Championship which he won in 2015.
Fowler also won the Deutsche Bank Championship in 2015 but that wasn't his best year in terms of scoring average. In 2017, Rickie Fowler finished as the second-best player on the PGA Tour.
It was during the 2017 season that Fowler won The Honda Classic. The other two tournaments that he has won were the Wells Fargo Championship in 2012 and the Waste Management Phoenix Open in 2019.
However, his performance has been dwindling since. The 2017 season appears to have been his tournament peak.
After that, he finished eighth overall in 2018, fourteenth in 2019, and the 2020 season gave him a brutal awakening. He finished that season in spot 53.
The harsh reality that he awoke to during his 2020 season could have had a lot to do with his decision to switch putters. It was since his putter change that Fowler has also said that he's open to changing his gear.
It's quite possible that Fowler is just experiencing a slump in his career. After all, golf is a game that isn't exactly ageist.
The oldest person to have ever won a major was Julius Boros who won the 1968 PGA Championship at the age of 48. Rickie Fowler still has a long way to go before he is that age.
Either way, it's clear that Rickie Fowler is attuned to the fact that sometimes things need to change and it can often be for the better. Especially, since he was on the chopping block for the 2021 Masters Tournament.
He needed to remain in the top 50 players of the 2020 season in order to guarantee his spot at the 2021 Masters Tournament. This was the first time he failed to do so since he started on the tour in 2011.
Either way, a new putter could be the answer to all his problems.