If you have a passion for makeup and true crime alike, you're bound to have heard of Bailey Sarian. The California-born beauty is a popular content creator who rose to prominence thanks to her unique YouTube series Murder, Mystery, and Makeup Mondays.
Bailey Sarian is a talented makeup artist that uses a plethora of beauty products to achieve her flawlessly finished looks. In her makeup bag, you'll find foundation, concealer, highlighter, loose setting powder, eyeshadow, false lashes, lipsticks, liners, and glosses.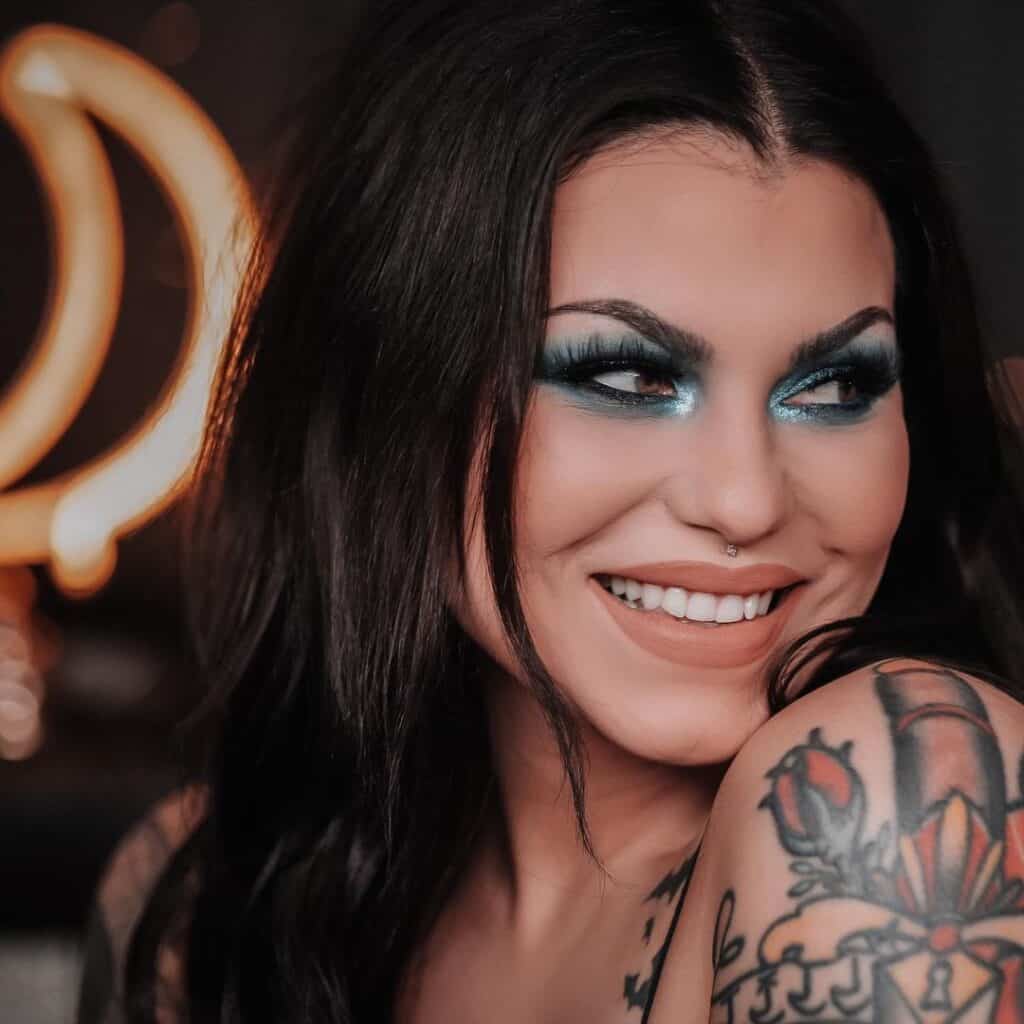 Unlike many other beauty YouTubers, Bailey doesn't directly promote beauty brands. Rather, the products she uses can be found in the description box of her videos as well as in her Instagram captions — let's take a look at some of her favorite products.
Her Face
Although she begins the majority of her videos totally bare-faced, sometimes Bailey does her foundation off-camera which leads to many not knowing which products she used. What causes further confusion is the fact that she often uses multiple foundations to achieve perfect coverage.
Of late, Bailey has gravitated towards Mac Cosmetics Studio Fix Foundation, Rare Beauty's Liquid Touch Weightless Foundation, Make Up For Ever Reboot Foundation, I am Magic Foundation by Juvias Place, and Revlon's Candid Glow Foundation in the shade 320.
Fenty Beauty concealer is the concealer that most often appears in Bailey's makeup looks.
Sarian is fond of highlighter and generally sticks to Natasha Denona's Super Glow Highlighter, Lux Diamond Golden Hour Palette and the Lux Diamond Highlighting Palette by Lorac Cosmetics. She doesn't contour too often but when she does she'll use Salt New York's Cream Tint Contour and the Contour Palette Vol 1 by Lunatick Cosmetic Labs.
Her looks are usually set in place with Lancome's Long Time No Shine Loose Setting Powder, Coty's Airspun Loose Powder, or Laura Mercier's Loose Setting Powder.
Her Eyes
In August 2020 Bailey released her own 9-pan eyeshadow palette in collaboration with Estate Cosmetics. The palette, titled Venice Fling, seems to be sunset-inspired and is one of the first options she turns to when creating summer eyeshadow looks.
Other than the shades in her own palette, Bailey is quick to reach for the 30 Colour Eyeshadow Palette by Prados Beauty, That's Taupe by Color Pop Cosmetics, the Nikkie Tutorials x Beauty Bay palette, and Melt Cosmetics' In The Waiting Room palette. She is also fond of Makeup Geeks Cosmetics' shadows in the shades Medieval, Time Travel, Blue Me Away as well as Mac Cosmetics' range of Dazzleshadow Liquid Eyeshadow.
For false eyelashes, she uses Huda Beauty's Hoodie 23, The Bold Face Makeup's Good Vibes Only or Super Staked Not So Basic lashes, and Ardell Beauty's Demi Wispy Lashes.
In terms of liquid eyeliner, Bailey uses many different liners but seems to be a fan of the Perversion Liquid Liner and Heavy Metal Glitter Liner, both by Urban Decay Cosmetics.
Her Lips
Bailey's lips are often painted in bold red, cotton candy pinks, and subtle nudes. Fenty's Stunna Lip Paint in the shade Unbutton, Narcissist's Light My Fire as well as Mac Cosmetics' Snob, All Fired Up, Peachy Peter, and Lady Danger are just some of her favorite lip shades.
Mac Cosmetics' Uniformly Fabulous retro matte liquid lipstick is another favorite for her lips but Bailey also loves applying it to her upper lash line as an eyeliner!
Make Up For Ever Aqua Lip Liner in 10c, Charlotte Tilbury's Iconic Nude liner, as well as an assortment of Mac Cosmetics liners in the shades Stripdown, Oak, Cherry, and Cork, are all liners that she has worn on more than one occasion. She'll often finish her lips off with a light gloss such as Mac's Saint Germaine lipglass gloss or the elf Cosmetics Clear Gloss.
Her Skin
When talking about her skin, Bailey says that "investing in good skincare is like just the key to everything." and has openly shared her struggles with cystic acne. Today, the content creator has clear skin but it has taken working hand-in-hand with a dermatologist, micro needling, spironolactone and doxycycline prescription medication, chemical peels, and more to get there.
To keep her skin clear during the day she uses a combination of Blue Derm Gentle glycolic face washes and the NXM Acne Edit Cleanser, Biologique Recherche Lotion P50, EltaMD Skincare PM Therapy Moisturizer, and Neogen Day Light Protection 50+ SPF. At night time she uses all of the above with the addition of a retinoid called LilyAna Naturals Retinol Cream Moisturizer.
While Bailey's YouTube channel is heavily focused on makeup she does upload the occasional video that details her skincare routine.