When it comes to makeup, nobody does Lili Reinhart's makeup better than Lili Reinhart. Her makeup looks – – from those featured in her in-character scenes as Betty Cooper to her everyday Instagram looks — are stunningly simple and fresh-faced.
Lili Reinhart has a no-fuss routine that anyone can follow and she uses products that are affordable & accessible to all. A typical Reinhart look consists of foundation, concealer, contour powder, blush, brow powder or pencil, a touch of eyeshadow, and balm or lipstick.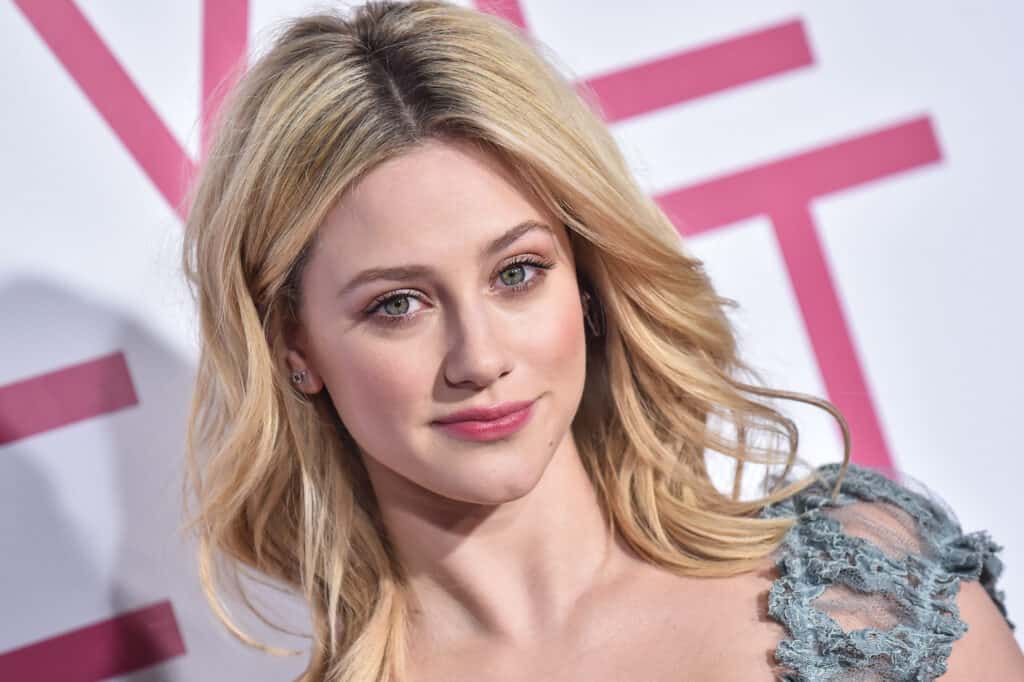 This blossoming starlet, armed with an array of videos by beauty YouTubers, taught herself how to apply makeup.
She doesn't keep the beauty secrets she's learned to herself and is quick to share her everyday routine, her favorite products, and her tried & tested tips.
Her Face
Reinhart begins her makeup routine by applying a light layer of foundation with a beauty blender before dabbing away at stubborn zits with concealer.
This beauty blender is normally splashed with a little bit of rose water to encourage ultimate hydration.
Naturally, since the natural beauty is the face of COVERGIRL Cosmetics, she uses the Clean Fresh Hydrating Concealer in Fair Light 330 and the Clean Fresh Skin Milk Foundation in Fair Light 530.
She doesn't just stick to the brand that she's now paid to promote though and will happily reach for the Yves Saint Laurent Touche Eclat Radiant Touch Concealer.
Next she gently contours her face using a cool tone brown contour powder by Make Up For Ever. She is mindful of the amount of product she actually needs and is sure to tap off the excess.
Once her canvas is ready, she applies a natural rosy blush — usually being the Clean Fresh Cream Blush — to the apples of her cheeks.
Fun fact: she also often uses this blush as a lip stain as well as a liquid eyeshadow. 
Using her fingers, she dabs NARS The Multiple highlighter onto the spots of her face that the light naturally catches before finishing it all off with a dusting of Make Up For Ever's Ultra HD Microfinishing Loose Powder.
Her Eyes
One of Lili's most attractive features has got to be her deep green eyes that she plays up using peach or blush-colored tones such as those found in the Stila Eyes Are the Window palette.
For extra definition, she will run a dark brown shadow or liner down her lash line.
For her brows, she bounces between every influencer's go-to, Anastasia Beverly Hills' Brow Powder palette, and COVERGIRL's Easy Breezy Brow Micro-Fine + Define Brow Pencil in Soft Blonde.
Lili typically finishes off her eyes with the Marc Jacobs Velvet Noir Major Volume Mascara or the Clump Crusher or Exhibitionist Mascara, both of which are from COVERGIRL.
Her Lips
For the most part, Lili's lips are kept natural and she doesn't often stray from shimmery light pink blush, rose, or soft nude colors. Sometimes she'll even stick to a little bit of Chapstick on her lips!
As far as possible, Lili likes to use lipsticks that are as close to her natural lip color as can be.
She's a fan of the MAC Cosmetics Satin Lipstick in the shade Brave.
Like we mentioned above, she's not afraid to use a cream blush in lieu of a lipstick and finds that the shade called Sweet Innocence works particularly well for those who have skin as fair as hers.
Her Skin
Have you ever wondered what Lili has in common with Demi Lovato? They share an esthetician! Reinhart has Renee Rouleau, and her range of skincare products, to thank for her glowing skin.
As is the case with her makeup routine, Lili doesn't shy away from sharing her skincare regime with her millions of adoring followers.
Her routine starts in an unusual place: with HUM Nutrition's Skin Heroes prebiotic and probiotic supplements.
The rest of her strict skincare routine includes products such as clay masks, detox masks, sleeping masks, smoothing peels, drying lotions, exfoliators, cleansers, serums, and moisturizers.
When it comes to spending money on skincare, Reinhart views her skin as "an investment" and that — where possible — you should spend extra money on your skincare.
In addition to her partnership with COVERGIRL Cosmetics, the rising star is also a brand ambassador for Dermalogica, so it's safe to say that she knows a thing or two about skincare.
She even helps her Riverdale co-stars with their skincare and Camilla Mendes was quoted saying "she's an expert, so I definitely go to her a lot for advice."