Long gone are her Spice Girls days and in their place are days of being known as one of the fashion icons of the century. Victoria Beckham is a wife, mom, businesswoman, and fashion designer. Now she is carving a name for herself within the cutthroat makeup industry.
Victoria Beckham has a respectful approach to makeup. She uses tinted moisturizer, concealer, bronzer, translucent setting powder, lip tints, eyeshadow, eyeliner, mascara, lip liner, and lipstick to ensure she always looks spicy. Her must-have makeup item is a brow pomade.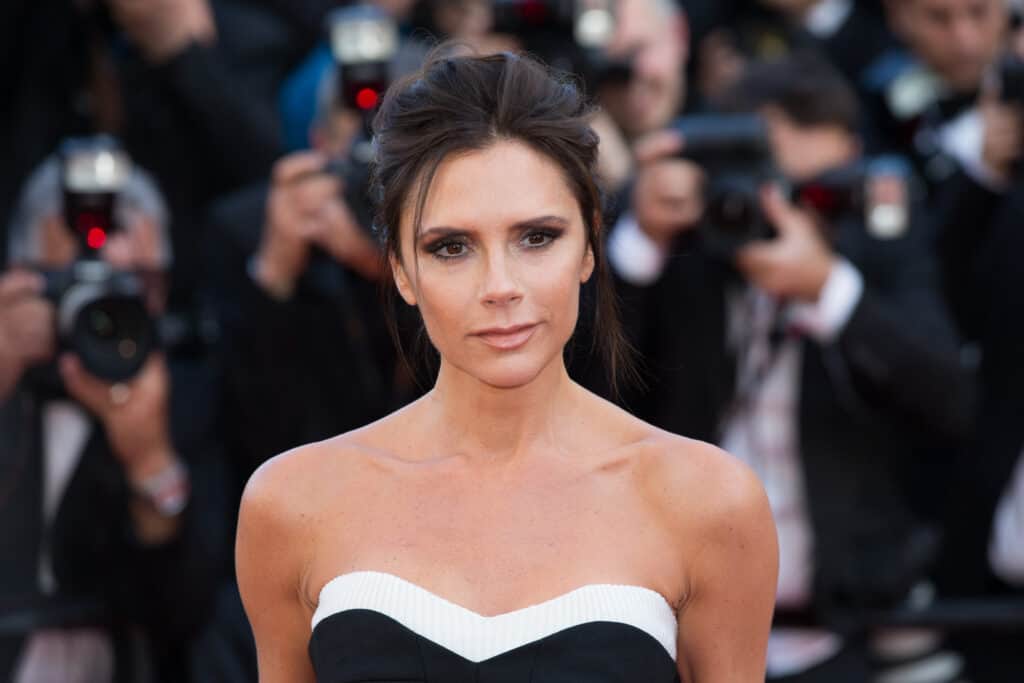 Mrs. Beckham is certainly not shy about her love for beauty, fashion, and makeup, and the celebrity's brand — Victoria Beckham Beauty — is a testament to this. Let's take a look inside her makeup bag to discover just how she achieves her impeccable full face of soft glam.
Her Face
To create her canvas, Victoria uses the Skin Insurance SPF 30 tinted moisturizer by celebrity facialist Sarah Chapman (who is also the facialist to Gigi Hadid, Meghan Markle, and Naomi Watts). For more of a full coverage, she'll grab Burberry Fresh Glow Foundation and occasionally La Mer's The Soft Fluid Long Wear Foundation SPF 20 in the shade Honey.
She then moves onto the Cashmere Concealer, also by Burberry, which she uses to lightly contour her nose, cover blemishes, and conceal dark circles under her eyes. To provide a pop of color, Victoria reaches for her own Bitten Lip Tint in the shade Cherie or Bisou.
After a quick application of her Terracotta Bronzer from her collaboration with Estee Lauder, Victoria finishes off her looks with a dusting of Laura Mercier's cult classic Translucent Setting Powder.
Her Eyes
The A-lister is known for her smokey eye which she achieves using a mixture of the shades found in her Signature Smoky Eye Brick. For darker nighttime looks she turns to the Tuxedo Palette, also from Victoria Beckham Beauty.
To make her eyes pop she uses the Satin Kajal Liner or Grey Amber, both of which are from her line. She frames her eyes using DHC Double Protection Mascara in a dark black shade.
Speaking to Lisa Eldridge, Victoria says that she has no qualms with leaving the house makeup-free but that her eyebrows are her "safety blanket" and she will always fill them in using Anastasia Beverly Hills Dipbrow Pomade.
Her Lips
Turning again to her own collection of makeup, Victoria mainly uses the Bitten Lip Tint on her lips as well as the No 2 Lip Definer. When her makeup artist, Wendy Rowe, does her lips she usually uses a Burberry Lip Color Contour in addition to products from Victoria's line.
It has long been speculated that the former Spice Girl has had lip fillers but Wendy states that she is simply practicing the subtle art of overlining her lips to create a fuller-looking pout.
To finish off her lips she'll typically apply her Morning Aura Gloss. This gloss can also be used as a highlighter so it's not unusual to see her wearing it on her cheeks, eyeliners, lip bow, nose, chin, and even her shoulders when she dons strapless tops or dresses.
Her Skin
Victoria's skincare routine can comfortably be described as militant. With the help of the dermatologist to the stars, Dr. Harold Lancer, Victoria says that she doesn't have to worry about her skin too much anymore.
She often shares skincare advice, and of course her range of skincare products, on her Instagram page. When taking her makeup off, she opts for Biooderma face wipes to get the job done properly.
In terms of cleansers, she uses CosMedix Purity Solution Nourishing Deep Cleansing Oil, Dr. Barbara Sturm's Enzyme Cleanser, and Sarah Chapman's Skinesis Ultimate Cleanse. Victoria uses Dr. Lancer's The Method Polish to wash and exfoliate her face as well as the CosMedix Purity Clean Exfoliating Cleanser.
Once her face has been exfoliated she uses the Sarah Chapman 3D Moisture Infusion Mask which she uses a jade roller to apply. Victoria then uses a Creme de la Mer Moisturizing Soft Lotion to hydrate her skin.
She also uses a plethora of serums including her Cell Rejuvenating Power Serum which she formulated with Augustinus Bader, the Stem Cell Collagen Activator from Sarah Chapman's Skinesis range, the Biologique Recherche Oligo-Protéines Marines Sérum Authentique, and an iS Clinical Pro-Heal Serum Advance+.
Looking as polished and posh as she does sure takes some work, but her commitment to her skincare regime is evident when glancing at her makeup-free face.