Rita Ora is known for her striking voice, perfect cat eye, bold red lips, and sassy personality. But the perfectly put-together British singer, songwriter, and actress favors one beauty staple over all others: perfume.
Rita Ora's favorite perfumes are Chanel No. 5 and DKNY MYNY of which she is the face. Perfume is incredibly important to Rita and she has an entire spritzing ritual that she performs every day after hopping out of the shower.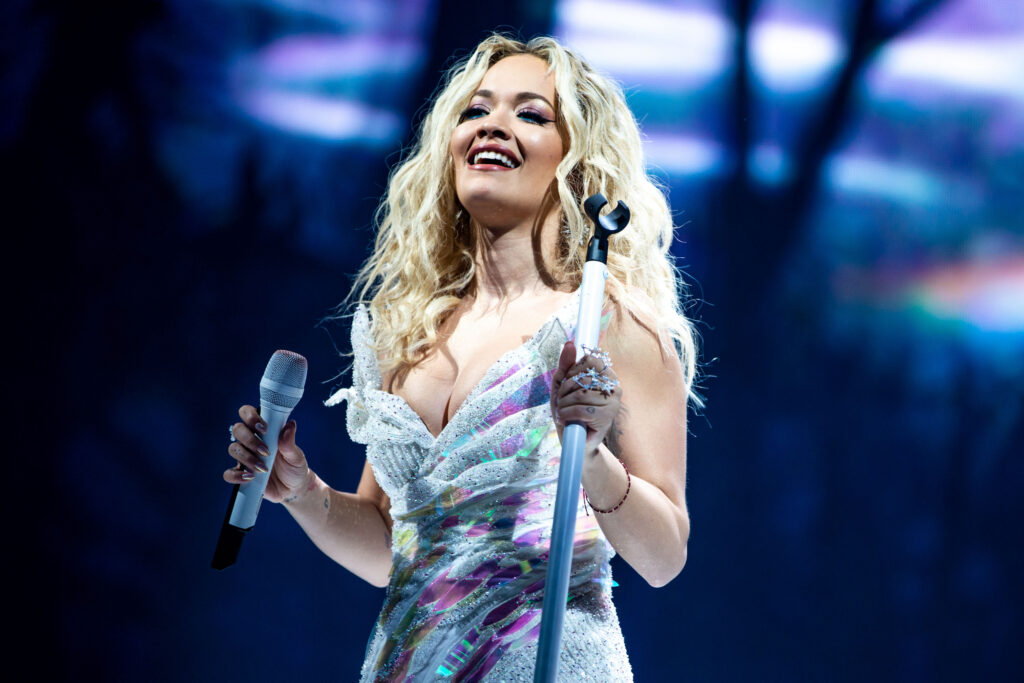 Perfume is an everyday essential for Rita and is something that has been a big part of her life since her childhood. Read on to find out what perfume Rita Ora wears, how she applies it, and why it holds such a special place in her handbag — and her heart.
Rita Ora's Favorite Perfume
Rita's favorite perfumes are Chanel No.5 which she describes as "a classic" and DKNY MYNY. These two scents could not be more different from the other.
Chanel No.5 is a complex perfume with high notes of rose, ylang-ylang, jasmine, lily of the valley, iris, vetiver, sandalwood, vanilla, amber, and patchouli. This perfume is a cult classic that was famously the firm favorite of the iconic blond bombshell, Marilyn Monroe.
On the other hand, DKNY MYNY is a fruity floral fragrance that smells like raspberry, pink peppercorn, vanilla, galbanum, Egyptian jasmine, freesia, musk, and ambergris. Rita is the face of this perfume and dubbed it "pure energy in a bottle."
Perfume is more than just a bottle of smelly liquid to Rita. The songstress told The Hollywood Reporter "I'm a massive fragrance fan — I think fragrance is part of someone's hygiene, and I'm a big believer in leaving an impression through scent."
In her song 'R.I.P', the award-winning songbird famously sings "Let my perfume soak into your sweater". And if this article proves anything, it's that she certainly means it.
Rita Ora's Feelings on Fragrance
Fragrance is not a new thing for Rita, and she grew up around all sorts of different scents. She recalls "I always remember smelling Chanel No. 5 at home — my mum used to literally pour it, and she rocked it."
Rita goes on to describe how fragrance played a role in her childhood. When speaking of what the West London home she grew up in smelled like, she said "Candles were always scented in my house, and my body wash was always scented."
And it's not just her childhood home that smelled wonderful, but her childhood self too. She says "My mum used to always wash us in nice smells because she always wanted us to smell good."
Her mother's perfumery preferences have stuck with Rita and, as an adult, she ensures her house always smells like home. Rita's favorite candle is the Diptyque Ambre Scented Candle but she also admits that "Jo Malone is always great."
How Rita Ora Applies Fragrance
Other people may casually apply their perfume before leaving the house, but not Rita. When it comes to applying her perfume, Rita follows what can only be described as a ritual.
This ritual begins the moment she steps out of the shower.
Rita says of her perfume routine "I mix my fragrances with body oils — I love body oils, so that's my little trick" and declares "It's the first thing I put on when I get out of the shower."
The star is far from fussy when choosing which oils to mix with her perfume. When speaking of her oil preferences, she says she uses "Every sort of oil I can possibly find, I just put on."
After applying her mixture of perfume and body oils, Rita then applies lotion to her body, spritzes perfume, puts on her underwear, dresses, and then sprays her perfume again. She carries her perfume in her handbag and reapplies it throughout the day.
When she's getting ready to perform, Rita uses perfume as a good luck charm. She said "I do the whole head, as well as my neck and hands, then I wave my hair all around. I know people don't smell it, but it makes me feel better."