2 Chainz, otherwise known as Tauheed Epps, has been one of the most popular American rappers of the last ten years. But fans often look for the back catalog of their favorite artists, which is why so many are asking the question – what was 2 Chainz 'first song?
It is difficult to give a conclusive answer, due to limited public information. During his time in hip-hop duo Playaz Circle, their first release was the 1997 album United We Stand, United We Fall. There is no info on their first released track. As 2 Chainz he released his first mixtape, Me Against The World in 2007. Again, it is unclear which track was released first.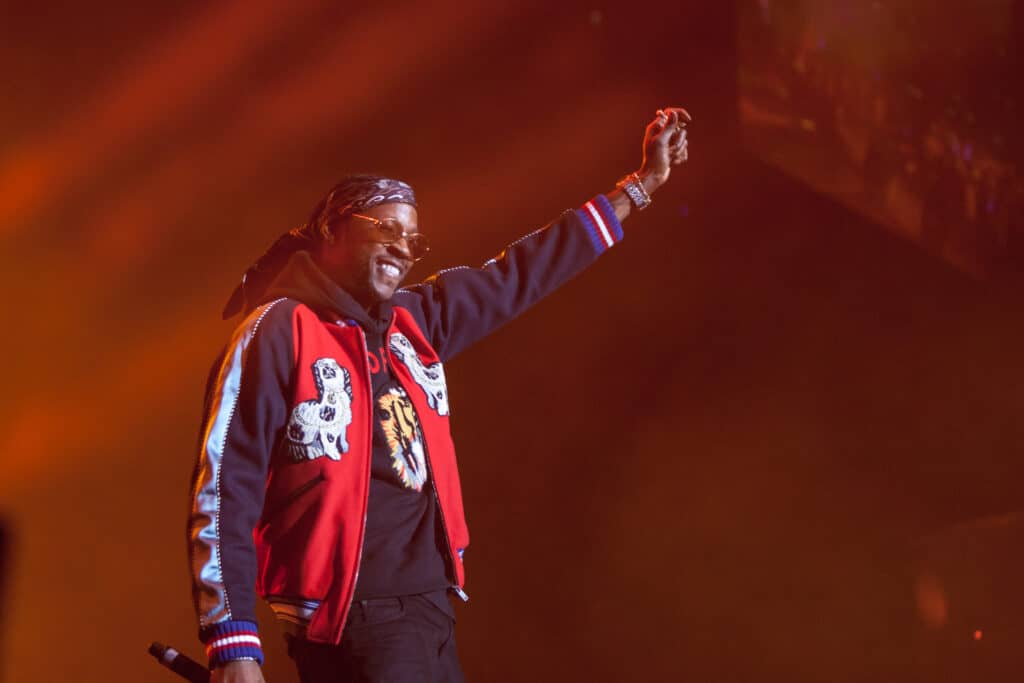 2 Chainz has had a long and complicated career, so it is difficult to pin down concrete details, although titles and links to most of his music can be found online.
Early Career and Albums
Tauheed Epps grew up in College Park, Georgia. Before beginning his career as a rapper and songwriter, Epps attended Alabama State University on a basketball scholarship, and he graduated second in class. He briefly transferred to Virginia State University during this period.
After returning to College Park, Epps decided to form a hip-hop duo with high school friend Earl Conyers. They named the duo Playaz Circle and took on the monikers "Tity Boi" (for Epps) and "Dolla Boy" (for Conyers.
They released their first independent album United We Stand, Divided We Fall, in 1997. Here is the first track listing ever released to the public by Playaz Circle:
Searching 4-7
Regardless
Planet Of Da Apes
Illegal Operations
Last Wish (Playaz Motto)
R.I.M.S.
6-Figures
8 Million Stories
Handle Ya Bizness
Only Live Once
Don't Try
Hard Timez
Birdz & Beez
Dedication
The duo found considerable success in the Georgia hip-hop scene and soon came to the attention of up-and-coming Atlanta rapper Ludacris. He soon signed them to his newly founded record label, Disturbing Tha Peace, and collaborated with the duo on multiple songs.
During this time, the duo encountered great difficulties. Earl Conyers was incarcerated, and 2 Chainz was shot and hospitalized. As a result, they did not release any new music until 2007.
Their first studio album, Supply & Demand was released in 2007, under Disturbing Tha Peace, alongside their most popular single to date, "Duffle Bag Boy".
In an Instagram post in September 2020, 2 Chainz shared a post celebrating the 11th anniversary of the Playaz Circle album Flight 360: The Takeoff.
Later Career
In 2009 Epps left Disturbing Tha Peace, believing it a necessity to advance his career as a solo artist. He also changed his stage name from "Tity Boy", which some fans had considered derogatory, to the more "family-friendly" 2 Chainz.
He released his first mixtape under the new pseudonym in 2011, titled T.R.U REALigion, which was well-received by critics and listeners. It was also his first mix-tape to appear on the US charts. Here is the tracklist for the mix-tape:
"Intro"
"Got One"
"Undastatement"
"Turn Up" (featuring Cap.1)
"Riot"
"Stunt" (featuring Meek Mill)
"Vi-Agra"
"Spend It (Remix)" (featuring T.I.)
"I'm Tity Boi"
"Murder" (featuring Kreayshawn)
"Slangin Birds" (featuring Young Jeezy, Yo Gotti & Birdman)
"Addicted to Rubberbands" (featuring J-Hard)
"Money Makin Mission"
"K.O." (featuring Big Sean)
"One Day at a Time" (featuring Jadakiss)
"The Real University"
"Letter to da Rap Game" (featuring Dolla Boy & Raekwon)
"I Got It" (featuring Trey Songz)
"Kesha"
These are the first songs officially released by the solo artist now known as 2 Chainz. His first album, Based On A T.R.U Story, was released on March 24, 2012.
Accolades
From that point on, 2 Chainz began to see considerable success in his solo career, almost entirely overshadowing his previous discography with Playaz Circle. He has released six solo studio albums and is signed to Def Jam Recordings.
He has seen considerable international success, and collaborated with many of the biggest names in hip-hop, from Drake, Future, Pharrell, Niki Minaj, ASAP Rocky, and many many more.