After becoming an internet meme in 2018, rapper Blueface has gone on to find chart success. What was Blueface's first song?
Blueface's first song was "Kicc a Doe", uploaded to Soundcloud in 2017. He first gained fame online when the video for "Respect My Crypn" went viral on YouTube.
For more on Blueface's rise to fame and his early songs, read on.
Jonathan Porter
Jonathan Michael Porter was born in Los Angeles, California on January 20, 1997. He grew up in the Mid-City neighborhood in Central LA.
Porter's childhood was divided between living with both of his parents, first living with his mother in Santa Clarita Valley, and later settling with his father in Oakland. He attended several elementary schools before moving to San Fernando Valley.
While in San Fernando, Porter attended Arleta High School, where he played alto saxophone in the school's marching band. He also played football, where his ability and impressive 6'4″ frame helped him become the school's starting quarterback in 2014.
As a starter, Porter won the East Valley League championship in 2014. He was recruited by Fayetteville State University, where he played college football on a scholarship before dropping out in 2016.
Porter's true passion was for music, having discovered rap at an early age. His favorite rappers were Snoop Dogg, 50 Cent, and The Game.
He had a son in 2017 and had moved between several temporary jobs before entering the music industry.
Blueface
Having left school, Porter began rapping and adopted the name Blueface Bleedem. He had connections to the School Yard Crips and the Blueface name was in reference to the gang's blue colors.
Porter had moved back to Los Angeles after leaving college and visited his friend, Laudiano, to fetch a phone charger. Laudiano had a music studio and challenged Porter to rap over a beat; Blueface was born.
He began uploading songs to SoundCloud; the earliest of these was "Kicc a Doe", using a beat he downloaded from YouTube.
Blueface began work on his first collaboration with Laudiano, "Deadlocs", and the song was released on SoundCloud. They continued collaborating and created Blueface's first EP, "Famous Crip", which was released online in September 2018.
His online presence helped Blueface gain a following in California and he continued releasing music, including "Two Coccy", his second EP which was released on SoundCloud.
Blueface's breakthrough came in October 2018, when the music video for "Respect My Crypn" was released on the WorldstarHipHop YouTube channel. The video went viral and the original upload has gone on to garner more than 44 million views in the years since its release.
The attention gained by "Respect My Crypn" spread to Blueface's other songs. "Thotiana" proved to be his most popular song to date, breaking through to the mainstream and peaking as high as number 8 on Billboard's Hot 100 singles chart.
Blueface signed with Cash Money West in 2018 and, typically for the music industry, said he was unaware when asked if he was signed with a number of other labels as a result. In response, Wack100, who signed Blueface to Cash Money West, clarified that the rapper was signed to Cash Money exclusively and was not part of a "360 deal".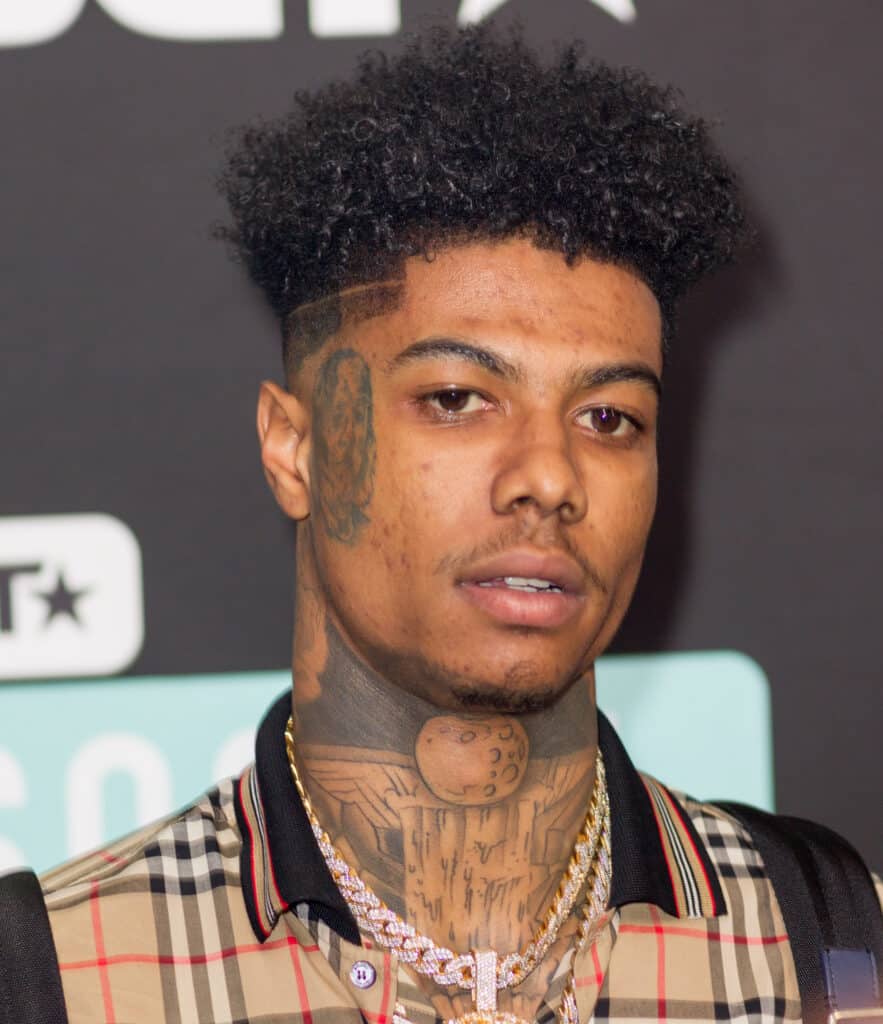 Continued Releases
With "Thotiana" representing the height of Blueface's career to that point, he began collaborating with major stars such as Cardi B, YG and even his rap idols, Snoop Dogg and The Game.
In August 2019, he released his first EP since finding internet fame, "Dirt Bag". The album received mostly negative critical reviews but performed well commercially, peaking at number 48 on the Billboard 200 albums chart.
Shortly after, Blueface announced the tracklist for his debut studio album, "Find the Beat". After a number of delays, the album was released on March 13, 2020. The album again met with negative reviews but reached number 64 on the albums chart.
Blueface has displayed the importance of reaching out to the community when cultivating grassroots support. He held polls on his Instagram, asking his social media followers to choose which high school he should visit.
Ultimately, Pasadena High School won the poll over Santa Monica High School. The contest brought even more attention to Blueface, who was quickly becoming one of the most popular new rappers on the scene.
Blueface has discussed the importance of promotion, marketing, and being yourself when building a following. He believes that becoming famous was, for him, "about 25 percent music".