Many artists relay feeling such a strong affinity to the songs they write that the connection is apparently akin to that of a parent and their child. So, if that's the case, what was the Father of Rock and Roll's first child?
Chuck Berry's first song was a rockabilly sounding tune called Maybellene, which was released in 1955. Coincidentally, it was also the African-American's first hit and the song that garnered his enormous fame and acclaim.
The song is considered to be a pioneering rock and roll song that has been covered by some of the biggest rock stars to ever bless our eardrums. What exactly inspired this song and how was it received? Let's find out.
Meet Maybellene
Maybellene is the fruit of Chuck Berry's labor. The song, which was recorded on the twenty-first of May in the year 1955, was released by Chess Records and has been dubbed as a pioneering rock and roll song.
Featuring a strong beat, relatable yet excitable lyrics, mash-up of the blues and country genres, and a distinctly hummable rhythm, Maybellene had something to offer everyone. As such it appealed to black and white audiences alike.
The lyrics make mention of a relentlessly unfaithful partner, a doomed romance, and a hot rod race. The popular vehicle makes and models of the day — namely the Cadillac Coupe DeVille and the Ford V-8 — were stars of the show.
The track was a team effort. In it, Chuck Berry is the vocalist and guitarist while Johnnie Johnson plays the piano, Willie Dixon is grooving the bass, Jerome Green is on the maracas, and Ebby Hardy beats the drums.
But just how did this song that paved the way for rock and roll as a whole come to be in the first place?
Inspiration
Maybellene is something of a mishmash of Bob Wills and the Texas Playboys' Ida Red and Berry's own unique style. Chuck created his own distinctly Berry version of Ida Red, initially titled "Ida May", and presented it to Chess who tweaked it until it resembled the tune that we recognize it as today.
The name "Ida May" was deemed to be too rural sounding and, in an effort to commercialize the song as much as possible, the brainstorming for a new name was underway. It was purely a thing of chance that a tube of mascara was spotted on the studio floor and Chess declared "Hell, let's name the damn thing Maybellene."
To avoid stepping on the toes of a certain cosmetic company, the spelling of the name was purposefully altered. Needless to say, it is often incorrectly spelled — even on numerous releases!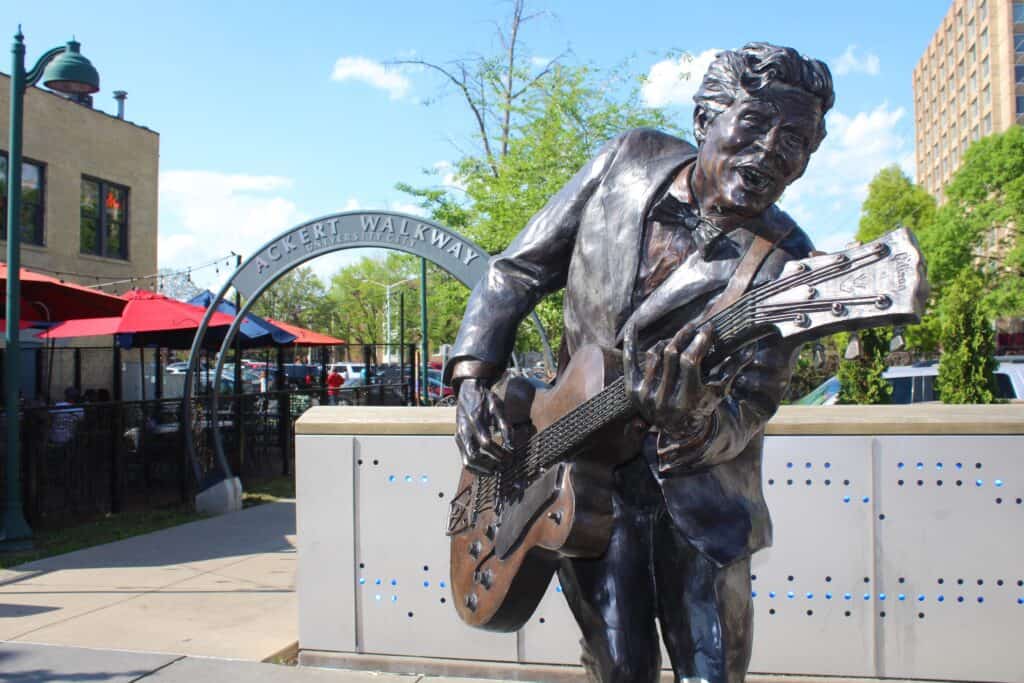 Recognition
Leonard Chess, the owner of Chess Records, was excited by the seemingly endless possibilities presented by a "hillbilly song sung by a black man." As it turns out, his excitement was well-placed as the song was a roaring success that had sold a solid one million copies by the end of that year.
To give you an idea of just how successful Maybellene turned out to be, it has been covered by the likes of Elvis Presley, Johnny Cash, The Everly Brothers, Paul Simon of Simon & Garfunkel, and more than 66 other performers.
The song has been inducted into the Grammy Hall of Fame, is an undisputed entry in the "500 Songs That Shaped Rock and Roll" and is a permanent fixture on Rolling Stone's list of 500 Greatest Songs of All Time.
All in all, not too shabby for an artist's first song. Right?
The Aftermath
Maybellene propelled Berry to instant fame. He enjoyed much success in the years that followed with his ensuing songs "Roll Over Beethoven", "School Days", "Rock and Roll Music", "Sweet Little Sixteen", "Johnny B Goode", "Memphis, Tennessee" and "Little Queenie" performing incredibly well.
Before the decade was up Chuck Berry was the proud owner of a nightclub, had numerous US Top 10 hits under his belt, and many motion picture appearances to his name. He was embroiled in personal issues which saw him land behind bars and his popularity dwindled slightly as a result.
A resurgence in popularity was quick to occur though as his music had caught the attention of the Beatles, The Rolling Stones, and the Beach Boys. John Lennon once said "If you tried to give rock and roll another name, you might call it 'Chuck Berry'." and we wholeheartedly agree with this statement.