Ellie Goulding is an English songwriter and singer known for her emotional delivery, but what many people do not know about the songstress is her first foray into the industry.
Ellie Goulding's first song was "Under the Sheets" which was the first single released from her debut studio album "Lights" in 2010. She wrote the song with Starsmith, a British songwriter and producer.
Since her debut, she has released a total of four studio albums and gone on to achieve several musical successes, including being featured in the soundtrack for the hit movie adaptation of the novel "Fifty Shades of Grey".
Discography and Artistry
Ellie Goulding released four studio albums over a decade, beginning with "Lights," which was her debut album in 2010 and eventually re-released as "Bright Lights" with six additional songs later that year. She also released her 2012 follow-up sophomore album "Halycon" which she re-released as "Halycon Days" in 2013, her third album titled "Delirium" and "Brightest Blue" as her fourth album in 2020.
Clearly, Ellie Goulding is a productive musician.
Her debut "Lights" (or "Bright Lights") signaled her first steps into the music industry – but some might argue that it was more of a giant leap. The single "Lights" off the album initially gained popularity in the UK but blew up internationally after it was remixed with an electronic energy.
This success is even more impressive once you learn that Ellie Goulding is a self-trained singer, as she mentioned in a 2012 interview with Carson Daly.
Ellie Goulding also released her second studio album, "Halycon" that same year; the album received a respectable 6.6 out of 10 from the notoriously critical music review website, Pitchfork, where they lauded her "instantly identifiable voice."
She had a lot to be proud of, like singing at Prince William and Kate Middleton's wedding reception, winning a Brit Award for British female solo artist, and being featured on the soundtrack to the blockbuster movie "The Hunger Games: Catching Fire".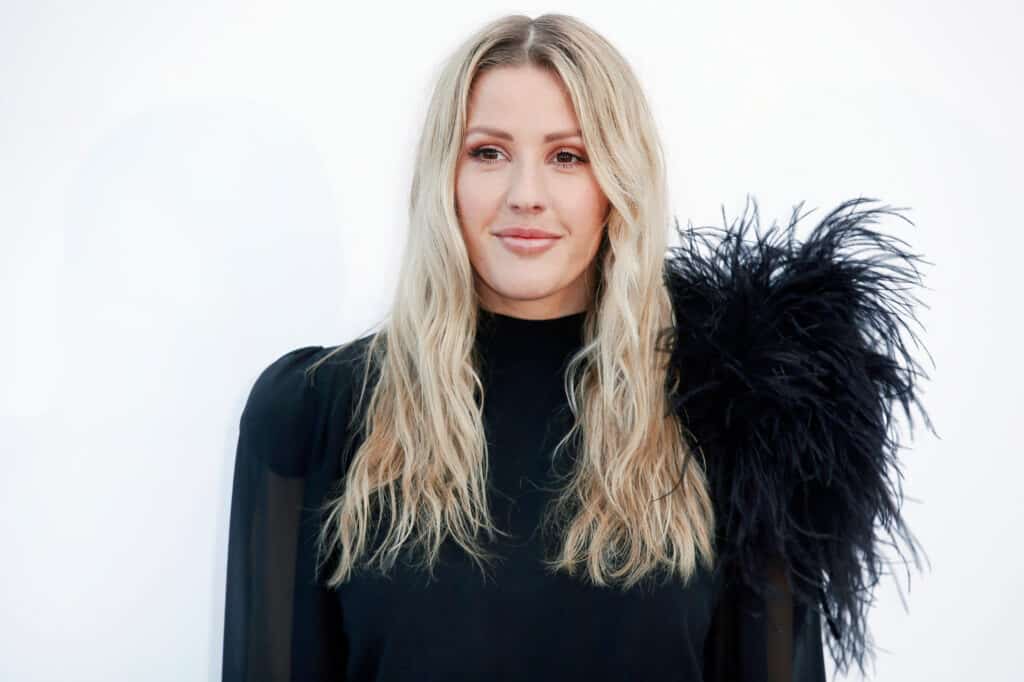 She named artists such as Bon Iver and Bjork as some of her biggest influences in a 2012 interview with Rolling Stone.
Ellie Goulding's third album, "Delirium", was released in 2015, received positive reviews from critics, and debuted at number 3 on the Billboard 200. However, Ellie Goulding later said in an interview with BBC News that although she liked the album, she felt that "a really brilliant pop record. I just think it perhaps wasn't an Ellie Goulding record."
That all changed with the release of "Brightest Blue", her fourth album; the double-sided, 18-track album was lauded as her "career-best" in an album review by The Independent.
Personal Life and Philanthropy
After the release of her 2020 album, "Brightest Blue", Ellie Goulding went on record to speak about how the album was her most personal yet.
The songwriter spoke with BBC News about how she even cried after hearing the final product of the title track, "Brightest Blue", saying, "I don't get emotional at my own music like that – but that song just feels like a new beginning."
She spoke about her roots as a young teenager hiding her accent (it was recognizable as one from a "council estate", a form of British public housing), saying that although she is no longer embarrassed, hiding her accent turned out to be a unique form of vocal training.
Ellie Goulding has also been open about how being in the spotlight affected her mental health. Although she acknowledged she was not an alcoholic, she said she would drink before interviews as she believed that, "I thought drinking would at least make me a bit more funny, or interesting."
Everyone struggles sometimes, and the spotlight can be challenging for anyone, even talented artists like Ellie Goulding.
Happily, the songwriter has turned a corner, emotionally speaking, and has talked about how she has settled into the quiet life in the countryside with her Caspar Jopling, who she married in 2019. She even bakes cakes and is apparently quite good.
Ellie Goulding was also recognized by the United Nations Foundation in 2017 for her activism, earning a Global Leadership Award for her work on environmentalist and social justice causes like homelessness. She has also consistently fundraised with the organization "Streets of London" to raise awareness about homelessness.
The singer has achieved an impressive amount in her musical career since she first released "Under the Sheets" in 2010.