For the Miami girl group, fame didn't come from a slowly built up catalog of their own music, or a debut release with runaway popularity, it came from their talents being showcased on the X-Factor. Much of their time was spent performing covers, but what was their first original song?
Fifth Harmony's first song was their debut single on July 16th of 2013, "Miss Movin' On", from the EP Better Together. Although they had performed and released covers online, this was their first original song.
We got to see Fifth Harmony performing quite regularly during their stay on the X-Factor, as well as seeing them showcase their vocal talents on multiple covers, all released on Youtube.
What was the First Song They Ever Performed?
Although "Miss Movin' On" was their first proper studio release, it wasn't actually the first one that we ever got to see them perform. The honors for that spot go to the song "Impossible", by Barbadian singer Shontelle.
Not only was the first time the public had seen them performing together, but it was also one of the first times the group had ever sung together at all, seeing as how their coming together was a product of the show.
All of the members of Fifth Harmony, back when they still had fifth member Camila Cabello, were contestants on the X-Factor who, despite successfully passing the auditioning process, had been unable to progress any further.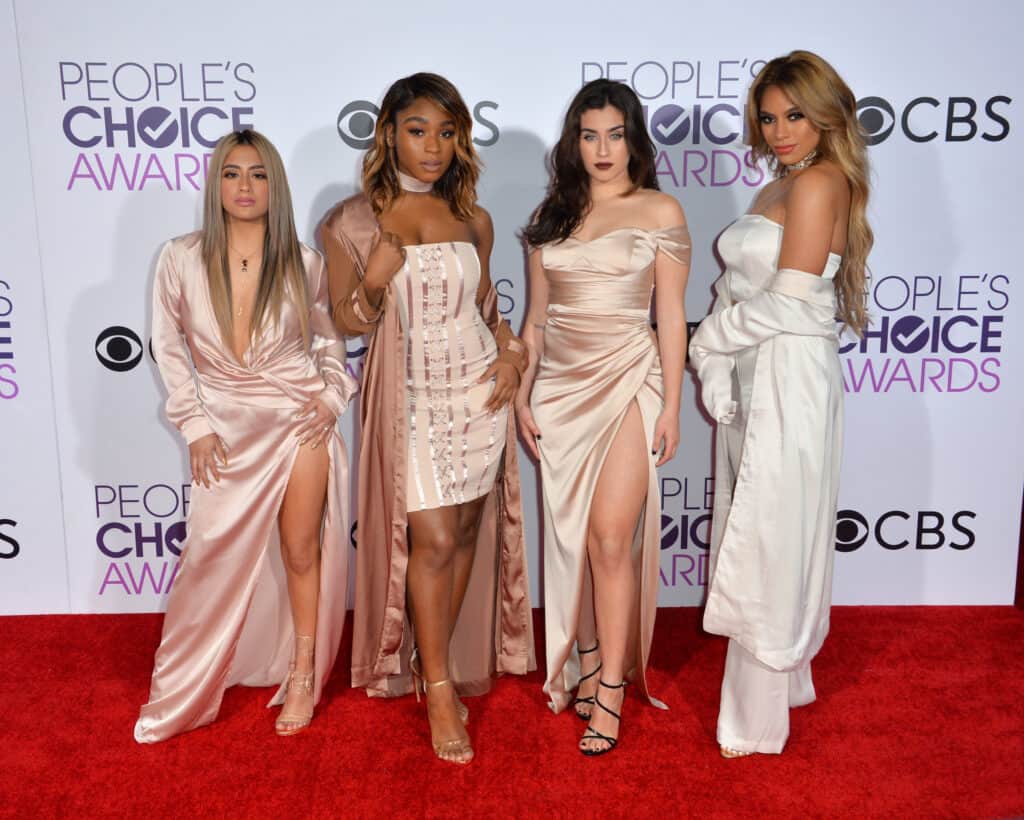 The X Factor judges, all industry veterans themselves, clearly had an eye for some kind of hidden spark that the five girls possessed, seeing fit to group them up together and seeing how the concoction would shape up.
It's not an uncommon practice for the X Factor judges to try shaking things up a little with regards to group compositions, and although experimentation like this can often be successful, there are an equal amount of times that it simply doesn't turn out as expected.
In the case of Fifth Harmony, however, it was an instant success. They put on a show in the judges' home, their group chemistry clicking immediately for all to see.
All of the judges were left wowed, and it seemed that this first performance together and the incredible reception that it received could act as a glue not only for the remainder of their time on the X-Factor but well after it as well.
Of course, the group had a few transformations between that point and their later identity as Fifth Harmony, or 5H as they are sometimes called. For starters, the group name underwent multiple changes over the course of the X-Factor.
They had initially landed on the name Lylas, though unfortunately for them there was already another group by the name The Lylas. This forced them to change to 1432, but the name wouldn't sit well with showrunner and record executive Simon Cowell, who in an unorthodox move put their naming to a public vote.
First Songs Outside of the X-Factor
Despite a very successful run on the X Factor, the group didn't make it to the final two contestants of the show. On their way, however, they got to accrue some incredibly valuable experience as a group, including a duet with one of the X Factor judges, Demi Lovato.
The group was determined now, however, and were not going to let something as insignificant as a loss on the X-Factor be a setback to their aspirations, especially not after seeing how successful they could be.
They took to Youtube, releasing multiple covers of songs, making those covers their first songs released outside of the format of the show.
They weren't only successful with the internet viewership and public reception on those covers, even earning a mention from one of the artists who was apparently a fan of the track.
Going With the Momentum
Fifth Harmony rode their momentum gained from the show and their stellar covers, signing with their X Factor mentor Simon Cowell and his fellow judge, L.A. Reid. Despite not winning the show, the group had won over the hearts of their audiences.
Although their first release "Miss Movin' On" was not destined to be a chart-topper, it was still incredibly successful for such a fledgling young group, and set the stage for their future successes on chart-topping singles such as "Work from Home".