He is one of the most prominent rappers and producers working today and a Grammy award winner. How did J Cole's career start and what was his first song?
J. Cole's first song was "Simba" from his 2007 mixtape "The Come Up". He appeared on his first major release with "A Star Is Born" from Jay-Z's "The Blueprint 3" album in 2009. Cole's debut studio single was "Lights Please" in 2009.
For more on J Cole's early life and the beginnings of his music career, read on.
Growing Up
Jermaine Lamarr Cole was born in Frankfurt, West Germany on January 28, 1985. Cole's father was serving in the U.S. Army at the time and Jermaine was born on an American military base in Frankfurt.
Cole's mother, Kay, was a white American postal worker for the United States Postal Service. His African-American father left the family when Cole was young and so Kay, Jermaine, and his older brother, Zach, moved to the United States.
The family settled in Fayetteville, North Carolina. Cole has said that being biracial made him feel different as a child, though not necessarily in a negative way.
He feels he can identify with white people due to his mother's side of the family being white but that he has always felt separate from them due to his dark-skinned appearance.
Music
Cole discovered music at an early age and began studying classical music in his youth. He became a violinist, serving as a member of the Terry Sanford Orchestra in his teens.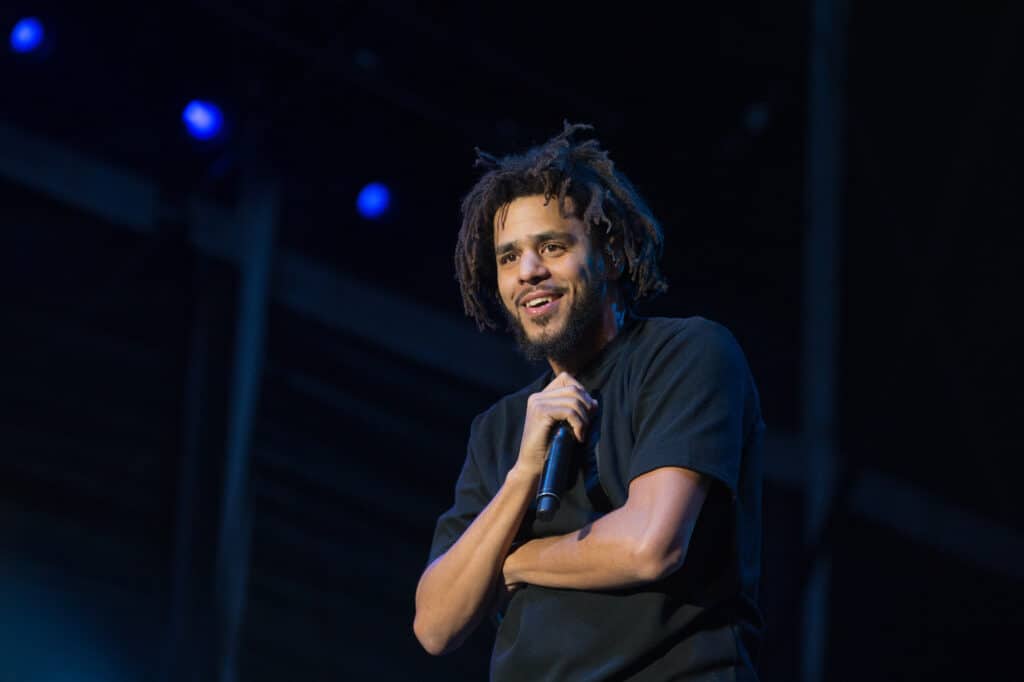 At the age of 12, Cole also began rapping and saw becoming a rapper as his dream profession. His mother gave him an ASR-X music sampler for Christmas in 2000 when he was 15, giving him the means to focus on his production skills as well as his lyrics.
Cole began using the name Therapist and produced music for local acts, including joining a group called Bomm Sheltuh as both a rapper and producer.
He was a strong student and graduated from high school with a 4.2 GPA. Realizing that his best chance of pursuing a music career required moving to a major city, he enrolled at St. John's University in New York City with a scholarship.
He initially majored in computer science but was discouraged after seeing an unhappy computer science professor. Instead, he switched to communication and business.
Cole graduated magna cum laude in 2007 but did not receive his degree until 2015 when he visited the college for a homecoming concert. He had owed money for a library book and, per college rules, could not be granted his degree until it was paid.
Having left college, Cole returned to Fayetteville and worked as a newspaper ad salesman, a bill collector, and even dressed as a kangaroo as a skate rink mascot.
First Singles
Cole, now with enough equipment to produce all the necessary instrumentals, created a CD and traveled to the Roc the Mic Studio with the intent of playing it for Jay-Z. After three hours, Cole was dismissed and decided to use the tracks as the foundation of his first mixtape.
Cole, now using the name J. Cole, released his first mixtape, "The Come Up", on May 4, 2007. The mixtape's first song is "Simba", making this Cole's debut single.
He released his second mixtape, "The Warm Up" in 2009 and received strong reviews. Despite his earlier dismissal, Cole was the first artist signed to the Roc Nation label, a sign that Jay-Z saw major potential in him.
Cole made his first appearance on a major studio release when he was part of Jay-Z's "A Star Is Born" from the album "The Blueprint 3" in 2009.
He also released his own debut studio single in 2009 with "Lights Please", which would also feature on his debut album "Cole World: The Sideline Story".