Linkin Park is one of the most successful rock bands of the 21st Century. What was their first single?
Linkin Park's first single was "One Step Closer", released on September 28, 2000. It was also the lead single from their debut studio album "Hybrid Theory", which was the band's previous name. The other singles from "Hybrid Theory" were "Crawling", "Papercut" and "In the End".
For more on Linkin Park's formation and their early releases, read on.
Formation
The band that became Linkin Park was formed in 1996 by three schoolmates at Agoura High School in Agoura Hills, California. The original trio of band members was Mike Shinoda, Rob Bourdon, and Brad Delson.
When the three teenagers graduated from high school, they began dedicating more time to their music. They recruited Joe Hahn, Dave Farrell, and Mark Wakefield, forming a band that they called Xero.
The band began recording songs in a studio in Shinoda's bedroom, creating a four-track demo, also called "Xero". The demo failed to earn the group a recording deal and tensions grew between the band's members.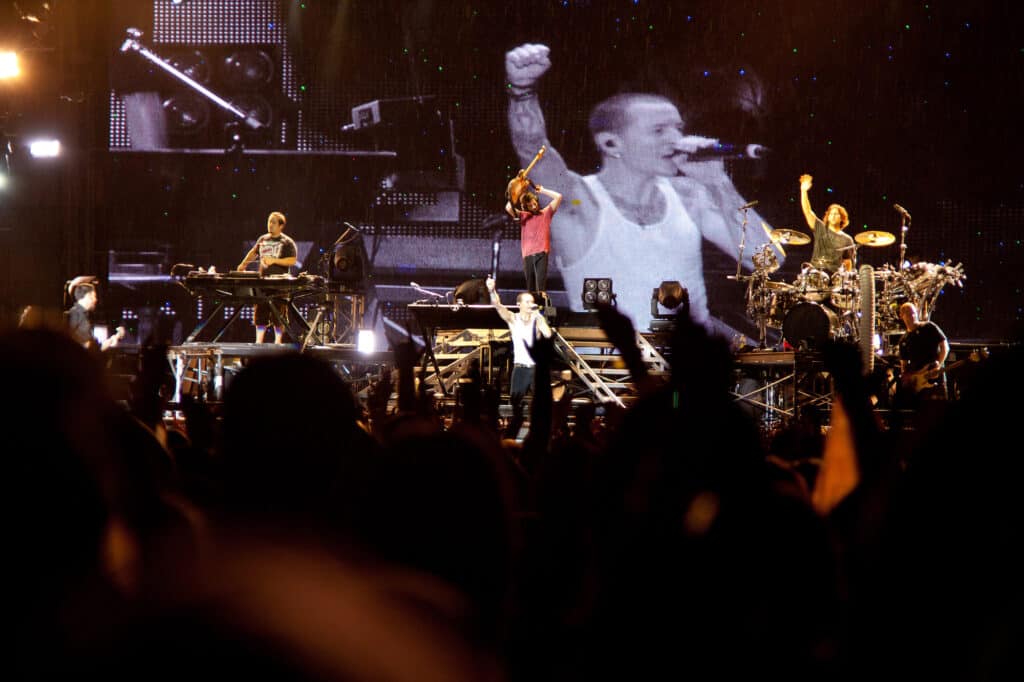 Xero's vocalist, Mark Wakefield, left the band to pursue success elsewhere. Dave Farrell also left and joined Tasty Snax, a Christian punk band.
After a long search, the vice president of Zomba Music, Jeff Blue, recommended Chester Bennington, a vocalist from Arizona. Bennington had formerly been a member of Grey Daze, a post-grunge band, and stood out from the other candidates due to his dynamic singing style.
It was decided that the new lineup should have a new name and Xero changed their name to Hybrid Theory. Shinoda and Bennington's chemistry helped motivate the band to create new material.
The first release by Hybrid Theory was an EP by the same name, which they shared online in an attempt to generate buzz. They still struggled to acquire a record deal and again turned to Jeff Blue for help.
Linkin Park
Blue had moved on from Zomba Music to become the vice president of Warner Bros Records and helped the band to sign a development deal with the label in 1999.
Warner Bros Records urged Hybrid Theory to change their name, wanting to avoid confusion with electronic music group Hybrid. The band agreed and wanted to change their name to "Lincoln Park", a reference to the park in Santa Monica, California.
When trying to find a suitable internet domain for the band's website, they discovered that "lincolnpark.com" was unavailable but they could acquire "linkinpark.com". They decided to change their name for the final time, becoming Linkin Park.
The band's label expressed doubts about the band's musical style, feeling that the contrast of Shinoda's rapping and Bennington's rock vocals was detrimental to their music. Somebody within the company advised Bennington to demote Shinoda or remove him from the band completely, making Linkin Park a more conventional rock band, but Bennington refused.
Dave Farrell returned to the band in early 2000 and they released their debut album.
Hybrid Theory
Linkin Park released their debut album, retaining the name of their first EP "Hybrid Theory" on October 24, 2000. The album contained numerous songs from throughout the band's different iterations.
"Hybrid Theory" was an enormous success, selling more than 4.8 million copies in its first year on sale. It peaked at second on the Billboard 200 albums chart and went on to sell more than 27 million copies, making it the best-selling rock album of the 21st Century.
The album's lead single and Linkin Park's first release under a major label., "One Step Closer", was released a month earlier on September 28, 2000.
The song peaked at number 75 on the Billboard Hot 100 in the US but performed more strongly on their US Mainstream Rock chart, reaching number 4.
Three further singles were released from "Hybrid Theory": "Crawling", "Papercut" and "In the End".